Chameleon Launcher reaches v1.1 - Brings performance enhancements, UI refinements and major feature additions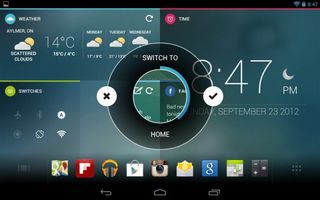 If you haven't gone all in with Chameleon Launcher it's quite understandable. While a beautiful next-level launcher it is, the entry price of $10 and somewhat limited feature set has made it a hard to justify purchase for some folks out there. The latest version may change some minds though as Chameleon has now reached v1.1 status and brings along with it performance enhancements, UI refinements and major feature additions. Some of which, have been long asked for by users:
Native Android Widget Support - Thats right, Chameleon widgets and native Android app widgets can now live side by side on your home screens. Android widgets in Chameleon work exactly as they would on the standard Android launcher, even while living inside our grid block containers. It's almost like unicorns are real!
Chameleon Widget SDK 1.1 - One of the big, yet hidden features of v1.1 is the updates to the Widget SDK. There is a lot of plumbing that has been added that allows for access to local device data using Android Services. The Chameleon Widget API docs will be updated in the near future with details and examples. We have also published a design section on the make a widgets documentation site outlining how to handle CSS markup for your widgets, and handling widget resizing. You can find that here.
Twitter Widget - The Twitter widget has gotten the biggest boost out of all the widgets in this update. There are now inline options for reply, retweet and favorite. Retweeted tweets are also now displayed as per Twitters display guidelines. The cherry on the top of this enticing sunday is the ability to display your lists. Yummy.
Calendar Widget - For those who need to stay super organized, the calendar widget now supports an All Calendar view as well as an Events List view.
Overall, the update looks pretty pleasing. They've also gone ahead and corrected plenty of bugs in the system as well, including a major one wherein Chameleon tended to freeze upon start up. Whether or not the changes make it a more viable purchase remains to be seen but if nothing else, it shows support is still going strong and updates will keep on coming. If you've not checked out our hands-on review -- you can have a look at Chameleon right here.
Source: Chameleon
Get the Android Central Newsletter
Instant access to breaking news, the hottest reviews, great deals and helpful tips.