We're celebrating 10 years of CrackBerry here at AC!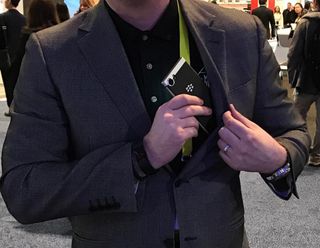 It's hard to believe that 10 years ago, Kevin Michaluk laced up his boots, walked to the local internet cafe and wrote Matrix levels of HTML to get CrackBerry.com up and running (that is what happened, right?).
Well, CrackBerry is still very much alive, and while its output has slowed with the changing nature of BlackBerry the company, it still has hundreds of thousands of diehard readers visiting every month.
Many of those readers now also visit Android Central on a regular basis after BlackBerry made the necessary changes to keep itself afloat, first with the Priv then the DTEK50 and DTEK60 — and soon, the 'Mercury'!
We're expecting the BlackBerry 'Mercury' to be fully unleashed at Mobile World Congress, almost 10 years to the day that CrackBerry.com opened its virtual doors, and to celebrate this momentous occasion, CrackBerry Kevin — yes, that Kevin — is coming out of retirement! You can expect him to be very active on CrackBerry, of course, but because 'Mercury' is an Android phone, AC wants to get involved, too. That means tons of coverage on the home page, through social media, and in the forums, going over every aspect of the brand new phone.
If you haven't checked it out already, we have a wicked hands-on review of the BlackBerry Mercury from CES earlier this year, and while we don't know everything about it, we know a few things.
First, that it's the perfect throwback to the halcyon days of QWERTY phones, this time running the most powerful mobile OS on the planet (sorry, BB10 lovers ❤️).
Second, it's getting all the fans excited for the renewed BlackBerry Mobile, which is now separate from BlackBerry the software company. Of course, the 'Mercury' will run BlackBerry's homegrown flavor of Android 7.0 Nougat, and we'll be here to dissect all the subtle changes and improvements over the already-great Marshmallow build.
From CrackBerry:
We're excited to share some of that love, and a few of those giveaways, here on AC! Because even though we operate independently, all the Mobile Nations channels work very closely to ensure that you get a 360-degree view of the mobile ecosystem. With BlackBerry Mobile exclusively releasing Android phones from here on out, look for AC and CB to work even more closely in the months and years ahead. To start, Kevin will be helping us out with some of the 'Mercury' coverage, and the rest of the AC team is looking forward to getting our hands on the phone when it is finally unleashed.
Better start exercising our thumbs again!
The Good 'Ole Days of CrackBerry Are Coming Back for our 10th Anniversary!
Daniel Bader was a former Android Central Editor-in-Chief and Executive Editor for iMore and Windows Central.
Thanks for the kind words! I hope I get invited onto an AC Podcast. Would be a dream come true! :)

*rubs eyes*. Is it really you? Is been so long! What have you been up to? Yes I agree that you should be on the AC Podcast. Also whatever happened to the joint Mobile Nations podcasts?

Been up to a LOT. Will save the tell all for a long winded CrackBerry Podcast maybe. Will be fun to get on a AC Podcast and talk BB though. Re: Mobile Nations Podcasts.... good question. I think after we finished Talk Mobile in 2013 we were all so burned out that it just kind of puttered out. Maybe 2017 is the time to bring them back. I'll talk to the crew. Would be fun to do, even if only quarterly or after big events happen.

I look forward to it. My first smartphone was they BB 8830 World Edition in Red (followed by the 8330 Curve a few months later), and Crackberry was my first Mobile Nations site. I think quarterly would be good to resuscitate the MN Podcast. Monthly wasn't really sustainable. Make Sure to include Modern Dad and Mr. Mobile though.

Definitely would include them!

Kevin, aren't you the CEO of mobile nations now? I really miss you, man. You were the inspiration for positive energy for me.

Welcome back Crackberry Kevin 👌

That's awesome! I got my geeky start on Crackberry, so I'm thrilled to see it hit 10 years. Good deal!

Awesome! Well then, in addition to Android Central it's time to start visiting CrackBerry again daily!

Congratulations!! 10 years is no easy feat... Many of us AC Regulars were, once upon a time, Crackberry ones :)

Funny how things go full circle like that!

I remember my days on Crackberry with my one and only BB - the BB Storm! Been on Android and Android Central since, but those were the days!

I started out with a Pearl (back when I was a stern critic wondering 'who the heck needs to be constantly connected on their phones? Not me! Never!...then my boss got me a Black Berry), then a Bold and that's when I tried the OG Moto Droid for the keyboard. The keyboard sucked, but I was hooked on Android.

I went from the BB Storm to the Moto Droid X and have been using Android since.

BlackBerry 9000 and then 9700 were mine.

Congratulations Kevin! I started out in Mobile Nations with CrackBerry. I've since moved on to Android (with an inbetween stop at Windows Phone), but I am still fond of CrackBerry, mainly from the great people I met on CrackBerry, many of whom are still regulars, albeit on the other Mobile Nations sites now.

Kevin, I hope your return coincides with with a "return" for BB. An alternative form factor would be a breath of fresh air in the world of monolithic black slabs and swipe keyboards.

I hope so too! I played with the Mercury at Vegas and was genuinely excited. Felt like the good 'ole BB's, but a much better phone... and the style is beautiful. Just looks good. Distinctly different!

That's awesome! Welcome back! I am looking forward to your "Mercury" coverage and impressions!

Blast from the past. Makes me want to break out my Blackberry Tour and get some work done.

DOOOO EEEET!!!!!! I'm charging up all my old BB's

Happy bday CrackBerry but seriously you really need to convince BB to give out BB10.4 to them stubborn fans over there @crackberry

And dark hub and updated runtime and full access to Google play services lol! Heck if that was the case my passport would be back as my daily driver!

Hahaha lol! Are you still waiting for 10.4444?

Cool! love Crackberry! I used to live on the site but now AC all day!

If you're not going to spend time on CrackBerry, there's no better place to be all day than on AC!

Whoa has it been that long? I found my way to MN through Crackberry! I miss my old Curve BBs -- still feel the BB love after all these years. Welcome back Kevin!

It has been that long. Seems CRAZY to me. Thanks for the warm welcome!

Crackberry was the very first tech blog I ever visited... shortly after getting a BlackBerry Pearl for work. It was a great site, glad to hear it's still around. Shame on me for not visiting in years... I still remember the time Kevin gave out his BB PIN to see what it would do to his BBM.

Hey Kevin! I really look forward to seeing more of you again in CrackBerry and Android Central. Do you think the new BlackBerry device will be your daily driver? Cheers!

Oh yes, gonna rock Mercury hard this year. I like that it's so distinct. Bored of flat slabs.

CrackBerry... I don't think I've ever been, but nonetheless congrats on the anniversary. Ten years is a long time on these interwebs.

Thanks! Never too late to start visiting. :)

When I first joined I noticed that Crackberry was 7 years old and I was like "why didn't I join sooner!" hahah. Always hoped that I would be around for the 10 years birthday and here we are, Birthday Month! A droid a day keeps the Apple away
Android Central Newsletter
Get the best of Android Central in in your inbox, every day!
Thank you for signing up to Android Central. You will receive a verification email shortly.
There was a problem. Please refresh the page and try again.