Carphone Warehouse goes hands on with the Priv by BlackBerry, pre-orders now live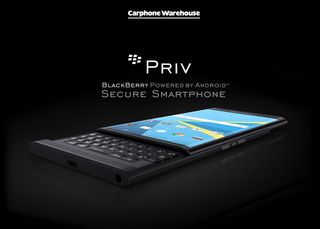 Earlier this month, Carphone Warehouse was gauging customer interest in the Priv by BlackBerry by having set up a 'register for updates' page on their site and now, it looks as though they've decided to go all in on the device. A new hands-on video posted to their YouTube account offers up a closer look at the Priv, and it's certainly looking more polished than some of those earlier leaks that have made their way onto the internet.
BlackBerry has not as of yet announced a release date for the Priv but as we already know thanks to BlackBerry CEO John Chen, it's expected to be available by the end of the year, and that falls in line with the earlier rumors of a November release. You can sign up for updates on the Priv through the BlackBerry site or if you're in the UK, you pre-order it from Carphone Warehouse. Go ahead and let us know in the comments if you're going to be picking one up or passing on it.
Pre-order the Priv by BlackBerry at Carphone Warehouse (opens in new tab)
Phone looks really nice. Waiting for the launch.. Posted via the Android Central App

Looks nice except the keyboard +++ Insert witty signature, watch as others not get it, profit +++

I don't like a physical keyboard myself, but pretty refreshing to see BB's take on an Android phone.

Good news, it's a track pad.

They Keyboard is the biggest reason to buy the Priv. Posted via the Android Central App

Yep. Three years ago, I would've been all over this, because I really do like BB's keyboards, but companies like SwiftKey and Swype have done a good enough job with autocorrection and predictive text that I don't think a physical keyboard allows for faster or more accurate typing at this point.

But cmon.. nothing beats that beautiful tactile feedback of a physical keyboard. Also you can go back to secretly sending emails, texts, im's under the table in those meetings again. I like typing without needing to look :) Posted via the Android Central App

Exactly. Nothing better than "blind typing" :) via AC App on
VZW Moto X DE/N7

And seeing the entire screen while typing! I remember this being THE worst part of the transition to an on screen keyboard those many years ago. IMHO, Swiftkey and Swipe have made typing go from bearable to pretty good over the years. Unless there is a major problem with the Priv, besides its name, when the reviews come out, ThisIsMyNext (sorry Phil and team) Posted via Android Central App

I'm glad those keyboards work for u, I'm still searching for one that works with me. If googles had a number row I'd use it. I'm currently using touch wiz. I'm thinking right now how my old BB curve was much more precise. The specs on the priv aren't the worst but they aren't the best either, not enough for me to consider buying in other words Posted via the Android Central App

aren't the worst? They are very near the top lol,

Pretty damn good specs dude but not bleeding edge. If they update software well for 18 months, the specs should not be an issue. Posted via Android Central App

You can still use Swiftkey in conjunction with this keyboard, if you want the predictions. When I have a physical keyboard connected to my tablet, you still see the predictions from Swiftkey as you type, at the bottom of the screen. It's pretty amazing actually. I'd imagine it'd be the same with this. Seeing that the keyboard is also a track pad, it could lead to some amazing usage scenarios. You literally get the best of both worlds and it's win-win. To this day, nothing beats a physical keyboard in my opinion. Posted via Android Central App

How many people sat in a room and came up with that name?

One.... He was wearing a helicopter cap. LG G4 today... idk tomorrow.

Name is the worst ever for a phone. BlackBerry had to ruin the party somehow. Posted via the Android Central App

Nah, the worst name for a phone is from Huawei's Honor line, the phone called the 4play. :P But Priv is also quite terrible.

No it wasn't. The Huawei Ascend d Quad XL was the worst, you have to admit. Posted via Android Central App

Lol a propeller cap. He could've named it the BB prop and said it's for ~proper~ like the priv is for privacy or whatever the hell they said Posted via the Android Central App

Yeah they should have stuck with "Venice".

Just one. And I think we all know which room he was in when he came up with it.

? Portaloo..(UK) ....BB log ....BB floater... after pint and a curry its anyone's guess Posted via the Android Central App

I am truly excited about this new device! I've been doing Samsung for 3 years now and I'm looking for something different and I think this is it

This will be the best Android phone ever released hands down. Finally something different! And with added functionality ;) Posted via the Android Central App

£50 a month? Yeah... No thanks. I hope those prices are subject to change, because they are ridiculous. Also, pre-ordering is still a silly redundant term. Posted via the Android Central App

Think about it as pre-release-ordering

Damn this phone looks awesome! If the camera is good, it's a winner. That's a great battery size for the phone size.

Umm looks good want one now! Posted via the Android Central App on my LG G4

I am so much looking forward for this device. Keyboard plus android will be awesome.

Is the battery removable?

No Posted via the Android Central App

Thanks. I didn't think so, but I was hoping.

BlackBerry abandoned removable batteries some time back now. Citing the reason as it being the cause of OS issues when batteries are suddenly yanked. I can't disagree as their non'removable battery devices are much more stable. Posted via the Android Central App

Ok, thanks for that. The last bb I used still had a removable battery, but it was old and boring device. The battery lasted for days because I never used it so I didn't have the need for a user replaceable one. I assume that this device won't be in the same boat.

With a 3410 battery.. I disagree :) you'll be just fine Posted via the Android Central App

And I disagree with that. I have a 3,000 mah battery in my g3 and I still carry a fully charged spare as a matter of course. It's saved me on multiple occasions when I'm in the field for work or when I'm out for the night and don't want to stop and wait to charge. I don't think the extra 410 mah will change that. I understand that a removable battery isn't important to most folk, but my personal usage pattern means that a phone without a removable battery is off my list.

Nice size battery! SD card slot as well. This is looking really good.

But let's talk about that battery tho...!

Imperfectly perfectly perfect..... by the time I've made my mind up price should have dropped.. Posted via the Android Central App

I like physical keyboards, and scroll wheels, as many buttons etc.
... but I worry this keyboard positioning is a pain to hold and balance while typing correctly. If you have to take the weight of the phone while holding the keyboard you will tire of that quickly. I am only going on my Sony Ericsson P910i with a flip down keyboard, so I used the on screen keyboard with a stylus always.
Still, I hope it's good.

Of course you will be the the only one who can determine that for yourself but, have a look at the articles in crackberry. Most early reviewers note how well the device is balanced. Posted via the Android Central App

Yeh, thanks both. Looking at it again I may be pre - judging. It does look sturdy and well balanced. I will check out those views.
I presume you don't just use your thumbs then. I should see a video when there is one and read more.

The screen slides up and looks thinner and, I assume lighter, than the meat of the phone. This is the part that lengthens the moment arm of the lever so may not be as bad as putting the battery in this part. Also appears the thumb rest/speaker grill is raised giving a lip to hook the thumb bases on. All of this is is hopeful speculation but seems promising. Posted via Android Central App

oh man...have not been to Crackberry since I replaced my 9000 with a Nexus One. Dare I venture back over there?

Lots more info about this device in CB than there is here. Bla1ze onlybposts the big ones here. Posted via the Android Central App

It's the screen that slides up. Most of the weight is on the keyboard part. Those who've held it said it balances perfectly with the keyboard out. I'm sure they took that into consideration when they designed it. We'll know soon though. Posted via the Android Central App

My view was that you may have to hold the phone by the keyboard bezels, and letting go to try and type with thumbs it would fall forward etc.
Okeeedokee?

Hot. Hope they've got a BB10 version pile lying somewhere. Posted via the Android Central App

As soon as I can get hold of one that supports T-Mobile US bands, I'm in

There is no question. BlackBerry always made very high quality build phones. Ruined by the BB OS. But phones itself are probably some of the best quality build ones. Always have been. This looks like a great device and a good move for BB to focus on being a Device manufacturer now for other Operating Systems. Posted via the Android Central App

You never had a curve did you, those phones sucked so much ass. Pants

The torch was the best form factor for a device that I've ever owned. That device I dropped about 300 times and it just kept going. My curve had a lot of hardware issues as well. Within two years, vibrate stopped working, the volume up button was broken and my trackball was barely picking up movement. Posted via the Android Central App

I did had all of them mentioned BB phones and they where all very solid. So not exactly sure why not for u guys but I have build quality wise never an issue with BB. Posted via the Android Central App

BTW.... This new material design on the updated Android Central app is amazing. Great job!!!!!!!! Dam It's Feels Good To Be A Google Gangster

Doesn't anyone remember the Palm Pre? Surprised no one mentioned this yet. Very similar design. I loved that phone! The physical keyboard is great. If you don't like the physical, you'll have the on screen keyboard as well. I'm not sure what help a track pad would be, but then again, I haven't had a BB. Past 2 phones have been Samsung, but this could actually get me to jump ship. Never owned a BB, but this being powered by Android changes everything.

Loved my pre. I had them all the way up to the pre 3 by HP. To bad they never really released it and canceled it that was the Pre that should have came out right away the Pre 3. Posted via the Android Central App

So when people buy this phone, will they hang out on the Crackberry forums or the Android forums.....or will they just self hate themselves.

I want it Posted via the Android Central App

Am glade to see BB jumping on the Android bandwagon finally. I hope this phone is a hit and gives BB some of the attention again in thus market. Blackberry deserves a win. I remember when I thought BB's devices where the sh@t! And everyone wanted one. Hopefully this new device will do well and give them a second chance? Posted via the Android Central App

Meh. This is about three years too late.

Three years too late for what?

I moved to a S6 edge due to apps. Still have my passport and will be selling the S6 to get my hands on this when it comes out! Posted via the Android Central App

Plus the battery is so bad on the S6 the battery on the new Blackberry Priv will be much better!!!! Posted via the Android Central App

This phone looks really awesome. I'm hoping the price point will be competitive with the market. Else I'll wait till it gets a deep discount. Preordered the n6p for my daily driver and using a oneplus 2 for my second line.

I was an avid BlackBerry user (crackberry.com) back in the day before moving on to Android. BB has great security software and honestly for them to continue to thrive their focus should be on enterprise security and how it can be implemented with Android, Windows Phone and iOS so they can insure the best overall security in business needs like their OS always had. Plus adding Android to their mix will only help them in the long run which is what they should have done instead of that QNX debacle they launched, talk about billions of dollars wasted.

If I were in the market for a third party Android phone, this would be a REAL contender. But I'm sold on the Nexus "vision" of the most "vanilla" Android, the leanest software, and the quickest updates. So ultimately my answer is "pass". I also have mixed feelings about Android powered Blackberry devices (as well as Android powered Microsoft devices), as it seems to me that while it'd definitely bolster market share in the short term, in terms of the long term identity crisis it'd create, relegating them to the LGs and Samsungs of the world, where they will drown in a sea of 3rd party Androids if they're not as successful as distinguishing themselves and finding a niche that for Blackberry and Microsoft, partnering with Android would be like partnering with "The Borg." I suppose we shall see! In any case, cool phone!!!

http://mobilesyrup.com/2015/10/16/blackberry-priv-hands-on/

Looks like a super amoled screen too. Very interesting for sure. If the camera is good too, this will be a winner. Posted via the Android Central App
Android Central Newsletter
Get the best of Android Central in in your inbox, every day!
Thank you for signing up to Android Central. You will receive a verification email shortly.
There was a problem. Please refresh the page and try again.