Can't access Ingress Prime? Here's the fix!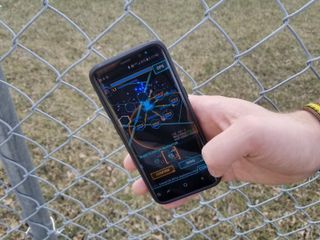 Niantic launched its huge update for Ingress known as Ingress Prime which has given the game a fresh new look, and the ability for the developers to start adding new content to the game. Unfortunately, the launch has caused some bugs and issues to pop up when loading up the new version of the game. If you're looking for some help on how to resolve these issues, here are some things you can try.
Error loading Ingress account data
If you've played Ingress before, and installed the new Ingress Prime update, you may be getting a screen that looks a lot like the image to the right. As of right now, lots of users on both Reddit and Twitter seem to be complaining of seeing this message pop-up, and it seems to be a simple case of busy servers.
Many users have reported that waiting for several minutes and trying to load the game up again has solved the issue. This was also my experience loading up the game for the first time. This message appeared on the screen for me four or five times before it finally let me in after relaunching the app several times.
Old data not syncing
Some users have reported a loss of data from there Ingress account when switching to Ingress Prime causing them to start from Level 1 again and with no progress on their account. While some Twitter users have reported that this has fixed itself after waiting several minutes, Niantic has been reaching out to people on Twitter and send them to make a report to Ingress Support.
It's important that you log in to the same account that you used for Ingress if you want your progress to carry over. So double check that you're entering the right account details before you send off a report to Niantic.
Other fixes
As with a lot of different bugs in various apps and games, sometimes deleting the app and then re-installing the app can fix minor bugs. Your results may vary on effectiveness, but if you've already tried waiting and relaunching Ingress several times, it may be worth your time to attempt this method.
Are you experiencing issues with Ingress Prime?
Let us know what problems you're having, and if you've have any solutions!
A friend did a "Clear data and Cache" on his phone and this cleared the message.

I keep getting a message that says Ingress is not supported on this device configuration. I've tried to uninstall and reinstall. Cleared the Cache and Data. Verified that my phone is supported on the supported devices page. And still nothing. I'm using a Samsung Galaxy s8+.

The first times I got the message, tried after a few seconds or minutes and was able to login.
Today it's taking very long to "locate" until I get the same message. I find it strange if it's only related to number of access to the server, since on my older phone I still have the previous/classic version and it logs in quickly.
Edit: clearing cache and data made no difference.

hi. I always getting the pop-up message that at Ingess it's necessary to secure-login.
(bei Ingress muss man sich sicher anmelden).
Niantic Support said that it would be fixed with the next update ... but nothing changed.
Android Central Newsletter
Thank you for signing up to Android Central. You will receive a verification email shortly.
There was a problem. Please refresh the page and try again.