Canonical announces the Ubuntu Edge, complete with Indiegogo funding campaign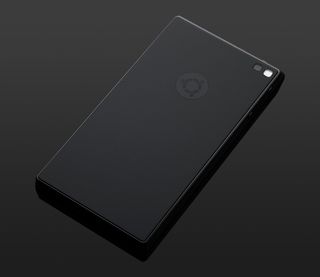 We just got off a call with Canonical, the folks behind the Ubuntu operating system, where we learned all about their latest project -- The Ubuntu Edge. The Edge will be an extremely high-spec'd convergence device, which dual-boots both Android and Ubuntu, and is ready to attach to a monitor and keyboard to make a full featured desktop replacement.
The Edge is being announced as an Indiegogo campaign, and Canonical is looking for a whopping $32 million. Mark Shuttleworth, Canonical founder, spent a while talking about this decision, as well as where Ubuntu is in the mobile world. Read past the break for more, as well as a few videos and more pictures.
The Ubuntu Edge indiegogo campaign page
Canonical feels there is an innovation gap between currently available products and future products. He feels that manufacturers want to build the products of the future, complete with amazing hardware specifications, but they are hampered by companies dictating hardware requirements and a perceived lack on financial backing. In short -- they can't build devices with tomorrows specs because folks like Apple or Microsoft tell them what hardware they have to use, and the average consumer won't want to foot the bill for a true premium device.
Canonical aims to change this through their Ubuntu Edge crowd funding project. Hosted by Indiegogo, Shuttleworth feels they can raise the needed $32 million to build and supply enthusiasts with a phone that fills their need for amazing hardware and design. If the project takes off, it may be handed off to a manufacturer to be built as a consumer device -- Canonical does not want to go into the business of making phones.
There's a lot of talk about the Edge, but what makes it special, and what makes it something people will want to spend $600 or more on at Indiegogo to fund the project and get a device? A look at the specifications answers most of those questions.
Dual-boot Ubuntu Edge into either Ubuntu or Android, and convert into a fully integrated Ubuntu desktop PC
Fast and powerful device with quad-core CPU and at least 4GB RAM
128GB of storage for photos, music, content
4.5in 1,280 x 720 display with scratch-resistant Sapphire crystal glass, the hardest natural substance after diamond
Camera made for low-light, fast response and close up pictures: 8mp rear camera, 2mp front
Faster connection all over the world with dual-LTE, dual-band 802.11n Wi-Fi, Bluetooth 4, NFC
Stereo speakers (Active Noise Cancelation)
Connect to HDMI TVs and monitors easily with MHL connector, 3.5mm jack
Shuttleworth feels these minimum specs will allow for a competitive desktop style experience from a secure mobile device. Enthusiasts and early adopters will love the hardware, and the enterprise can have a single device that covers the mobile and thin-client PC space.
Folks who agree and participate in the funding campaign will receive one of these beauties come May 2014 -- if the campaign is successful. Keep reading for some videos and the full press release.
CANONICAL LAUNCHES BIGGEST EVER CROWDFUNDING CAMPAIGN TO DEVELOP GROUNDBREAKING UBUNTU EDGE SUPERPHONE / PC COMBINATION
$32 Million, 30 Day Indiegogo Campaign Kicks Off July 22
London, 22nd July 2013 - Canonical today launches the biggest ever crowdfunding campaign to develop the Ubuntu Edge, converging mobile convenience with desktop power in a single device. The campaign aims to raise an unprecedented $32 million (£21.5 million) over 30 days on Indiegogo, for a limited production run of 40,000 devices.
Ubuntu Edge aims to be a catalyst for mobile innovation as well as hardware and software development. By supporting Ubuntu Edge, the Indiegogo and Ubuntu communities will be accelerating the adoption of these new technologies in mass-market consumer phones. Backers committing $600 (£394) on day one, or $830 (£532) thereafter, will receive one of these groundbreaking mobile devices in May 2014.
"Ubuntu Edge is the ultimate convergence device - challenging established norms for PCs and smartphones," said Mark Shuttleworth, Founder of Ubuntu. "The crowdfunding approach is a new way to prove demand for cutting edge technologies and new classes of devices; supporting the Ubuntu Edge is the best way to catalyze the next generation of personal devices from the industry."
The Ubuntu Edge will dual-boot Ubuntu phone OS and Android, and will transform into a PC when docked with a monitor, with the full Ubuntu desktop and shared access to all the phone's files. For this it needs the power of a PC, so Ubuntu Edge will be equipped with the latest, fastest components and a massive 128GB of storage. The exquisitely crafted device replaces the traditional glass screen with a pure Sapphire crystal, so tough it could only be scratched by diamond. It will also pioneer the use of long-life silicon anode battery technology. A special dual-LTE solution will all allow high-speed roaming with access to 4G-LTE broadband in both Europe and the US.
According to a recent report from The NPD Group1, 37 percent of consumers who used to access content on their PCs have switched to tablets and smartphones. Gartner also reported that worldwide PC shipments in Q1 2013 have dropped to their lowest levels since Q2 20092. Upon completion, the Ubuntu Edge will be the realization of Canonical's disruptive vision for a single operating system driving phones, tablets, conventional computers and TVs.
"The rise of smartphones and the recognition that productivity still requires a PC form factor suggest a great opportunity for a truly converged device," comments Victor Palau, VP Mobile Delivery at Canonical. "This campaign aims to deliver the finished article."
"To make the future of mobile happen we'll have to smash every record in crowdfunding history," added Shuttleworth. "But if there are enough enthusiasts who want the ultimate in performance, storage, screen, battery and bandwidth, Ubuntu Edge will be the catalyst for awesome innovation, and a taste of the future of the phone."
Ubuntu Edge specifications: (subject to change)
Dual-boot Ubuntu Edge into either Ubuntu or Android, and convert into a fully integrated Ubuntu desktop PC
Fast and powerful device with quad-core CPU and at least 4GB RAM
128GB of storage for photos, music, content
4.5in 1,280 x 720 display with scratch-resistant Sapphire crystal glass, the hardest natural substance after diamond
Camera made for low-light, fast response and close up pictures: 8mp rear camera, 2mp front
Faster connection all over the world with dual-LTE, dual-band 802.11n Wi-Fi, Bluetooth 4, NFC
Stereo speakers (Active Noise Cancellation)
Connect to HDMI TVs and monitors easily with MHL connector, 3.5mm jack
To get involved and become part of this community, visit https://www.indiegogo.com/projects/ubuntu-edge.
Image 1 of 4
Android Central Newsletter
Get instant access to breaking news, the hottest reviews, great deals and helpful tips
Senior Editor — Google Ecosystem
Jerry is an amateur woodworker and struggling shade tree mechanic. There's nothing he can't take apart, but many things he can't reassemble. You'll find him writing and speaking his loud opinion on Android Central and occasionally on Twitter.
this phone for 600 bucks is a bargain... but i still dont have 600 bucks :(

I would consider scrounging the 600 bucks. But, only if: - it was guaranteed available to use on Verizon
- guaranteed to have a user-swappable battery
- guaranteed to have a microSD slot built in Since none of those things are mentioned, I assume none of them are part of the guaranteed final product.

Well, and my S4 has a 5 inch 1080p screen. I highly doubt, in a year's time, I will be willing to go back to smaller and lower rez.

It is supposed to have 128gb of storage and you ask for a microSD?

Thinking the same thing. I get lost and forget what all is on my 32gb. Posted via Android Central App

Would you buy a new PC or laptop with a 128GB hard drive that could be neither replaced nor expanded? This device is supposed to be a phone-sized PC replacement, right?

I wish +Jerry would have mentioned that because buy-in is > $500, Indiegogo requires that you pay today via PayPal and then they hold your money until if and when the project finances on August 21st. Am I wrong or is this like giving Canonical a 30 day, no interest loan?

At savings account rates today, a month's interest on $600 is *twenty one cents*. This is no big deal unless you had something better to do with your $600 than sticking it in the bank. Look at is as paying 21 cents for the *possibility* of getting $230 off a very premium phone.

Unless Canonical owns Indiegogo, I don't see how this is a "loan". It's not like they need the money, nor was it their intent to get a no interest loan. So yes, you are wrong.

specs are amazing but I dont want to pay for a device which releases in 2014

Relevant: I just bought Justin Timberlake tickets for his show in 2014. I have no regrets.

How is your poor taste in music relevant?

HAHAHAGAHAHA!!!! Posted via Android Central App

At least it's not Justin Bieber. Could be worse. Posted via Android Central App

++++++ millions... Ha ha!

I don't know how to respond to this...

I'll stick up for you and admit that I'm jealous of those tickets. Posted via Android Central App

The specs look promising, especially the fact it's going to have a sapphire screen. But may 2014 seems a long way off and a lot of things could happen with other phones before then. I hope they get the funding they seek but for the average everyday user I think this will be a sit back and observe kinda thing.

This would be such an amazing phone and the hopes they would be able to do the annual I really hope it makes it's goal.

This. Looks. Amazing. I'm STOKED to see what Ubuntu does with its mobile OS - not because I necessarily like it all that much, but because it's shaking things up so much.

This. Posted via Android Central App

4gb RAM! I was wondering when the first phone with 128gb memory would be released

Apple will beat them to it with the iPhone 5S Posted via Android Central App

Oh how I wish I had 600 bucks burning a hole in my pocket. Posted via Android Central App

How's battery life tho. It didn't say. This is the specs I've been wanting for awhile. Wish it was 5inch. 128Gig should be the norm right now. Sick of seeing 16gigs all over the place Posted via Android Central App

Perhaps you've missed that this is a funding project for a device to be released in 2014...

128 GB should be the norm? Are you out of your Flippin mind?
99.99% of us phone geeks wouldn't need that much storage, so why would a manufacturer supply it? That's like saying the average automobile should have 500 horsepower! Posted via Android Central App

Everytime I see a comment like this, I think back to my old Commodore 64 days when I read a magazine article talking about the new up-and-coming Commodore 128. The writer (and this was a techie, because it was a review in some tech magazine... Probably popular science or something, can't remember) said that there was no reason for Commodore to make a machine with 128k Ram because it would be years before anyone writes a program for home use that would require 128k of ram. When it comes to technology, what seems like overkill today might just be a minimum requirement tomorrow. Posted via Android Central App

He was referring to the norm, not the max. Most people don't need or use 128gb. As such, there is no reason to add that much storage. Why make the average user pay extra if they're only going to use 25-50% of the storage available. This doesn't disallow companies from providing more, at a premium, for those that want it.

If what you say is true, then flagship phones aren't being designed for power users. The reason phones aren't equipped with high volume storage is becuase it's cheaper and companies are investing in cloud storage...not because people won't use it. Look at typical PCs...they're being sold with 500GB-1TB for families who don't do anything but Facebook and store point-and-shoot camera photos...they're using 100GB at best in the PCs lifetime. If I had 128GB I have no doubts I could fill it up and still have desire for more storage: * 10-15GB for Music
* 30GB for movies (monthly rotation)
* 25GB for games
* 8GB for android OS
* 20GB for Ubuntu and it's stuff.
* 30GB spare for use as data transfer. Not difficult to fill up.

+1 Posted via Android Central App

"128 GB should be the norm? Are you out of your Flippin mind?" What a short-sighted comment. This device is intended to be a phone-sized replacement for a PC. Would you buy a PC with only 64GB of storage (or less) AND no ability to expand it?

No it isn't. There's a difference between this device and the norm. Having 128 GB on this device makes sense because it is a phone sized replacement for a pc. But if you put it in a S4 or a One, it would drive the costs of those phones way up and people wouldn't buy them. Also, most people today don't need 128 GB with them. Maybe one day 128 GB is the norm but not today.

It would drive up actual costs? Doubtful...the manufacturing cost is likely under $10 difference but would cost well over $100 for the consumer. Point being, by the way you worded it, you're not right but I know what you mean.

Oh well, now I'm going to have to whip up $600 for this thing. Posted via Android Central App

Pity that I don't have $600 lying around, otherwise I would be all over this. Posted via Android Central App

Battery life would be the most important wildcard on a device with these kind of specs. If they could somehow get RAZR Maxx levels of battery (or whatever the gold standard is these days), people would gladly shell out $600 for something that can dual boot OS and has duel LTE radios. But something tells me the dual radios are going to hinder battery life.

I'd like to think they'd disable whichever radio wasn't currently in use, but who knows? Posted via Android Central App

Is Ubuntu really used in the enterprise space? I find that video hard to believe because of that.

Yes, it's the leading product in cloud servers, and has credible penetration in the corporate server market (competing primarily with Red Hat / Fedora and SUSE). And a significant fraction of the 20M desktops are corporate as well, usually managed by their Landscape product.

Yes, but will it blend? Posted via Android Central App

But will verzion allow it on their network? Posted via Android Central App

I'll give you a hint, it's not YES or MAYBE.

Lol Posted via Android Central App

Actually Verizon is the only U.S. carrier who is currently signed up for Ubuntu's "Carrier Advisory Group" http://www.ubuntu.com/phone/carrier-advisory-group

No, T-Mobile's parent company is also a member.

Looks like it has a red speaker grill LOL

Exactly. Who is going to fund, UP FRONT, a phone when we don't even know which networks will even support it? There are four major carriers in the USA, alone. And many customers are not willing to leave their network for a single POSSIBLE device. Also interesting that nothing but the summary even mentions the Android dual-booting....

What about the nexus 4? I know its a valuable on T-Mobile but its Sim unlocked from google's site. Same with the GE SGS4 and HTC One. No carrier will get them you pop your own Sim in. It has dual radios so you can use gsm or CDMA. Posted via Android Central App

Or HSPA. Posted via Android Central App

Now this is what I love to see. A company really taking a chance and innovating, shaking up the tech world. Let's hopr this project sparks the minds of other brilliant innovators. So impatient to experience the future of the smartphone.

If this gets funded and actually works well, then It will TRUE innovation.

Anyone else think this kinda looks like what Cyanogenmod was teasing for nemesis? Or am I just crazy and dreaming?

Couple of questions. I will commit 600 dollars on day 1 if: 1) This works on Verizon
2) If they do not make their goal I get my $600 dollars back Do we know if this will be stock android experience?

With Indiegogo since they picked a fixed funding campaign you will receive a refund if they do not reach their goal, at least from what I read on the FAQ. Now Verizon support on the other hand, I'm not so sure. They didn't specify, but it could be a pentaband GSM/CDMA device potentially. I'm not sure how they could cram that many radios though on top of being dual LTE. Lol HTC One on T-Mobile via Android Central App

One of the people working on the project commented on the indie gogo page with the following: " Hi, Alex from Canonical here. Unfortunately at this time, we don't have plans to support CDMA." Sorry to all you Verizon and Sprint customers but this doesn't seem to be the device for you. :/ HTC One on T-Mobile via Android Central App

So they just threw away compatibility with more than half of all USA customers before the project even started. Great job. Fail.

You truly know nothing about technology I am so sick and tired of stupid people opening their mouths. Verizon will not get this because of CDMA
Blame verizon for using a shitty cellular technology.
Also even ALL of the USA customers is a very very small percentage of world wide smartphone users

As a Verizon customer, this is a sad truth. It's not our fault that manufacturer's don't support CDMA as widely. It's not really even their fault. 90% of the blame lies with Verizon for using a non-standard signal. Why would they throw a $30 radio into a phone when 90% of the world doesn't need it? That's why they don't do it...those figures are both bullshit but you get my point. Being grandfathered in on unlimited LTE is the only thing keeping me at Verizon.

If indiegogo didn't instantly charge you I would totally jump on the Day 1 deal. Hard to come up with that much cash in one day, but within 30 I could. Sucks, but I'm not so sure this will hit it's goal anyway, 32 million is an insane amount for them to raise for a extremely niche product. HTC One on T-Mobile via Android Central App

"This campaign will only receive funds if at least $32,000,000 is raised by Wed 21 Aug 11:59PM PT."

The way funding works is they charge your card but refund it if the campaign doesn't meet the fundraising goal. I happened to get a new Discover Card with no interest for 18 months so I figure I can pay for it now and then sell/return it in May if I don't like it.

They will refund if they do not hit their goal by that date, but they do still charge your card right away on indiegogo. I may still get the non-day one edition for a little more if this gets close to it's goal. I'd like it more as a collector's piece than I would a daily driver, but with that kind of design and specs a tech junkie like myself would have a tough tough time not opening that bad boy! HTC One on T-Mobile via Android Central App

How much am I looking at paying Posted via Android Central App

Obviously the track record for cutting edge CE devices on Kickstarter and other donation seeded ventures shouldn't give anyone pause for concern... -Suntan

I will so buy this when it comes out. Posted via Android Central App

No you won't, because there is no "when it comes out". It's coming out now. This is it. Buy it now or you're out of luck. You have 3 options.
1) buy it now through the Indiegogo campaign
2) buy it later for a lot more money from a scalper who bought it from the Indiegogo campaign
3) wish you had bought one The Indiegogo campaign doesn't get you first release, or early access, etc. It's the only way to get the phone. From the Indiegogo page: "The Ubuntu Edge is an exclusive production run, available only through Indiegogo. All of the funding we receive goes directly towards producing the device for expected delivery in May 2014. The only pockets getting filled by this campaign will be yours when the handset arrives." They're trying to raise $32M to manufacture 40,000 phones because $32M is what it's going to cost them to manufacture 40,000 phones. There's no profit in there which means there's no incentive for anyone to do a second production run at the same price. Also, note that they're not even promising to replace the device if it fails because they're not going to have a bunch of replacement devices sitting in a warehouse and there won't be additional devices being manufactured to replace broken/failed devices. You have 28 days to return it for a refund. That's it. Hell yes, I bought one.

That sounds perfectly horrible. So it will work on only half the USA networks.
Might never even come out.
Pay up front with hopeful possible refund if it fails.
Essentially no warranty, since there would be no replacement units.
No parts either.
No way to know how it really works or if you would like it before "buying".
And you have to wait perhaps a year to actually get one.
Probably zero accessories, since it is so "limited/exclusive".
And although I love Linux and use it everywhere- Ubuntu would be my LEAST desirable distro. Doesn't sound like a very attractive a model to me. But, to each their own.

I see, you must be waiting for the Gentoo phone to come out, which surely will support CDMA. Can't wait to emerge me some apps on my phone. "Hey man, hold that pose for a few minutes. I'm compiling Instagram."

+1. I honestly think that the Jolla phone with Sailfish OS will be the best bet for a mobile Linux OS when it comes out, even with low- to mid-range specs. Unfortunately, it's only being released in a select few countries, of which the US is not one. I'm hoping some devs decide to port it to whatever Android phone I'm using when it's released. I'm hoping that next year, Jolla can release a phone with a broader target market and ship it to the US. I'd personally like some mobile Linux OS options in addition to Android (I have nothing against Android, but I'd like other options), but I'm not a fan of Canonical and their insistence on creating their own projects for the sake of it being *their* project instead of contributing to community projects (Mir, I'm looking at you). ATM, either Jolla branching out into more markets or Tizen actually being released is our only hope. Neither is going to happen anytime soon.

What's the over-under on "how many did Jerry order"?

I thought really hard about it. Burt in the end, I had to pass. With the new Nexus 7 and Moto X potentially coming next month, I just didn't want to tie up 600 bucks on something that may or may not ever be built.

Just out of curiosity. If there are no surprise devices in Google's and Motorola's conferences, are you more likely to buy an Edge?

I have paid the 600. This is awesome and hopefully is the next step in mobile :)

Hey I just posted a reply to your earlier comment about Verizon support, and they have confirmed on their indiegogo page there is no plan to support CDMA. You may want to reconsider your funding if that is a problem for you. Just trying to help out. :) HTC One on T-Mobile via Android Central App

Well I guess I will sell it when I get it for more than the 600 or I am month to month with VZW, see what the mobile landscape looks like in 2014. Thanks for the heads up

How long before we get a page in the forums on this bad boy

Looks like T-Mobile is in on this too not just Verizon.

where do you see that? I need it to be on T-Mobile or Sprint, a coin flip is worth the $601 (I thought they deserved the extra dollar) I spent... right?

32 million eh? L
O
L Good luck with that.

I agree it's going to be tough to do, they have already passed 2 million in like 8 hours or so though. It seems promising, but they'll have to average a million a day for the next 30 days to reach their goal. Either way I could see this device (if made) becoming quite a collectable in the tech space down the road. It's a one off device that will unlikely catch on and is being very limitedly produced. I'm still considering backing. HTC One on T-Mobile via Android Central App

I was a bit of a quiet fan of Ubuntu until the way they handled Unity, gnome desktop, kubuntu, and most recently their Mir display server (when Wayland had been shown to offer real potential). So whilst there was a time is have been signing up for this, now I am not interested. The kde tablet, sadly, seems to be struggling to achieve full production before its hardware becomes obsolete.

I have a personal hatred of how Unity functions but I'm somewhat optimistic since it's design seems to be better for touch-based input.

DAT RAM Posted via Android Central App

Dear Google, 1. Let the new Nexus phone support MHL 2. Integrate Key Lime Pie with ChromeOS so you can dock it and have the full desktop experience Sincerely, TheSneakyGreek

Google should have android phones dock to run chrome os or any Linux os. My Note 2 has enough power to do this with its media dock. Posted via Android Central App

Does anyone know if the CPU architecture will be ARM or x86 (not sure if it's mentioned in any of the videos because I can't watch them at the moment)? This phone seems really interesting and if it has Merrifield inside (Bay Trail for smartphones)I might actually get one. I was initially thinking of getting it when my contract ran out next year but I'm getting the idea that if one wants one you need to buy through the campaign. If they also added a tablet dock like the Asus PadFone series and a 13 inch Laptop Dock like what Motorola did I think that it would sell pretty well.

Can we having something super cheap as well? I want to explore Ubuntu OS and use it but not at this price and I already have a high end phone I'm happy with. That way I can also hack the Android part if its dual boot as I'm always too scared to put custom ROMs and stuff on an expensive device

I want this Posted via Android Central App
Android Central Newsletter
Get instant access to breaking news, the hottest reviews, great deals and helpful tips
Thank you for signing up to Android Central. You will receive a verification email shortly.
There was a problem. Please refresh the page and try again.