Can you stream PlayStation Now games to mobile devices with Remote Play?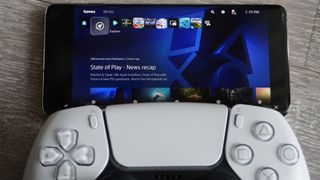 (Image credit: Jennifer Locke / Android Central)
Best answer: Sony is very clear; there is no Remote Play compatibility on PlayStation Now. You are unable to stream any PlayStation Now content to your phone via Remote Play.
What is PlayStation Now?
PlayStation Now (PS Now) is Sony's game streaming service. For around $60 a year, you can stream over 800 PS4, PS3, and PS2 games directly to your PS4 or PS5 or download hundreds of games to use offline on a console. All of these games can also be streamed to PC. That's a pretty good selection for a little under $5 a month.
PS Now has taken a little while to get going, especially because many were already subscribing to PS Plus, another $60 a year. Now, though, you can comfortably buy PS Now as a one-off payment and feel good knowing you have 800 games to play whenever you like.
What is Remote Play?
Remote Play is an app for your phone that allows you to use it as a TV to play PlayStation 4 or PlayStation 5 games. It's easy to set up — you need to download the app and go through some simple steps and you can be playing Destiny 2 on your phone from bed. It's pretty great.
Another great thing is your PS4 or PS5 is doing all of the heavy lifting, so your phone doesn't need to be an amazing superphone for it to work. Any phone using Android 5.0 and above will happily run your games as well as it would on your PS4 or PS5. You will need Android 10 if you want to connect your DualShock, though; otherwise, you need to use the on-screen buttons.
While you can also use your DualSense with Remote Play, it is only supported on PC and Mac at this time.
So can we use them together?
Unfortunately, no. Remote Play and PS Now are both excellent experiences that, sadly, can't be excellent together. Sony has given no reasons why we can't use them together, but we assume it's a processing issue. Having the PS4 or PS5 handle the stream down from PS Now and then up to your phone may be more than the console can handle.
With Sony seemingly putting a renewed focus on its mobile efforts, we hope that this is a feature that's supported sometime in the future. As it stands, the company appears to be looking into ways to bring its biggest blockbuster franchises to mobile devices. And considering Xbox offers Cloud streaming on mobile, it's only a matter of time before PlayStation catches up.
Unlimited access
Like Netflix for games
PlayStation Now grants access to a catalog of over 800 games available to stream directly to your PS4, PS5, or PC. Over 300 of these can be downloaded to your consoles. It's a nice deal on its own, but it's a shame you're unable to stream any of these games to mobile via Remote Play.
Get the Android Central Newsletter
Instant access to breaking news, the hottest reviews, great deals and helpful tips.
Since the days of the HTC Hero James has had two or three Android phones stuffed into pockets. James is always on hand to offer advice on phones, apps and most recently, PlayStation, especially VR, It's now something of an obsession. Find him @keridel wherever Media Socials itself.