Caillou's World joins Android kids educational games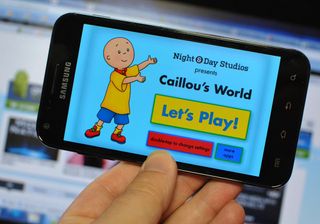 Heads up, parents. Everybody's favorite bald-headed boy is now on Android. Caillou's World (for those of you without kids, Caillou is a popular kids show on PBS) is intended for children ages 2-5 and helps with reading, spelling and phonics. The child spots a highlighted item in a picture and taps it, and then has to choose which letter the item starts with, all while associating the picture with the sound of the word, and the spelling.
The app works well enough on a large smartphone, but it's even better on a tablet, with more screen real estate. Caillou's World is $2.99 in the Android Market. We've got download links after the break.
See more Android kids apps
Android Central Newsletter
Get instant access to breaking news, the hottest reviews, great deals and helpful tips
Wow...my kid goes ape shit over this cartoon. Thanks for keeping my phone away from me longer!

Thanks for keeping us updated on kids apps too. My kids are starting to love my phone as much as I do.

I really appreciate the heads up on the kids applications. My son (4) is getting pretty good at navigating through my EVO3D.

Getting this for my daughter.....she loves the kids stuff on my phone. Its funny, she learned to use my phone (DInc)and picked up my tablet (Asus Trans)and had no trouble finding the stuff she was looking for.

Personally, I find Caillou to be a whinny little bitch, but my kids like him. That said, $3 for an android game is kind of insulting when there are great kid-oriented (flash) games offered for free on the PBS.org website. I don't know how well they run on phones/tablets, but on a PC w/ a mouse my kids love to play them before bedtime. http://pbskids.org/caillou/games/ http://pbskids.org/curiousgeorge/games/#1 Another good, non-PBS site: http://www.thomasandfriends.com/usa/Thomas.mvc/Games/Home -Suntan

I agree. This is probably the worst of the PBS kids shows, the newer ones are a bit better, but the older ones have Caillou whining and complaining to no end. I don't need a tv show teaching my kids to pout till they get what they want.

Exactly my views. This is one whiny kid. Its not the kind of show that should be on PBS. Problem is that Caillou gets whatever he wants ultimately and everything is resolved. Unfortunately thats not the way it works in real life.
Curious George is great. Really educational with a scientific bent.

Completely off topic, but if you want to get your kids to stop watching Caillou, try out the "Mighty Machines" episodes available streamed from Netflix. If your kids love to see machines, they will love these shows. -Suntan

http://www.youtube.com/watch?v=ckkLI7U8Btg I've been waiting for this. My God.

Other posters are right. This kid is the biggest whiner ever. I think this show actually teaches kids to throw fits to get what they want. His little sister cries less often than this little bitch.

I was thinking about the day I heard Jaclyn Linetsky died in a car crash at 17 years old. She was the original voice of Caillou. Show some respect. If your kids like Caillou that's all that matters. You don't have to.
Android Central Newsletter
Get instant access to breaking news, the hottest reviews, great deals and helpful tips
Thank you for signing up to Android Central. You will receive a verification email shortly.
There was a problem. Please refresh the page and try again.