Broadcasting Android games on Twitch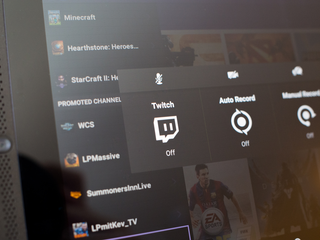 After announcing that Android Central was headed to Twitch, we had more than a couple of people ask how streaming games from an Android device to Twitch actually worked. Since Twitch is all about making it easy for everyone to stream every game they are currently playing, it seemed only right to share the ways you can go from sitting on your couch with phone or tablet in hand to sharing your latest victory on Twitch.
Native Twitch streaming with the NVIDIA Shield Tablet
If you own NVIDIA's gaming-focused Android tablet, the number of steps you have to go through in order to broadcast to Twitch is essentially zero. Twitch broadcasting is baked right into the operating system, and can be activated through the Quick Settings toggle whenever you choose. Once the feature is active, you can quickly access mute and unmute for microphone control while gaming. If that's not fast enough for you, Twitch can be set to auto-broadcast as soon as you open a game you're looking to share with the world.
Once you're broadcasting, the only real limit is your Internet connection. A solid WiFi connection will do for most Twicth streams, and if you've got a decent headset you can inject your commentary right along with gameplay. This kind of OS-level integration makes broadcasting to Twitch just as effortless as using a current-generation game console, and is hopefully something we'll see on NVIDIA's other Shield-branded Android devices — specifically the Shield Android TV — before too long.
Manual streaming with Elgato Game Capture HD60
The rest of us have a few steps ahead of us, but we get a few more options in the end. In order to get video from your device to Twitch, you'll need something to capture the video and the right software to broadcast it. There are a ton of options out there, including SlimPort, MicroHDMI, and even casting your screen to a Google Cast device if you're on a network that can handle that sort of thing, but getting the video off your device is the easy part. The best all around accessory for handling the rest, based on our testing, is the Elgato Game Capture HD60.
Assuming you don't have a high-end Desktop with a nice capture card built in, Elgato's solution is the most elegant way to get from device to screen without spending a ton of cash. All you need is a free USB port on your computer and the Elgato Game Capture software, and the little black box does the rest. You connect HDMI-in from whatever you are using to grab video from your device, and the Elgato software will let you log in to Twitch and set things up however you like. On top of handling 60fps streaming, Elgato can record locally at that same rate and gives you lots of control for local injection, meaning picture in picture from a local webcam and control over audio volume and live commentary. Plus the app just plain looks nice, and runs well on Windows and OSX alike.
Buy - Elgato Game Capture HD60 ($150)
With the wealth of quality Android games out there, and Twitch being just about as user friendly as you can get, there's not much stopping anyone from getting on the service and sharing games they love. What game will you share on Twitch?
Get the Android Central Newsletter
Instant access to breaking news, the hottest reviews, great deals and helpful tips.