BlackBerry Priv versus iPhone 6s Plus: they couldn't be more different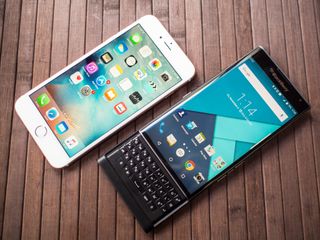 As we've discussed before, there's a very real chance more than a few people found themselves seriously considering either a BlackBerry or an iPhone this year, and for the first time in a long time that's a seriously tough choice for just about anyone to make. The BlackBerry Priv surprised a lot of people this year, demonstrating that BlackBerry still has plenty to offer the smartphone world. At the same time, Apple's latest iPhone is once again the high end sweetheart that flew off the shelves this year.
The big thing these two phones have is common is a desire to be more productive, and while we've had our own gripes with what selling productivity gets you, it's still a serious topic here. Lots of people have moved from the traditional iPhone to the Plus line because the bigger screen lets them do more, and when it comes to getting work done you'll find the keyboard on the Priv is a powerful tool that we didn't think we'd ever see again on a high-end smartphone.
Image 1 of 5
You don't get much more different than the BlackBerry Priv and the iPhone 6s Plus when it comes to design. Apple's aluminum unibody design is the result of years spent focusing on thinner, sleeker, and prettier. It's almost a piece of jewelry next to the BlackBerry Priv, which is all business all the time. The grippy soft-touch phone comes in every color that ends in -lack, but that professional look also includes front-facing speakers and a display that melts off the sides to make the phone feel deceptively thinner than it is when you go to use it. There's no doubting the iPhone 6s Plus is thinner than the Priv when looking at them side by side, but it's surprisingly less obvious when holding and using them.
Despite there only being a .07-inch difference in the screen size between these two phones, the iPhone 6s Plus is noticeably taller and ever so slightly wider than the BlackBerry Priv. It makes a big difference when trying to reach the corners in single-hand navigation, but with two-handed use you're unlikely to notice the difference. The iPhone does let you double-tap on the home button to drop the content halfway off the display, offering easier access to the top half of phone when you need with just one hand. BlackBerry's 2560x1440 resolution AMOLED display is comparable to Apple's 1920x1080 resolution IPS LCD display when looking at video or playing games, but the higher resolution display is much better for text and images. When coupled with the front-facing speaker block at the bottom of the Priv it's clear BlackBerry becomes the better experience for fun and games, which is a sentence that is just as odd for you to read as it was for us to write.
Swipe to scroll horizontally
| Category | BlackBerry Priv | iPhone 6s Plus |
| --- | --- | --- |
| OS | Android 5.1.1 | iOS 9 |
| Screen size | 5.43 inches | 5.5 inches |
| Resolution | 2560x1440 | 1920x1080 |
| Screen type | AMOLED | IPS LCD |
| Processor | Snapdragon 808 | Apple A9 |
| Storage | 32GB | 16/64/128GB |
| RAM | 3GB | 2GB |
| Rear camera | 18MP | 12MP |
| Aperture | f/2.2 | f/2.2 |
| Front camera | 2MP | 5MP |
| Fingerprint | No | Front button |
| Battery | 3410 mAh | 2750 mAh |
| Wireless charging | Yes | No |
Apple and BlackBerry both opted to put headphone jacks and power ports on the bottom of their phones, but unlike more recent Android phone the Priv is still using Micro-USB to do its charging. While this isn't particularly surprising given the window in which it was launched, this phone also lacks a form of QuickCharge out of the box so (the feature is supported on the phone but the included power adapter does not) it charges at a rate similar to the iPhone 6s Plus. If Micro-USB isn't your thing, the bottom of most Priv models (excepting STV100-3) also support Qi charging so you can get your power wirelessly. Since Apple's hardware is aluminum, and it wasn't until very recently on their smartwatch the company had shown any interest in wireless charging, the iPhone doesn't support this feature just yet.
Under all this metal, plastic, and glass we find the Qualcomm Snapdragon 808 processor in the BlackBerry Priv and the Apple-designed A9 processor in the iPhone 6s Plus. BlackBerry's choice in processor is not the most powerful thing Qualcomm had to offer this year, but it is still one of the top choices for a lot of Android phones right now. Unfortunately for Qualcomm and BlackBerry, that's not quite enough to compete with the performance of the A9 chip.
Apple's offering routinely opened games and resource-intensive apps like the camera noticeably faster than the Priv, and in some cases it was clear browser performance wasn't quite as good on the Priv as on the iPhone. Apple's processors have stepped up in truly significant ways, and as we move into the next year Qualcomm is going to be playing a serious game of catch up to remain competitive.
Comparing the cameras on these two phones is a perfect example of why megapixels do not equal quality. Apple worked hard to ensure the jump from 8MP to 12MP on the iPhone 6s Plus did not result in a decrease in quality from the previous year, and they succeeded. BlackBerry, on the other hand, dropped a 18MP sensor with an f/2.2 aperture in the back of the Priv and the results are absolutely not better (it's still the best camera we've ever seen on a BlackBerry, though that's not say much).
Apple's camera produces more vivid colors and greater detail when zoomed in every time, and unlike competing Android phones there's no manual camera mode on the Priv to make up for a less-than-perfect auto mode. That's not to say the Priv doesn't take great photos under the right conditions, but compared to the 6s Plus it's clear BlackBerry needs a few more people working on image quality.
If you're buying a phone off contract, there's not a huge difference between the iPhone 6s Plus and the BlackBerry Priv. Apple's big iPhone starts at $749 for the 16GB model, where BlackBerry will get you 32GB for $699. It's true the Priv also includes a MicroSD card slot for adding as much storage as you want whenever you want, but you still have to pay for that storage separately so ultimately there's just not a significant gap in price between these two phones.
When it's all said and done, the big reason to consider the BlackBerry Priv over the iPhone 6s Plus comes down to the keyboard and the software than goes along with that hardware. BlackBerry has done some incredibly clever things with this keyboard, including making it double as a trackpad for easy control over the forms you're typing in and allowing for swipe gestures to control autocorrect. There's a lot to like about this keyboard, and there are absolutely still plenty of reasons to consider a physical keyboard over a software keyboard on your smartphone. The choice is nice to have, and not something you can get on an iPhone today.
Get the Android Central Newsletter
Instant access to breaking news, the hottest reviews, great deals and helpful tips.