BlackBerry Priv now available from T-Mobile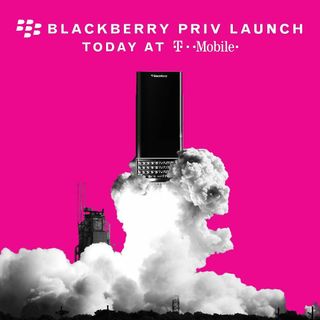 If you've been waiting for T-Mobile to launch the BlackBerry Priv, your wait is now over. As announced previously, the Un-carrier has now made BlackBerry's first Android-powered smartphone available online at T-Mobile.com and in T-Mobile stores.
Pricing for the Priv from T-Mobile starts at $0 down and $30 a month for 24 months through T-Mobile's standard leasing program while JUMP! On Demand customers will be looking at $0 down and $34 a month for 18 months. If you want to skip all of that, you can pick up the BlackBerry Priv outright for $719.99 but at that price, you might want to consider just buying it unlocked and direct from BlackBerry where it will only cost $699.
Not sure if the BlackBerry Priv is for you? Go ahead and give our full review a look. You can also check out the BlackBerry Priv forums for more discussion. If you already snagged a Priv from T-Mobile, our siblings over at CrackBerry have plenty of help articles to get you started.
See at T-Mobile (opens in new tab)
im going to pick one of these up first thing this morning

At that price you're better off waiting for it to drop in price or just get a Note 5 or Nexus 6p if you want nexus updates. Posted via the Android Central App

Agreed. I'd really like to give this phone a spin, but that price point this late in the year with that processor? I'll wait for the new crop if flagships. Posted via the Android Central App via the LG G4 Edit: Late in the year? I'm assuming everyone takes my meaning.

yup. $720 as we're starting to hear rumors for the S7/M10/G5 ... BlackBerry is their own worse enemy, can't get out if their own way.

Again people need to realize that BB is not only about smartphones but because this article is posted in AC, Blackberry will never get a fair shake. $720 is steep but I would pay it for this device than ANY Samsung device no matter what's under the hood. I've just been burned too many times by Samsung. The last Sammy product I owned was the Note 5 and that device (Not all Note 5s) overheated so much that I took it back and got the LG G4. I will get the Priv next month.

I think people that read Android Central understand price point and release cycle. I think people that read Android Central know when the 808 came out. And yes, we know about BB security features. Thanks. Posted via the Android Central App via the LG G4

That's the thing you guys know too much..... ;) If you want a Physical Keyboard and are willing to pay a little more for it.... the PRIV is a GREAT phone. If you don't care anything about the PKB.... then yeah your money is best spent elsewhere. Privacy Features.... if you want there are apps for that.
No Root.... who really wants that?

Last android security update was landing on the Priv at the same time and even before some Nexus users.

That is true but still not worth the price just for security updates.

I'll be trading in my Note 5 for it today. Posted via the Android Central App

lol. I hope that is a joke.

Why do you hope its a joke?

I'll play along. I would never trade the Note 5 for a phone that has a worse camera, no samsung pay, no spen, slower processor, smaller screen, less battery life and even if you didn't like the note 5, the resale value is higher on the note 5 so you could just sell it and then buy a used priv just to try and still make money that way.

Suppose someone don't want a spen, etc, and want a phone with a slide out keyboard with all the short cut figures that comes with it, and don't mind spending a little more for that and don't care about having the latest specs. That's who buys this phone. I'm picking mine up today Posted via Android Central App

Then go for it. I'll buy the note 5 from you.

Thanks but I'll just trade it in since I was only leasing it to hold me over until the Priv released. The Note 4 may be the last phone I outright buy since nothing else matches it's features yet. Posted via the Android Central App

What if someone wants removable/expandable storage....Can't stand TouchWiz.... Hates having to contact Samsung to sell your phone because your account is attached to it.. just loves Google pay... And hates the idea of a glass surrounded phone that needs a case to feel safe using? Posted via the Android Central App

Just getting rid of TouchWiz would be reason enough to make the trade. Posted via the Android Central App

Touchwiz comments indicate someone making things up. Touchwiz is a non issue, look at their sales.......Samsung sells the most phones of any msnufacturer. There is a reason for that. Now, anyone who trades in a note 5 and gets an LG G4 , should be punched in the throat and kicked in the nuttz! Posted via the Android Central App

Nope... They would trade that pathetic Note 5 for a V10 and love every minute of it. Posted via the Android Central App

I did the same. Kept my note 5 for 2 weeks before getting rid of it. Posted via the Android Central App

traded in the iPhone 6s Plus for it...good call

Great phone but hefty price. I would wait for it to drop or find one on Swappa.

I'd rather buy it unlocked for that price... Posted approved via Moto Maxx

Any differences between the tmobile and att models? Posted via Android Central App

Maybe WiFi calling, but with a planned 6.0 update that shouldn't be an issue.. It already has band 12 activated iirc Posted via the Android Central App

Good to know. Thanks. Posted via Android Central App

how come no VZW love, and that price needs to drop

Because vzw will be waiting about 5 more months and then they will sell it at a higher price and put in there "it's the network that matters".

Yeah that price does need to drop. But honestly for me it's going to be like a 4 or 5 dollar price difference on Jump if they were to drop it 50-100 dollars. Posted via Android Central App

$720 for an 808 processor, as we're just around the corner from the 2016 flagships and 820? nice job BlackBerry, way to shoot yourself in the foot ... again.

They are notorious for that. Posted via the Android Central App

Well it is $699 straight up from BlackBerry, not sure why T-Mobile went $720, but I believe blackberry went to the 808 because it had a good track record and the first gen 810 had issues.
They should have gone with the second gen 810 but played it safe. Price point is higher for other reasons then just the chip. For example a curved screen and touch capacitive keyboard would drive up costs of producing the device.
But I think $699 is high, you'd have to REALLY want the device to buy it. I have no regrets and I understand why people wouldn't buy it at that price point. It could have been launched at $599.
Blackberry needs to realize that higher margins doesn't always mean bigger profits. I believe the price will go down in a month or so anyways. Posted via PRIV by BlackBerry

I have to agree. The price does need to come down a bit before being considered by many. Not a bad phone at all, by any means. I couldn't objectively say that it is good or bad, anyway, because I have not used the device. I can say that the Priv has a lot of different features on top of the already stock looking Android. The chip it uses is negligible. Posted via the Android Central App

I don't care who has been burned by Any manufacturer. The price of this phone is to much. It's a 2014 phone with a slide out keyboard. Priced at a 2016 phone. Some Chinese company made the phone for bb for like 100 bucks a pop. Bb put there name on it and you know will pay 700+ for something that is unproven. Good luck people... Lol Posted via the Android Central App

You are confusing the priv with one plus cell phones. Those are the cheap Chinese junk phones made with low quality inferior components. BB is known for high quality. If you don't think so....then you have never owned one. Posted via the Android Central App

Thank you. He's thinking of the Foxcon budget model. Posted via the Android Central App

I really wanted to get the priv, blackberrys use to be my favorite type of phone till androids came out. But when i really thought about it the price is just too high. I got the lg v10 instead. Its cheaper and better for what i do. I hope they keep putting out android phones so maybe next upgrade ill get one. Posted via the Android Central App

so far device is money! Lives up to the hype

Yep. This. Phone. Kicks. Ass. Always liked BlackBerry hardware, but BBOS was sh*t. Then crApple convinced everyone that touch only was the answer, yet as a Sys Admin the C-level employees I interact with had an iPhone but used a BB for work. The 810 wasn't worth the heat issues! The PRIV is solid, larger than the M9 but not stupidly large like the Note 5, and while the SPen was cool at first, the novelty wore quickly and scribbling notes that have to be re-typed later not as effective (plus clicking it in and out is fidgety). I did like the less smudgey-ness the pen provided for the screen. :) The PRIV screen is amazing, it doesn't feel any slower than the M9 or the Note 5; everything is instant, Dead Trigger plays the same, Riptide GP 2 plays the same, etc. The keyboard is so sweet and I can finally type on my phone without LOOKING at it like I used to. I thought I'd miss the Boomsound but the front speaker on the PRIV is pretty strong. (I do miss the stereo effect). Who would have thought the "trackpad" function of the kb would be so awesome? It's like they smooshed a phone and laptop together. (This also reduces smudgey-ness :D. ) On the SW side, I it's good to have BlackBerry Hub again and a single spot to see all your messages without opening a bunch of apps. The added productivity touches they added are a plus for keeping on top of tasks and information (all users are not baristas, some of us are senior professionals ;) ). Battery life is better than the M9 (that 810 again) but a little less than the Note 5 (but I also don't want to be "Happy to see everyone" either with that monstrosity in my slacks) Very happy so far (and boo-hoo that it's $4 more per month, it's a lease so I'll (hopefully) swap to the PRIV 2 or whatever by then). Even if I keep it, $4 isn't going to break me. LMFAO. :) Posted via the Android Central App

That's a really poor way to think about money. Do you buy cars because of payments too?

Does anyone know if priv on T-mobile has wifi calling and wireless charging?
Android Central Newsletter
Thank you for signing up to Android Central. You will receive a verification email shortly.
There was a problem. Please refresh the page and try again.