BlackBerry Priv cases are now available at ShopAndroid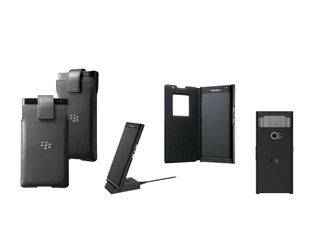 If rocking your BlackBerry Priv without any kind of protection is too risky for your tastes there are some sweet cases up for grabs that will certainly handle a drop. As we've seen with previous devices, BlackBerry manufactures high quality leather cases that look and feel great. Keeping an ideal slim form are their hard shell cases that add extra grip without bulking up the device. Take a look at the complete lineup of Priv cases available right now and for pre-order here at ShopAndroid.
BlackBerry Slide Out Hard Shell Case
Made of a durable polycarbonate that features a unique texture for additional grip, the OEM Side Out Hard Case snaps on around the BlackBerry Priv to provide lightweight protection against impacts. The case is incredibly slim, making sure not to bulk up this already sleek device. And, it fits nicely with the BlackBerry Priv Sync Pod! Available in black, lagoon blue, or military green for $39.95.
BlackBerry Leather Smart Flip Case
This OEM flip case is made of genuine Nappa leather and provides excellent protection for the BlackBerry Priv. On the front is a clear window for accepting or rejecting incoming calls and managing notifications without ever opening the front cover. It also features power-saving technology and is NFC friendly. Grab one in black or tan for $59.95.
BlackBerry Leather Holster
If you're into holsters, this leather OEM option is a home run. It's made from genuine Nappa leather and features a soft inner lining that keeps the BlackBerry Priv safe from imperfections while inside. On the back is a durable swivel belt clip that rotates 360-degrees for optimal comfort. Available for $49.95.
BlackBerry Leather Pocket
Perfect for the BlackBerry Priv user that's after minimal protection, this OEM Leather Pocket keeps a slim design and offers a quick and easy way to access your Priv. Crafted from genuine Nappa leather, this pocket pouch can be stored in your pocket or purse and leaves the bulky clip out of the equation. Available in black or tan for $39.95.
What are your favorite BlackBerry Priv cases?
That's a quick glimpse of the cases available for the BlackBerry Priv here at ShopAndroid. There are also plenty of accessories for the Priv to check out including sync pods, cables and chargers, microSD cards, and more. Are you planning to protect your device with a case or opting to rock it naked? Sound off in the comments.
Don't like the flip. Looks too bulky and I'm a flip type person. The pocket one looks nice. Priv screen goes up.

Why do you have these but nothing for the Moto X Pure Edition? Don't you think the BlackBerry Priv is more of a niche device than the Moto X Pure Edition? Posted from my Moto X Pure Edition via the Android Central App

Because Motorola isn't giving cases to android central to sell Posted via the Android Central App

Because the Priv is a the Android community's darling right now. It took over the Nexus 6P. Moto X Pure Edition has been treated like the ugly step child despite its great feature set on paper (apparently it feels cheap). Posted via the Android Central App

Be careful with the hard case. The rivets that hold the rubber buttons in place have been known to damage the side of the phone. I removed mine and glued the rubber back on. Check out crackberry forums for the post on it. Posted via the Android Central App

Yeah, because you've had a Priv for weeks now. /S

Lol that almost proves the point even better. If the phone been out for less than a week and people are posting pictures of damage caused by this case you should be extra cautious to put it on your phone. I put it on for a few minutes to try, pulled it off and you could see small indentation where the rivets will eventually eat away at the rubberized ouster section of the priv. After pulling the rivets out and using some glue I'm good to go. Posted via the Android Central App

Thanks for the warning. I'll remove the rivets when mine arrives...*if* it ever arrives One question: hard shell adds some width to the phone. Does that wider grip help with typing on the PKB? Posted via the Android Central App

I think the added thickness helps with typing but I'm not liking the added overall bulk. Not sure how long I'll be using the case if I can't get used to the added width Posted via the Android Central App

Thanks! Posted via the Android Central App

The leather pocket and holster are 80% useless.
The 20% good - you can see your notifications light.
The 80% useless:
There's no hole for the headphone which eliminates wired headset use while in the case.
The holster is constantly deleting my bottom left quick access app. Can't wait for some third party cases - Blackberry did not have the user in mind when these were designed.
Android Central Newsletter
Get the best of Android Central in in your inbox, every day!
Thank you for signing up to Android Central. You will receive a verification email shortly.
There was a problem. Please refresh the page and try again.