BlackBerry KEYone hands-on: Your dad's favorite Android phone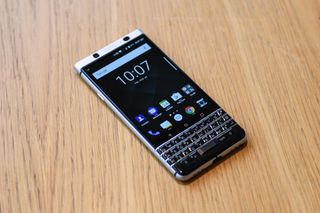 The BlackBerry 'Mercury' isn't new — you saw it at CES — but the company behind the new phone, BlackBerry Mobile, has been trickle-announcing the hardware QWERTY flagship, teasing it to hardcore CrackBerry addicts who came of age tapping away on Bolds and Curves.
But this is a new BlackBerry — the phone itself is made by TCL, under the eponymous Waterloo company's brand — and the first in a series of devices set to be released this year, next year, and if successful, well beyond. This is the BlackBerry KEYone.
Now that we know more about the phone, I'm happy to report that it's actually quite nice. The aluminum frame is solid and the design is anything but pedestrian, with overtly curved sides meeting a flat-top frame and exposed antenna lines. There's an old-school industrial feel to the whole thing that I really dig — the dual tones of black and silver work really well here, harkening back to some BlackBerrys of the past while updating the look for 2017.
In fact, if you stare at the KEYone long enough, you begin to see its direct influences bleed through: this is a BlackBerry Passport Silver Edition squeezed and elongated, melded with the keyboard of the BlackBerry Classic. Of course, both those phones ran BlackBerry 10, and had square displays, precluding those form factors from working properly with Android. (In fact, BlackBerry was reportedly working on turning the Passport into an Android handset, but could never optimize the OS at the time, Lollipop, for its 1:1 aspect ratio.)
So now we're in 2017, with a brand new company, TCL Communication, overseeing the design and manufacturing of the largely-forgotten BlackBerry handset legacy, and after two nondescript metal-and-glass all-touch devices, BlackBerry is once again embracing its strangeness, its apartness, with the KEYone.
The spec sheet
Swipe to scroll horizontally
Category
KEYone
Operating System
Android 7.1.1 Nougat
Display
4.5-inch, 1620x1080 (434 ppi)
IPS LCD
Processor
Qualcomm Snapdragon 625
Octa-core 2.00GHz
Adreno 506 GPU
RAM
3GB
Storage
32GB
Expandable
microSD up to 2TB
Rear Camera
12MP f/2.0, PDAF
1.55-micron pixels
dual-tone LED flash
HDR, 4K, 30fps
Front Camera
8MP f/2.2
1.12-micron pixels
Selfie flash
1080p/30 video
Battery
3505 mAh
non-removable
Charging
Quick Charge 3.0
USB-C
Water resistance
No
Security
DTEK security suite
FIPS 140-2 Full Disk Encryption
Android For Work, Google Play for Work
Connectivity
Wi-Fi 802.11ac, 5GHz, Bluetooth 4.2 LE, NFC
GPS, GLONASS
Network (NA GSM)
LTE Band 1/2/3/4/5/7/8/12/13/17/19/20/28/29/30
TD-LTE Band 38/39/40/41
Network (NA CDMA)
LTE Band 1/2/3/4/5/7/12/13/20/25/26/28/29/30
TD-LTE Band 41
CDMA BC 0/1/10
Network (EMEA)
LTE Band 1/2/3/4/5/7/8/13/17/20/28
TD-LTE Band 38,40
Dimensions
149.1 x 72.39 x 9.4 mm
Weight
180 g
The core of the issue
Aside from the name, the one major part of the story missing from the intiial announcement back at CES was the spec sheet. While much had been surmised based on leaks, we now have context for exactly the market at which BlackBerry Mobile is aiming with this phone: workaholics. This is a phone positioned squarely for people in government agencies, healthcare, finance — bureaucrats and weekenders, alike — just like the good old days. Steve Cistulli, BlackBerry Mobile's GM, told me that every spec, including the Snapdragon 625, was chosen with one goal in mind: to prolong battery life.
That is fueled by the non-removable 3505mAh battery, the largest ever found in a BlackBerry device. While we haven't used the KEYone for more than a few hours, I can safely say, based on the chip's impressive legacy inside devices like the Moto Z Play (which has a similar battery size), this thing will last well over a day, and perhaps close to two.
But that's all well and good — phones with big batteries abound. What's it like to actually use this thing, to straddle a permanent keyboard with a touchscreen interface that has, over the past few years, weened itself off any input method that isn't a finger (or, I guess, a stylus)?
The KEYboard
First, this is probably not the last phone from BlackBerry Mobile with an exposed QWERTY keyboard. You can tell from the name. The form factor may not be common in the Android space, but there is a small, loyal group of folks that have been clamoring for this exact device since the early part of this decade.
The whole experience lives and dies by the keyboard; if it didn't properly translate over to the brand's new overlord, the whole thing would be for nought, big battery and all. I'm happy to say that this feels like a BlackBerry in most ways. The contours you're used to from previous Bolds and Classics are gone, but that's on purpose: they reportedly got in the way of gesture navigation, which is a key part of the KEYone experience.
But other than that minor change, this is nearly the same keyboard you're used to from the Classic. It's clickly and responsive, with excellent travel — for more than the shallow, disappointing Priv — with keys of correct proportion for my fat thumbs.
BlackBerry KEYone vs. BlackBerry Priv
And while it took me, my joints, and my brain to re-form an alliance with the notion of pushing on physical keys over the smooth glass of a touchscreen, having done it for years it felt like coming home. But it's sort of like that childhood bedroom that hasn't changed in over 20 years; it's nostalgic and, at first, cozy, but after a while I get the impression it will feel suffocating and limiting.
BlackBerry Mobile has augmented this keyboard with a few neat tricks, though none particularly innovative. As with with the Priv, the keyboard doubles as a trackpad for navigating between supported UI elements — swiping down a webpage, for instance, or flipping between photos — as well as 52 distinctive shortcut buttons that, either tapped or held, can launch apps or app shortcuts (though not, as I noted, the equivalent of the Pixel Launcher's app shortcuts, which appear to be kept separate).
One thing that was emphasized again and again about the KEYone is its one hand-friendliness, which it is. My human-sized thumb could reach the opposite end of the keyboard to peck out a response while holding a coffee (I tried it; it was good coffee!), aided by BlackBerry's always-excellent gesture-based suggestion engine.
Though it's not possible to use an on-screen keyboard with the KEYone (for obvious reasons), while typing a short row of three suggested words appear above the screen, easily chosen by swiping up in one of the three delineated sections of the keyboard.
And then there's the fingerprint sensor built into the spacebar. This is, really, the substantive differentiator from previous keyboards, and it's, well, great. While it's not the first BlackBerry with said feature — that debuted on the back of the DTEK60 — it's certainly the best implementation to date, and it saves time.
A camera to remember
While I didn't get a chance to sample too many of the KEYone's photos, I know this: the sensor, Sony's IMX378, is the same excellent one inside the Pixel, and while the phone lacks optical image stabilization, I was impressed by the results I saw. BlackBerry's done some spit-shining to the overall interface, too, including the addition of a very decent Pro mode, which should make it easier to get those low-light photos that we loved on the Pixel.
But simply putting a quality sensor inside a phone isn't a recipe for success — see practically every Sony phone released in the past four years — so it remains to be seen whether BlackBerry Mobile has managed to eke a win, but the IMX378 alone is a good start.
BlackBerry legacy
BlackBerry Mobile may a subbrand of another company, but the software here — Android 7.1.1 Nougat — is made by BB proper. The two organizations are working closely on the software, with the Canadian firm issuing updates and signing final builds to ensure that security is maintained throughout the process. That part — that the software is signed in North America — was emphasized, too, perhaps as pretense to a carrot of sorts, to convince U.S. government agencies that the KEYone is the right tool for the job.
You also get all the improvements you'd expect in Nougat — which hasn't been made available for the Priv, or any Android-based BlackBerry just yet — including multi window, display scaling, and improved notifications. These are core features one would expect on any modern Android phone, and they translate here to great success, largely because BlackBerry doesn't spend much effort skinning the phone. Even the launcher is as barebones as manufacturer launchers get. Alas, though: no Google Assistant (but yay for display scaling and monthly security updates!).
Apps like BlackBerry Hub, DTEK, and a plethora of productivity apps, are all pre-loaded, and if you're already a fan, you'll continue to be here. The launcher is still great, as are the various additions peppered through the OS — including the right-side convenience key, which continues the legacy of supplanting where you think a power button should be. (That particular button, little used with a fingerprint sensor and double-tap-to-wake, is on the side of the phone.)
Here's where things get tricky: with the keyboard in the way, and the screen an already-unusual 3:2 aspect ratio, landscape content — particularly apps and games that are optimized for 16:9, or, like some games, require a person to hold onto a device with two hands and gesticulate with thumbs — are not going to work so well.
Sure, BlackBerry Mobile isn't aiming the phone at gamers, nor will it mind alienating a few Clash of Clans addicts, but it's something to keep in mind. That keyboard, unlike then Priv's that could disappear, or any modern metal-and-glass handset, isn't going anywhere for the lifespan of the phone. You're buying this thing for the keyboard.
Buying it for the keyboard
Here's the part where I tell you price and availability. I can do one of those things with certainty: it will cost $549 USD / €599 / £499. In the U.S., it will be sold exclusively unlocked — even under new management, BlackBerry Mobile has no intentions of retreading old wounds with carriers. So, without subsidy or financing, that's not a cheap phone, but for the money you buy into a very particular set of abilities, for better or worse. In Europe and the UK, there may be carrier partners, but BlackBerry Mobile isn't divulging anything just yet.
In Canada, there will be carrier partners, and it will actually launch first in its home and native land in early April, though a particular day has not been specified just yet.
For now, I can safely say I look forward to seeing how much trouble my thumbs can get into after using the device for a few weeks; it's just too bad that I have to wait until April to do it.
And now we wait — again. 👎 👍
Android Central Newsletter
Get instant access to breaking news, the hottest reviews, great deals and helpful tips
Daniel Bader was a former Android Central Editor-in-Chief and Executive Editor for iMore and Windows Central.
So you say it will be exclusively unlocked in the US....Will it be 4 carrier compatible?

Nope. Wont work with Sprint or Verizon apparently.

Actually I heard that it WOULD be compatible with all 4!

Bad news for you, look at the North American CDMA specs and it has all of Sprint and Verizon frequencies.

Yes, I've read that it will ship with all the bands so it WILL be compatible with ALL 4

THE phone to get if you want a qwerty. Nice but definitely pricey. Keep in mind though, volume is low and manufacturing cost is probably high.

That chipset sucks and so does the fact it LCD and not AMOLED.

Dude, it's not meant to be a spec-chasing flagship killer. It's a tool meant for a different job than fighting benchmark wars and living on the charger. Think of this like you'd think of a Dell Core i5 mid-range laptop, because the same type of people and companies that buy millions of those not-top-spec workhorse laptops would be interested in the KeyOne.

Not a fan of the keyboards but as long as it can load a average size tif or pdf of some drawings/blueprints i know alot of people who would like to switch back from the iphone. As long as they can get the price to motivate the companies.
I know i would rather have this than that stupid iphone my company supplies. I dont even use it. I just forward everything to my note.

Your right its not aimed as that, but the price will confuse people into thinking that it is

Nobody will be confused. I don't think BB is going to market this to the average consumer.

LCD is not favourable to AMOLED for battery. Light bleed sucks as well.

But it dies better in outdoor settings.

The 625 is actually a very good chip and has excellent battery life. It might not benchmark like the 800 series but I have not had any slowdowns on my Lenovo P2. I think where phone will suffer is that 1) not many people really want a physical keyboard, and 2) the price is too high. My Lenovo P2 cost £199 compared to the KeyOne's £499. This puts it in the same price bracket as Apples last year's flagship i.e. the iPhone 6s.

But....$550 for a Snapdragon 625???????

Not just the chip. You get the rest of the phone as well😉. *Posted using a Moto Z Play with....A SD625!

How much is a Moto Z Play though these days, probably getting close to half the price of this Blackberry by now.

As of today? $399 US at Best Buy. I was just in there.

In the UK you can get one for around £300-350 with basically identical specs to the Keyone, so that amounts to a very hefty premium for the physical keyboard.

And the camera sensor too, I presume.

Finally seeing this phone and hearing the specs, I'm still fascinated. Wow.

Are you looking at the same phone it's Fugly!!

I can't see a single thing in this phone that justifies the 600€ they will be asking for them. If I didn't knew the Chinese of TCL were the creators I'd think it had been Sony creating the device: mid-range specs (chipset, RAM, internal storage, camera etc...everything is mid-range here folks) for an outlandish price.

Yup, similar to how they managed to botch the priv...overpricing and underperforming.

Agree 100%, it's awful...

as apposed to the almost $900 note and $800 v20 im glad to see a price tag that isnt higher then my rent. lol

FYI: the look, the style, isn't accurately 'Industrial', it's called, Art Deco which is a style where everything from train engines to mantle clocks were give a Stream Lined look so the items looked as if it were built to fly! Look at images of the Chrysler Building in Manhattan top of building and compare to pkb and bottom of keyone.

Really a good video Daniel. Glad to see you coming it to videos. But here is one small suggestion of you don't mind. Just loosen a little bit, you are way too serious both in your voice and your act. Not going overboard but a little bit of fun video is always a welcome.
Oh and about this phone, I think Blackberry really delivered a great phone. Only if it had a lower price tag or a Snapdragon 820 processor, it would have been perfect. For now, I think I am going to pass. Plus, after using a capable smartphone with Dual SIM, I just can't go back to single SIM devices.

See I'd agree, but I think the Dual Sim is more for some people rather than anyone. The biggest loss for this phone is definitely the price tag, a mistake which Blackberry has done in the past with the other phones. But as someone else mentioned it is probably to do with the lower volume of the devices made,a part from that as a phone I think they are doing the right thing and aiming for the right market, where battery life and productivity wins over benchmarks etc

Look at that bottom bezel, it's massive. The phone could have had a 5.7 inch screen instead of the tiny 4.5 inch they fitted.

You need that bezel to properly use the PKB. Bezels are not always a bad thing.

Ironically I will probably get one for my dad in April! lol

MINE MINE MINE MUST HAVE HAVE HAVE MUST HAVE

Here's a quote from @CrackBerryKevin "Five quick things for now: Hardware build quality is top notch. Keyboard is great - reminds me of the Bold 9000, but better. Battery life is AMAZING. Best camera on a BB ever - on par with the best out there. The screen is BIG - I'm used to using phones like the DTEK60, Google Pixel XL or iPhone 7 Plus. Going to the KEYone I have yet to ever think that the screen size feels small. The form factor really works. And the KEYone stands out so much from all the boring full touchscreen slab phones out there. And in the couple days I've now used it I can really say it's a no compromise BlackBerry. Running on Android, I finally have the app ecosystem I need and it's also giving me the features of BlackBerry I've always loved." With that said, there's no way this phone is not gonna be mine and in my opinion.. Worth every penny.

Kevin is just a wee bit of a schill. It does look like a good device for what it is, but take what he says with a huge grain of salt.

I can't wait for the links to shopblackberry so I can preorder this beauty!

Yet another UGLY blackberry..just leave it blackberry. It's disgusting!
A tiny weeny screen too. Why are blackberry doing this it's plain awful!!

Um, there are millions of people out there on Android that still miss their BB keyboard. This is the best of both worlds. It will be a great option for people who love physical keyboards.

Well obviously people are still buying their phones.

There are some pretty neat features there, just not my thing. It's a bit of a big phone, though less so than I expected when I saw the 4.5" display and keyboard. It's not terrible tall, but certainly not a short device (it's a bit taller than my 950). The textured back, I really like, because that's the ONE time an OEM can try to convince me I don't need a phone case. The LG V-series devices did a good job with this. It's an OK phone, but I think they should have considered a high-end option with that 800-class SoC as well, just to get the eyes of the people who want the best and fastest. I'm someone like that, and am fine paying more to get more. Plus, no wireless charging? Boo! $550 isn't a bad price, but it's not great. I feel like this is more a $450 phone, with a mid-range chip, mediocre camera (buy today's standards), and we're just getting too much of a price bump for the keyboard. $450, I'd think hard about it. $550, I'll look more towards the higher-specced phones, because I'm not dying for a physical keyboard.

The camera sensor is one of the best. I agree about the pricing though.

So true, but if this follows the trend of the past 2 or so years, it will be selling for well under it's MSRP sometime during the summer.

I miss the physical keyboard. i HATE onscreen typing.
Some of ya'll complaining about the smaller screen. the only reason some people prefer the bigger screen is for bigger keyboard easier typing. Atleast for me thats the case. As long as the camera is great its all good for me. Sadly im on sprint and they gave up on blackberries a few years ago.

I might be wrong but did the spec's show cdma compatibility?? Even if so, will Sprint allow it on their network?

Unfortunately the 625 limitations are going to show in encryption and graphics processing.

Too bad about no carrier support in the USA, I would totally get this using T-Mobile Jump.

This design would be great as an all screen phone with no keyboard. Also don't like that it has the 625 in it why did they not go with the 821 instead?

From everything I've read battery life was the primary driver. This is a business focused phone after all.

BlackBerry sued by employees check cbc website I worked for this company in 2003 and then again in 2012 and harassment began to take place and as a result I've submitted a Better Business Bureau complaint in 2014 as well as a tribunal complaint in 2016. Some of the information submitted within the complaint is listed below: a woman at Vuteq where I work was shouting comments to me from a distance (name I believe was Laura) Vuteq management was notified of the incident
approximately Dec of 2015
Vuteq premises as I was leaving work
my lunch has been stolen from Vuteq
I had taken a Goodlife trainer's course and had people join the course and harass me
I"ve received threats
these issues first started while I was working at BlackBerry and escalated once I was layed off other incidents have preceeded this
vehicle broken into and damage done to car stereo( was rewired) in Mississauga
police report was filed PR15-044 7061
keys were stolen, items stolen from vehicle
staff have been hired from places I work to harass me, one place was The Monitoring Center in Oakville an Alarm Monitoring Company
John Chen was contacted Oct 6th 2016 via LinkedIn with no response received
Jim Mackey was contacted Oct 8th, 2016 with no response received regarding matter
Marty Beard - Chief Operating Officer at BlackBerry contacted Oct 12, 2016 The following statement was sent to them Mike D Scott has been harassing me and my family for quite some time, you may or may not be aware of this. As a result sometime back a complaint was filed with the BBB bureau because of his actions. It appears he intends to continue with his actions forcing further complaints to be filed. As they're submitted I will forward you a copy of them for your review. A Better Business Bureau complaint was filed July 17, 2014 case# 1302548
On Oct 16, 2016 the following was sent to John S Chen and Jim Mackey A complained will be filed with the Tribunal shortly in regards to this matter. Thank you
response received from Jim Mackey "At 11:53 AM, Jim Mackey said the following:Thank you. I do not manage this area." My response "At 11:59 AM, Roger Virgo said the following:Okay please forward to the appropriate person and they can feel free to contact me."
John Chen has been contacted via LinkedIn regarding this matter with no response received

They are on the Rising. At least they could go with the 820 instead of the 625
Android Central Newsletter
Get instant access to breaking news, the hottest reviews, great deals and helpful tips
Thank you for signing up to Android Central. You will receive a verification email shortly.
There was a problem. Please refresh the page and try again.