BlackBerry details its plans for handling Android security updates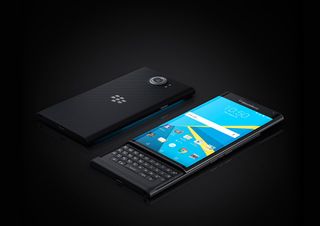 BlackBerry has released some more information about its plans to keep the Priv up to date with security patches as they are available. The company has already given some details about how it added another layer of security to Android, and now it is detailing how it will keep that going forward.
BlackBerry plans to push hotfixes for critical issues, along with monthly security updates like other smartphone manufacturers have already committed to. Here are some of the details:
Android Monthly Security Updates: BlackBerry will release these monthly updates to users that have purchased PRIV through shopblackberry.com and to PRIV resellers (carriers and other authorized dealers) that have agreed to participate in our regular monthly update program and facilitate rapid approval of our monthly updates for over-the-air (OTA) to subscribers.
Hotfix: Depending on the severity of the problem, complexity of the fix, and timing relative to the monthly update cycle, BlackBerry will opt to perform a hotfix, where the code to address only the specific critical problem is pushed to customers. Because a hotfix is typically limited in scope, the balance between a longer testing and approval process and the risk from the critical flaw makes this approach an important addition to helping keep users safe and secure.
Enterprise-Managed Updates: By controlling when and to which devices and users that patches are delivered, IT can avoid expensive software incompatibilities and ensure that the security issues most important to the business are mitigated. In the mobile world, enterprises have lost this control. BlackBerry aims to bring back this control through BlackBerry Enterprise Server (BES) and OTA management systems.
While it's great to see BlackBerry being proactive and discussing these topics, now we need to wait to make sure it can follow through. Security has always been a key focus of the company, and we don't image it will stray far from those roots.
Source: BlackBerry
Jared started off writing about mobile phones back when BlackBerry ruled the market, and Windows Mobile was kinda cool. Now, with a family, mortgage and other responsibilities he has no choice but to look for the best deals, and he's here to share them with you.
But the question is are they going to update their phone when newer version of Android is available like Motorola.
Mesa hope so. Or blackberry going to be eating by a big goober fish. Posted via the Android Central App

I share the same concern. Time will tell I suppose. Posted via my HTC One M8

Even so, the carriers will kill any reasonable updates Posted via the Android Central App

@aitt Everyone should stop buying devices from the carriers. Nexus or Motorola Pure Edition or the like is where it is at. Blackberry if they know what is right for them should sell directly and forgo carrier customization and lock in.

Of course they "should" but that's not how Murica works. It's not like unlocked phones are flying off the shelves for Motorola, ASUS, and any other unlocked devices to make an impact here. Posted via the Android Central App

BlackBerry does sell unlocked versions through shopblackberry, but that's no good if you're on Verizon or Sprint. Anyone on T-Mobile or AT&T looking to pick up a Priv should buy one unlocked direct from BlackBerry because, if history is any guide, you'll receive much faster OS updates.

People like us who read the blogs understand that they have options besides buying from s carrier. The average person doesn't

People like us who read the blogs understand that they have options besides buying from a carrier. The average person doesn't. I spent some time trying to explain the options to a friend the other day and she got completely confused. Then she phoned Bell and they told her that she would only save about $5 a month if she didn't buy a phone from them. That's wrong and an outright lie. I see lots of carrier FUD coming as they realize that they are losing the stranglehold they have had on us for years. I really don't understand why the manufacturers can't release updates directly. Apple does it. Windows does it to a certain extent. You can get developer updates if your carrier doesn't update your phone. I understand that the carriers add their bloatware, but they are just apps. I just can't see how a security update is going to negatively affect a network.

When they make a great phone, I will buy from them. So far they haven't. I haven't used a 6p or new x yet so I am still going off of last year. The 5X is a dog and should not be owned right now. I think I get the X this week or next. __________________________________________________________________________________-_________________________-____________________

Motorola hasn't had a fast update since KitKat on the 2013 Moto X. Ever since then they've been a failure at software updates: Moto X 2013 - 5.0 was skipped in favor of 5.1. However, this update was roughly 4 months after the Nexus for unlocked Moto X owners, and even longer for carrier-branded handsets. There are still some variants still running KitKat. Moto X 2014 - Quick update to 5.0. However, update to 5.1 came several months after Nexus devices. Still no update for Marshmallow, and carrier variants will NOT be seeing the update. Moto X 2015 - Still running 5.1, 6.0 will be "done when it's done." Granted, this isn't a huge deal right now, as the the only non-Nexus phones running 6.0 are the LG G4 (in some regions), several Sony Xperia devices (in their beta format) and the HTC One A9 (technically not released yet, but some already have them). But, I do expect this to take awhile longer. And look at how fast they abandoned the 2015 Moto E. So I would stop holding Motorola up as an example of fast updates. I think it's time that we stop celebrating their fast KitKat update.

Where have you been the past couple months? There are plenty of Motorola phone owners that are being screwed out of updates. If anything Motorola is on the "do not buy" list until they prove that they can actually update a phone without direct assistance from Google. Lenovo has made it perfectly clear this is an all new Motorola.

Because a new version of Android is available, it doesn't mean it would be stable. As we have seen, BlackBerry clearly isn't participating in the mobile race as they continue efforts to stay relevant. Posted via the Android Central App

I don't want to see BB go under so I hope this phone does well. I still look at my note4 like it's brand new even tho it's coming up on a yr having it. I won't get this particular BB but if this one sells my next phone could be a future BB model. I've sat on the fence whether or not I like this phone and I've recently swayed on the like side Posted via the Android Central App

Not sure, how would this work, so I would need Jerry to break it down for us :) via AC App on
VZW Moto X DE/N7

I can't speak for BB of course, but I imagine they will take the same approach that LTS-style Linux distributions (think Debian) do. A high frequency of security patches and core component updates, but not very quick to push out a new platform version. Users may complain that they want the latest right now, but from a security standpoint, the last to update is usually the most secure. Let other companies roll out platform updates, and the associated security issues that go with them, first.

Well than BLU is the most secure OEM in the Galaxy,! Posted via the Android Central App

Interesting comment. Seems to differ from the article and posts about Nexus devices. I agree. Posted via Android Central App

The above only applies when someone is actively patching the current software. Android security patches are made available for Lollipop, and in some cases, KitKat. If an OEM wants to take time to incorporate those, then their devices will be secure. Unfortunately, nobody besides Google is doing that at any reasonable scale. Hopefully BlackBerry will. It sounds like they have a roadmap for a quick Marshmallow update. I would much rather stay on Marshmallow forever, with any and all needed patches applied from BlackBerry, than jump to Android N while ignoring issues in the current/legacy release.

Muchas Gracias :) Posted via the AC App
VZW 2014 Moto X/Moto X DE/N7

I have a feeling BB is going to be locking horns with Samsung in the near future for Android dominance. Not from the Priv alone.. But after releasing multiple devices running Android.

Lol Posted via the Android Central App

Oh atit.. I was expecting better.. Then again, you did pick out those wheels..

No he summed it up right. __________________________________________________________________________________-_________________________-____________________

Didn't say overtake.. I said lock horns for dominance. People LOVED Blackberry. It's just you geeks and nerds who are obsessed with bullshit like 810 vs Whateverthefuck.. Regular people don't give a shit as long as it works. BB quality was top notch. And Samsung competes with clowns (HTC, LG, Sony, 10 other brands, etc.. ) That's who BB may be able to dominate, to then - lock horns with Samsung. We'll see of course, but all you people do in here hate on everything. All BB was missing was apps. Now with Android and their security (which is important for mindshare), they have a real chance at a comeback. They're just going to need a couple more devices over the next year or 2. Get out of the house guys, it's really nice outside

It is laughable. Blackberry reaching the heights of Samsung in Android World. Not going to happen Posted via the Android Central App

Exactly and with Marshmallow and Knox no one is looking at BB for security let alone a phone. While this "should" do okay, it's a joke to even remotely think they would take over Samsung. LOL. Posted via the Android Central App

They might not be able to compete with Samsung in sales, but I think they will be more secure. http://www.bbc.co.uk/news/technology-34719564 Posted via the Android Central App

I don't question they'll be more secure. That's what BB does. However KNOX has become widely excepted. Posted via the Android Central App

Atit.. Reading is fundamental. Remember that

Lol Still trying to insult. I'm flattered. Your obsession with BB (and my rims) is remarkable. BB let's trash Google and Knox (2014) We love Android and have the most secured Android device. (2015) Lock horn for dominance (waiting) BB needs to stick to software security for Android and partner with Google for enterprise. That's it. They make more money off their software than they'll ever make off devices. But keep believing that. Posted via the Android Central App

Feelings mutual atit, you seek me out and you keep leaving your idiotic comments - ill continue to reply. Your rims are just the icing on the cake. I personally don't care about Blackberry, so I wouldn't call it an obsession. I've been using Nexus devices since the Nexus S. But I have respect for them and comprehend their potential and ability to scale. Android as whole is total shit show. Any manufacturer can come along and dominate it. It's a fucking monkey knife fight right now and the only gorillas are Samsung and potentially Blackberry. (key word there is potential, I know you don't read, just skim and jump to your own conclusions). A third gorilla is Google and their finally pushing Nexus devices mainstream, so we'll see how that plays out. They have name recognition which takes years to build. They never left their customers hanging. No stories of "I had that old whatever, it sucked never again" BB just didn't move fast enough as Apple & Android began to rise and they lost popularity. So that being said, they have the potential (that key word again) to rise up and regain some lost market share and hand the clown manufacturers their asses.

Plus, Wall Street agrees.. BBRY is up 25% since the official announcement. But what do they know.. You guys who complain about the bus speed of the ram know better.

Lol Shares also rose with the announcement of BB10, and the release if the z10. And even the false rumor of Samsung bidding to acquire BlackBerry. Potentially Lol But whatever I won't continue. I prefer to skimp over bullshit Lol Posted via the Android Central App

that's actually the false part... on the day of the announcement of BB10 shares dropped 10-15%.

How about they give us their plans for OS updates too. Disappointing it's not shipping with 6.0 and for $700 I'd like to know it'll be updated.

It will get 6.0 in the coming months confirmed by Ron Louks.

"coming months" is very ambiguous...

Hope it works. And it better, for it would put the Venice close to the Nexus on updates. Posted via the Android Central App

So basically they have no control over updates, bloatware, and security on their carrier variants of the Priv. The Nexus and iPhone has more security than that just because they don't have carrier bloatware(security venerabilities) and they can receive ota hot fixes regardless what carriers approve. I had more crippling bugs through carrier "approved" ota updates that took months longer to address than I've ever had through OEM ota updates. I don't miss carrier approved devices. Posted via the Android Central App on the Sony Xperia Z3 Compact

BlackBerry has stated several times that it will be up graded to marshmallow. A half baked upgrade though and it would be bad. Lolipop 5.0 anyone? Posted via Android Central App

Gosh you guys are so negative it's ridiculous. There's simply nothing this company can do that folks won't already think of the worst case scenario and totally ignore all the positives. It's so overwhelming. I do understand the scepticism as many of you were ex BlackBerry users and lost faith but then again there's the other half who just hate on them because it was for a good while.. fashionable. They do seem to be doing the right thing now though so if nothing else.. Let's see what happens. No amount of wishing them bad luck is gonna change the outcome whether good or bad. Let's just see what happens. I for one have already ordered the phone so till its in my hands I'll reserve judgement. Never used android before so not particularly expecting anything mind blowing coming from bb10 but will greatly appreciate the access to apps BlackBerry never had. Posted via the AC App on my BlackBerry® Passport

Bas or Laz must have killed their childhood pet or something. A lot of anger for a company. So strange. Posted via the Android Central App on my BlackBerry Passport

Completely agree with you. But remember, a lot if the commenters in here are kids posing as adults. So they just complain every. Single. Little. Thing.

BlackBerry has continually updated BlackBerry 10 since '13. If you don't trust their track record on this look it up. They will continually update this device. Posted via Android Central App

Including updating their tablet to BB OS 10 right (I think it was BB 10) but that never happened. Time will tell Posted via the Android Central App

If only more companies only had 1 device that was supported terribly. ;) Blackberry used to have new OS "leaks" almost weekly, it seemed. Posted via the Android Central App

As noted on a prior post about the PlayBook it never ran BlackBerry 10. It was and is QNX based and was the first to incorporate the phenomenal gestures BlackBerry 10 utilizes. All BlackBerry 10 devices, including the original Z10 and Q10 have and will continue to receive updates. If you really knew anything about BlackBerry since the PlayBook you would already know this. BTW I still use my PlayBook with my Amazon Prime for watching movies and I sync my iTunes with my music. To date, including my 8.4 and 10.1 Tab Pro's, there is no other tablet with as good stock sound and speakers. Pair it with quality Bluetooth speakers and even better. So although it never received BlackBerry 10 as so many, including myself, wished it is still operational for email communication, HDMI output to TV's, private Web surfing and music. I also use it with a sync pod as my alarm clock. Could be worse for such an old, technology time wise, device. Posted via Android Central App

PB was really good hardware wise for 2011. My kids use it for games now. But nothing beats Surface Pro 3. A tablet running full Windows, Bluestack for Android apps, and it fits in my Padfolio. Posted via the Android Central App on my BlackBerry Passport

Blackberry is their only product and they can exercise a greater control over it. Android is different. Two different products and no reason to think one way or the other. The difference is that for the last few years blackberry cannot get out of its own way and keeps screwing up. The lack of trust is warranted. __________________________________________________________________________________-_________________________-____________________

Ehh, BlackBerry was working on BBOS 7, BB10 and TabletOS all at the same time, at one point. Beyond all their BES software and cross platform Apps. Oh and QNX for vehicles... They've been working with Android for years, actually. Posted via the Android Central App

Sure it is. Governments can't trust BlackBerry and BlackBerry 10 devices for secure communications. Nor BES 12 which BlackBerry uses to manage and secure devices (Android, iOS, WP) cross platform. BlackBerry is much more than hardware and a proprietary OS for the most secure needs. Google BlackBerry and it's direction and acquisitions the past couple of years. It may enlighten your view of their capabilities. All my BlackBerry 10 devices have run Android apps securely in a "sandbox" on the phenomenal QNX backbone for a couple years and what do you think Android Auto and Apple for car is running on top of? If you guessed QNX you would be correct. Posted via Android Central App

Oh sure they'll be able to do that with the big four flaming pile of dogpoop US carriers. That's worked so well for Google's Nexus 6. Posted via the Android Central App

Holy cow! That phone is sex on wheels! Blackberry= THE NEW HOTNESS! Blackberry hardware+ android+ keyboard+guaranteed world class software support? I'll take 10! Make that 100! I'll hand them out to everyone I know! Long-live Blackberry! Time to sell all my stocks, mortgage my house, clean out my bank account, and buy all the Blackberry stock I can on margin! Because this phone is going to bring Blackberry back on top! Just 1-2 years from now they'll be the world's number one smartphone maker yet again and I'll be richer than god!;)

So basically the same level of updates and security that Samsung (and others) already offer. Why would anyone choose Blackberry? (after 17 years in IT I've only met a single Blackberry user (who later gave up and switched to iPhone))

LOL! You must work for a one very small company. BlackBerry dominated the corporate world not too long ago and were around long before iPhone was even a thought!
Android Central Newsletter
Thank you for signing up to Android Central. You will receive a verification email shortly.
There was a problem. Please refresh the page and try again.