Bixby isn't dead or going away anytime soon — it's actually improving and expanding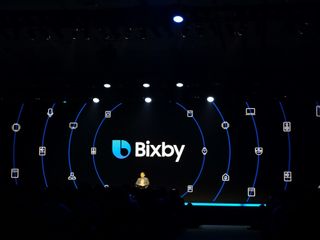 Every time someone mentions Bixby within the context of the smartphone enthusiast crowd, it's typically met with a range of responses from a laugh to downright disgust. Our guide for how to disable Bixby on your phone, which nominally targets more casual Galaxy owners, is incredibly popular. If you look at these signals, it leads to a general feeling that Samsung is going to simply "give up" on Bixby and throw in the towel to let Google and Amazon run the smart assistant ecosystem. Unfortunately for the Bixby haters, I don't see that happening at all — Bixby isn't going away anytime soon.
Part of the reason why people think Bixby is destined to die is that they also think Bixby is simply a Google Assistant competitor on high-end Galaxy phones. If you look at Bixby this way, yes, it's objectively worse than Google's, and even Amazon's, offering. Bixby isn't as helpful for general knowledge questions, isn't integrated into nearly as many services we use every day, and generally feels a bit more clunky than the competition. Particularly on a Google-centric Android phone.
But anyone who's paying attention to Samsung's larger connected ecosystem play will see that Bixby is about far more than just phones. Bixby is the voice control and AI engine that Samsung is hanging its entire "smart" ecosystem of products on. At CES 2019, Samsung made the same pitch it's been making for years now: it makes every piece of electronics your home needs, and links it all with a single system that's intuitive and easy to use. Samsung can sell you a phone, tablet, refrigerator, washing machine, robot vacuum, smart lights, mesh Wi-Fi routers and just about anything else you can think of — and provided it's all new products, it'll work with Bixby.
Samsung's real problem — and why Bixby has such a bad reputation — is that it hasn't quite pulled it all together yet. Bixby's usefulness as a standalone assistant service on your Galaxy phone is limited and fully eclipsed in the public mind share by Google and Amazon. It also isn't available on non-Samsung phones, nor is its effectiveness as a whole-home control system realized unless you have a whole home of Samsung products. Bixby was slow to roll out features on phones and was often low quality when it did, which was most people's first interaction with the service. Add it all up, and the "Bixby" name is tarnished, and that perception is going to carry on for some time and across product categories — whether that's a Samsung refrigerator or a forthcoming Galaxy Home.
With this large of a bet on Bixby across its entire product portfolio, and dozens of different products already in the market and more to come, Samsung simply can't give up on it. Bixby, taken alone as a phone-only product, may not actually be a great product — and Samsung may even be aware of it. But its persistence in the Galaxy S10, and well beyond, is a requirement if Samsung is ever going to make inroads with this whole-home ecosystem play. So if you want a Galaxy phone, you better get used to Bixby being there.
Andrew was an Executive Editor, U.S. at Android Central between 2012 and 2020.
That's one of those failures that gets disabled during initial setup.

Bixby is tarnished to the point that it will probably never reach 'as-good-as' status with Google and Alexa. No matter how many washing machines it is put on. Customer: Hey Bixby, I just put some really dirty whites in the washer, go ahead and wash them. Bixby: Ok, starting white wash cycle. When Bixby should be asking if you want a pre-soak first.

Well, first - I hate Bixby. I wouldn't "hate" it if Samsung hadn't tried to ram it down my throat, I would have tried it, "huh, nice try, Samsung", gone back to Google and kept it in the back of my mind. It was foolish to refuse to disable it at the start and dedicate an entire, now useless, button to it. I'm willing to put up with it's memory footprint now, just stay out of my way.
However, the ultimate problem is that the *only* market for anything other than Google is the market that somehow dislikes Google. Either you're part of the Apple ecosystem and can't imagine using anything else, or somehow Google has annoyed you and you actively don't want to use them - sort of like not using Facebook, like me. When you use Google you are completely wired into their ecosystem and disentangling yourself from the connections, easy logins, password storage...you name it...is a serious chore and only happens over a long period of time.
I'd never do that for a search engine wannabe unless Google really screws up, from my perspective. Good luck, Samsung.

I like Bixby. Well I like that it's by far the easiest and fastest way to change system settings without looking through the settings menus. Google Assistant still being the prime Assistant for everything else though. Only real gripe with Bixby is the absolutely awful voice recognition that just leaves you fuming in frustration. The Bixby button doesn't even bother me tbh. I think I've only ever triggered it by accident once

To clarify, are you saying that system settings are easier to change using Bixby vs. the Google Assistant on a Samsung phone? Changing system settings on a Pixel is super easy using the Assistant. Wondering if Samsung modifies it to the point of making it less functional. If so, same on Samsung and people that think that is a good idea. If it is truly left untainted, then it would be nice to see a comparison.

Yes, it's very good at changing system settings, especially when using multiple strings of commands. When it comes to that GA isn't as close. Outside of basic commands like Bluetooth it can't do anything really. I also agree that voice recognition is terrible. It hears the wake command far better than Google Assistant but it cannot come close to understanding basic speech.

Bixby is ok.
It is designed for voice control of the phone. Does that fairly well. 'Optimize my phone', 'clean memory', 'clean storage', 'open notification panel', 'read my notifications', 'delete all notifications', Google can't do, yet. I use Google for everything else. Yes, Bixby can tell me the weather or the time, but not as well as Google. Can't believe that Google doesn't know how to 'restart my phone', Bixby does.
I use the Bixby button to avoid the voice recognition system that needs some serious attention. As a local delivery driver in the Dallas/Fort Worth area, I'm on the road 8~12 hours a day. 250~350 miles a day on the most congested roads with continuous construction, and axel-breaking pot holes, hands-free is the only way to survive.
I make the best use of both Google and Bixby.
I really wish that the 'continued conversation' feature of Google Home would work with either system on my phone.
Can't wait until the end of February for the Galaxy S10+ to come out and see how much better Bixby has been upgraded.

L.O.L. that sums up Samsung and glitchy software. "Bixby, restart my phone". Hahahaha. That made my day. Thank you.

It has potential, and it's finally getting to it

I don't mind Bixby if used right. The problem was it was initially seen as a Google Assistant competitor but I think they complement one another. Bixby is good for controlling your phone with your voice and much more flexible in that regard (such as Quick Commands) whereas Google Assistant is good for... well, Googling. Bixby's voice recognition could use some work, and it irks me that when I ask for the weather it tells me it in Farenheit despite me being in Canada.

Bixby is garbage at best. Drop it already and embrace Google assistant.

Nice try. Google only gave Samsung to use their app on bixby, to get in to Samsung's TV. Google start to put assistant in every app. Bixby will fall behind. That the truth.

If Samsung wants me to have a whole home full of Samsung products, it had better start by making sure that their appliances last longer than 10 months, or make the customer support team actually do something besides drive (former) customers to drink and distraction. That is really sad, because I was pleased with my cook top until it stopped working. And then the two month run-around with customer service began. The 6 AM phone call to tell me they would be calling again in a two or three days wasn't even the final blow, just one of the middle salvos in the war against the customer. It is even doubly sad because I have Samsung monitors that just won't die, on their third or 4th desktop by now. Sorry Samsung, for lots of reasons, but Bixby is a disqualifier for me.

Agree, last thing I want is a house full of Samsung stuff. As a matter of fact I might break rank and not even get a Samsung phone next time.

I've read comments, some of mine included, where the writer writes about how terrible Bixby was compared to Google Assistant, and we all commented about how Bixby is different; Bixby is meant to serve a different purpose. Every article was angry about having Bixby forced down your throat and fury over not being able to remap the Bixby button. This is the 2nd article I've seen praise Bixby. Why is it that we, the ones that don't research tech for work, knew this at Bixby 1.0?

Your seeing more articles because the Samsung phone hype season has started here at AC. Two weeks after the phone launches you'll see the second opinion articles posted with mostly accurate information.

I turned off Bixby with a package disabler and installed a button remap app to use the Bixby button for Google Assistant.

Just like everyone will say.
I can just buy another brand of phone.

I hated the Bixby button on the Note 8, every time I grabbed my phone it would trigger stupid Bixby. I had to use an app to kill the button. Die Bixby Die..!!!!

I use a Note 8 at work, and I can't figure out why they would put buttons on both sides of a phone in similar positions. I lost count of the times I activated Bixby by accident, and sometimes it screwed something I was doing. On the Note 8 and 9, it's Bixby on one side and power on the other. On my iPhones it's power on one side and volume up on the other.

I use it and yes sometimes it screws up.but when I am sitting in the cafeteria at work and someone wants a answer to something she gets me the info and they are like hmm maybe we need to set it up on our phones since they also use Android

Horses for courses, I have no interest in smart homes, TV's lightbulbs or any other smart thing. I'm happy with just my phone being smart. So I kill Bixby, Google et Al and firewall everything they try to do anyway!
Others like the whole system, so good for them, it's nice to have the choice....

The rule of two's still applies. There can only be 2 major players in any facet of life
Light/Dark
On/Off
Pepsi/Coke
Zwave/Zigbee
NFC/AFC
Android/iOS
and of course
Alexa/Google Assistant
Android Central Newsletter
Get the best of Android Central in in your inbox, every day!
Thank you for signing up to Android Central. You will receive a verification email shortly.
There was a problem. Please refresh the page and try again.