Best Tech Gifts for the Chef in Your Life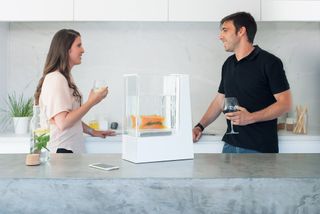 Cooking predates any form of technology, really (unless you count the wheel), but that doesn't mean that you can't get your favorite chef something to bring his or her kitchen into the 21st century and beyond!
Here are some chef-worthy gift ideas that won't make you roux the day you gave them to the chef in your life.
Somabar
Why you can trust Android Central Our expert reviewers spend hours testing and comparing products and services so you can choose the best for you. Find out more about how we test.
The Somabar is just plain cool as hell. It's essentially a robot bartender that mixes drinks based on what you tell it in the Somabar app. You just keep the Soma Pods filled with your favorite alcohol and mixes, and the app will even help you concoct cocktails of your own creation.
This is a Kickstarter that's been funded and available for pre-order.
FOODsniffer
If you're like me at all, you sometimes have a hard time figuring out if meat has gone bad or not. If it's funky and discolored, then of course I know, but there's always that awkward window where I'm not quite sure.
The FOODsniffer is like that dude who tested the food for the king to make sure it wasn't poisoned — by detecting the gases associated with rot, it accurately lets you know if the meat, fish, and poultry you're thinking of cooking has gone bad.
The FOODsniffer only detects via gases, and the disclaimer on its website says that it won't be able to discern the presence of bacterial growth, like Salmonella or E. coli, so if you have week-old chicken, but it's not producing rot gas (by some random act of bad luck), still chuck it, or be careful at the very least.
Comes in black, white, green, and purple. The gadget, not the meat.
Prep Pad
The Prep Pad is the food scale of the future, and it connects to your phone via Bluetooth and the cool Orange Chef app, which gives you a complete nutritional picture of your meal with just a bit of input from you.
If the chef in your life is also a calorie counter or simply wants to start eating more healthily, the Prep Pad is a great tool to help figure out nutrition while cooking.
Amazon Echo
The perennial Android Central favorite, the Amazon Echo is the smart assistant that every chef needs. Set timers, search the internet for recipes, cue up some music, and tons more, using Amazon's digital assistant, Alexa, and just your voice. No needs to touch buttons with messy paws.
The Echo isn't just a personal assistant, but a powerful Bluetooth speaker as well. If you don't need the speaker but still want the Alexa functionality, there's the less expensive Amazon Echo Dot.
If all else fails and dinner just isn't going as planned, you can just order a pizza from Domino's!
Mellow
Mellow is the smart sous-vide machine of your dreams. To cook sous-vide is to place food in airtight plastic bags and throw them in a warm water bath, sort of like an underwater slow cooker. The plastic bags lock in flavour and the slow cook time make everything scrum-diddily-umptious.
Mellow lets you control temperature, cooking time, and more through the app. So if you're at work and know you have a steak that'll take an hour, fire it up an hour before you get home and boom, you come home to a hot meal.
You can make up to six portions at a time in Mellow, it weighs your food automatically, and the in-app chef learns your tastes over time to make recipe recommendations and what not.
Spectrum universal tablet stand
You need a place to hold your tablet. A countertop tablet stand is great, but if you're dealing with some very unstable herbs, things could messy.
The Spectrum stand is a floor stand that adjusts from 36 to 64 inches, so you can stand it next to you while you cook, reading recipes and learning techniques from YouTube videos, without getting it all filthy on the counter.
Fits 7- to 10-inch tablets.
Smart Crock-Pot (with WeMo)
Who doesn't like coming home to a hot meal at the end of the day? Not having to cook when you get home is the cat's pajamas, and a slow cooker is the perfect to make sure dinner's hot and ready when you are.
Even better, WeMo's app lets you control the Smart Crock-Pot over Wi-Fi, so you can control the temperature and settings while you're away from home. If you're worried that your grub is going to burn, you can even set it to warm or turn it off completely. No more "did I leave the oven on?"
Sign up for Black Friday email alerts!
Get the hottest deals available in your inbox plus news, reviews, opinion, analysis and more from the Android Central team.
Mick is a writer and duty editor for Android Central. When he's not on the job, he can usually be found vacuuming up pet hair or trying to convince his wife that he needs more guitars.