Best Replacement Battery for the Kano Computer Kit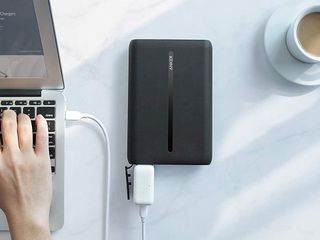 A replacement of the Kano's battery is a tricky thing to find — but it is possible. A battery pack needs to be reliable, charge at an excellent rate, and allow you to leave that experience knowing you're going to be using that product again. With the Kano Computer Kit, you're going to need enough power to run it, so the battery will also need to produce a power of 10W at the very least, as well as support a Type-A USB port. Here are some great options.
Three times the power
(opens in new tab)
At 20W, this battery really puts the power in "PowerCore." The Anker PowerCore 26800 offers up power that is two times faster than what is needed to power your Kano Computer Kit and has three USB charging outports that give users the option to use the Anker power bank for other devices at the same time if needed. It's also light, yet sturdy, which is ideal if you're going to travel with your Kano Computer Kit.
A safe, compact battery
(opens in new tab)
This pocket-sized battery has the power to produce up to 17W. It also has an auto-detect feature, allowing your Kano Kit to be detected automatically once you've connected it the first time — ideal for those who want to take advantage of the multiple USB ports included. It also has an auto-sleep mode, as well as circuit protection and temperature control installed inside.
Compatible for most USB devices
Belkin Pocket Power Battery
The Belkin Pocket Power battery can produce power up to 12W and has a 4-pin USB output that'll enable connectivity to a number of devices. It also has LED lights to provide battery information and battery cells that will not overheat due to monitoring of heat, voltage, and circuitry that is installed into the battery. You will also receive a 5,000 mAh battery pack, as well as 6-inch USB cable with this pack.
A versatile battery to have
Insignia 10,000 mAh Power Battery
Producing 10W of power, the Insignia power battery is both lightweight and portable — useful if you and your Kano Computer are on the move. It has dual USB ports, and is compatible with most chargeable devices such as phones, tablets and even MP3 players. It also has an on/off switch, as well as an auto-sleep mode to give users peace of mind if they forget to switch the battery off for themselves.
Overheating? A thing of the past
Tzumi PocketJuice Power Battery
The Tzumi PocketJuice power battery produces power over 15W, and is covered in a lithium-polymer case with QuickChip technology installed to prevent overheating, as well as overcharging. Its case is also durable enough to protect from drop-damage, as well as scratches. It has dual USB charging ports, allowing users to power up to two devices simultaneously, whether that's your Kano Computer Kit or your phone.
You need a powerful, durable and, (most importantly) a versatile battery that can work well with multiple devices. That's why the Anker PowerCore 26800 (opens in new tab) is our favorite. Not only does the battery have 20W of power to pump into your Kano Computer, but it works with multiple devices, but it's light and portable too.
Android Central Newsletter
Thank you for signing up to Android Central. You will receive a verification email shortly.
There was a problem. Please refresh the page and try again.