The best pre-Prime Day value has to be these Amazon Music Unlimited deals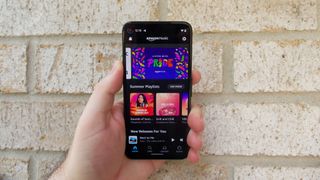 (Image credit: Jeramy Johnson / Android Central)
By this point in the music streaming wars, most people have settled on a service, whether that be Spotify, Apple Music, Tidal, or even YouTube Music. Each of the best streaming music services has its own strengths and weaknesses, but they mostly share the same catalog of content and similar pricing structures. So if there's not much to differentiate between these different apps, how are any of them going to successfully convince you to dump the one you're currently using and give theirs a try? Spotify is building up its original podcasting and audiobook content offerings. Apple is trying to generate churn from other services by offering premium features like lossless or high-def music for free to its subscribers. YouTube Music's draws people in thanks to its integration with YouTube Premium and the YouTube platform in general.
The one service that I haven't yet mentioned — Amazon Music Unlimited — is doing all of these things and undercutting its rivals when it comes to pricing. Not only that, it is constantly running amazing promotional deals to convince new users to try its services out. I've tried all of the major services, and Amazon's is the one I keep coming back to for reasons that I'll outline below.
I've written a lot about why I think Amazon Music is the one streaming service you shouldn't ignore, but let's recap a few of the highlights for those of you who may be new to the service.
For starters, it has essentially the same catalog of music content as all of the other major services — over 60 million songs, in fact — so no matter what genre you're into, chances are it's on Amazon Music. Like Spotify, Amazon also added podcasts to the service over the past year, and also like Spotify, it has been investing in original content to offer its subscribers. Some of the bigger titles include The First One with DJ Khaled and Disgraceland, but you can also follow just about any of your favorite podcasts (like the AC podcast).
The app also includes live streaming content from different artists and creators from Twitch, and there are a number of fun music video playlists for those of you coming from YouTube Music. And if you want to rep your favorite band, there's even a tastefully hidden way to purchase artist merch from the app.
Amazon's Alexa Auto program is still finding its legs, and there aren't a lot of car companies that support it via in-dash infotainment systems. Still, Amazon Music's car mode gets you most of the way there, thanks to its hands-free Alexa integration and simplified touch user interface. Paired with a good car mount, it's a viable mobile solution if you don't have a vehicle with Android Auto or Apple CarPlay.
If all of the above hasn't convinced you to give Amazon Music a try, don't forget that all of Amazon's HD and 3D audio content is now available for free to paying subscribers. Previously Amazon offered this content for a premium price, but now anyone who subscribes can access it.
The final reason to consider switching to Amazon Music Unlimited is the price. If you are an Amazon Prime member, you can get a subscription for as little as $7.99 per month (or just over $85 per year). That saves you nearly $25 per year over services like Spotify or Apple Music, which is not too shabby. Heck, you can even purchase a one-device subscription for under $4 per month if all you want to do is play it on a single Echo device.
While all of the above amount to a fantastic value for customers, it's important to remember too why Amazon is so generous with its music offerings. For starters, it is a huge multinational tech company that can afford to subsidize its music service to outcompete other players. Additionally, there is arguably no company outside of Facebook or Google that knows as much about you as Amazon, and it wants to learn as much as it can about your tastes and preferences so that it can better tailor other offers to you in the future. There's nothing nefarious about any of this, and many people will happily agree to the tradeoff for the value provided, but it's important to remember that there's no such thing as a free lunch.
As you may know by now, Amazon Prime Day is quickly approaching. Last year, Prime Day was delayed due to the COVID-19 pandemic, but it's back on schedule as an early summer event this year. It will take place June 21-22, and there are sure to be a ton of great deals on all kinds of tech devices like the best Android phones, best wireless earbuds, and of course, the best Alexa speakers.
Leading up to Prime Day, Amazon is offering some amazing deals on its Music Unlimited services. Prime members who are new subscribers can get four months of Amazon Music Unlimited for free — which means essentially that you have until early fall before you actually have to start paying for all of those podcasts, videos, and high-quality music goodies.
If you're in the market for a new smart speaker, glasses, or earbuds, you can get even more free music courtesy of Amazon just by picking up an eligible Echo device. Check the links below to confirm which devices qualify, but I recommend the Echo (4th Gen), Echo Buds (2nd Gen), or Echo Show 10 (3rd Gen) for great sound; just pick the best option based on your personal needs and budget.
Now, what are you waiting for? Go grab one of these amazing deals and start your summer out right!
Sounds like a good deal
(opens in new tab)
Don't pay until October
Amazon Music Unlimited was already an amazing deal for Prime members, but it's gotten even better with free HD content. New subscribers can get their first four months for free.
Two for one
(opens in new tab)
Amazon Music Unlimited/Echo Speaker Bundle
Six months free!
Get six months of Amazon Music Unlimited for free — including Amazon's HD music content — with the purchase of an eligible Echo smart speaker or device. Terms and conditions apply.
Get the Android Central Newsletter
Instant access to breaking news, the hottest reviews, great deals and helpful tips.
Jeramy is the Editor-in-Chief of Android Central. He is proud to help *Keep Austin Weird* and loves hiking in the hill country of central Texas with a breakfast taco in each hand. You can follow him on Twitter at @jeramyutgw.
I noticed that Pandora was left off your list of competitors. And, it seems to be slipping off the radar of most. But, I still use it for one feature - channels. I love so many different genera of music and love to discover new artists that I've not listened to before. Pandora allows me to create a station based around a different artist and allows me to tailor how much new music is introduced on that channel (deep cuts). It also allows me to randomize playback amongst all of my channels. Is this available in Amazon Music? It's really the only feature that is keeping me with Pandora. Well, that and it's $2 cheaper per month.

That's a good call about Pandora, and my mistake for leaving it off for comparison. I'm not sure about adjusting the channels/stations; I'll have to play with that and see!

I had a chat with an Amazon Music rep and they confirmed that you can NOT shuffle channels. You can only shuffle music that you already added to your library. They claim it's a licensing issue that they can't get around. I have my doubts about that. But, whatever. I'll stick with Pandora for now. Amazon Music did sound a hair better. But, I'm no stereophile.

Sorry, what's the "deal" exactly? All I read here is the same prices it has been for years. I opened this expecting to see an actual deal on Amazon Music.

The deal is the 4 months free for new signups, and the 6 months free if you buy an eligible Echo device :)

Does it work with Google Assistant/Google Home devices yet?

Sort of... you can cast to Nest/Google Home devices from Amazon Music, and you can ask GA on your phone to play music on Amazon, but it's not immediate/seamless in my experience.

For $2/month more, I have YouTube Premium with no ads on videos and gives me YT Music for free.

I was lucky enough to snag the into price of 7.99 years ago for google play music and youtube premium which converted to YTM last year. I played around with Amazon music weeks ago and I like it a little better but not enough to ditch the pricing I have now.

I may try Music Unlimited either now or wait until Black Friday to see if there is a free promo that lasts longer than 4 months. It seems like anything is better than Youtube Music at this point.