The best news apps for Android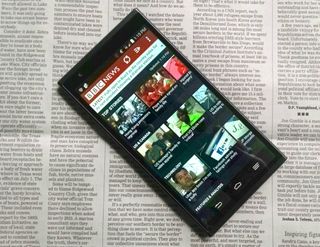 All the news that's fit to render
News in the digital age has gotten faster, so it's no surprise that more and more users are getting their news on their phones rather than on their TVs. And while news aggregators like Press and Newsstand have their place, today we're going to look at getting our news straight from the source. These are the best apps from professional news organizations, at least from the humble opinions of the Android Central staff.
A word before we get into the apps themselves about so-called "push notifications." While nearly all of these apps will ask you for push notification permission upon first use, anyone who has used these can attest to how overwhelming and in many cases repetitive or useless they can be. Unless you work in news or a news-adjacent field, we recommend using one and only one news app for "breaking news" type push notifications. You should select either your personal favorite news app or the news app with the amount (or control) of push notifications most to your liking.
And now, to the day's news...
BBC
The BBC is one of the most used news apps in the world, and that may be because BBC is a worldwide name in news but also because they've got a bang-up little app with a few bells and whistles. The homepage is a like a giant tower of spinning articles: each section gets a row and then you pull it around looking for one that interests you. You can customize the sound for push notifications and you can set whether or not the app can update in the background and if you want to be notified when it does. You cannot, however, set whether it only updates on Wifi rather than using up your precious mobile data, so I prefer the nice big update button on the top bar.
Huffington Post
This is a liberal-leaning source, but damn if their app isn't just about perfect. The Huffington Post will let you log in, but it's not pushy about it if you don't want to. You can have your own customized edition, and easily switch them throughout the various editions around the world. You can change the fonts to your liking, just like all the others, but you know what the Huffington Post does that's special?
It has a dark mode. And it doesn't just have one, it has two: it has dark and it has night. Even better, you can trigger night mode automatically based on the ambient light sensor, so it'll change based on your environment. That just makes me wanna cheer; it's so rare and wonderful to find a news app that doesn't want to blind its readers with tons of white.
Beyond the dark, HuffPo has a few other fun things. You can customize push notifications with a specific ringtone and decide if it vibrates or not. It can automatically download articles on an interval of your choosing and it has the option to only download via Wifi, for data-conscious users.
ABC News
ABC News is another rare news app with a dark theme, and it has something even rarer: Chromecast support. You can cast video segments straight from the app to your TV, allowing you to get a little closer to my personal little dream of you just casting personalized playlists as your newscasts. ABC has a customizable quiet mode, assuming you enable push notifications for it, and it also allows location-based notifications for more localized results for your region's particular news.
ABC News frequently has one or more live streams going, which is especially good for listening to things such as press conferences or breaking news cut-ins while away from home or in an incredibly loud newsroom. You can also rewatch sections from popular ABC news programs such as World News and This Week. The app also gives you a daily rewind at whichever point in the day you prefer. If you're someone who gets up and checks news, you can have the daily rewind give you a cliff-notes version of yesterday's and last night's headlines. Or the daily rewind can be compiled in the evening for you to skim before bed.
AP Mobile
The AP app is simple, but works. No night theme, only an on/off switch for notifications and a basic slider for font size adjustments, but it gets the job done in a pinch. AP, Associated Press, is one of the news sources that most other news organizations subscribes to, and the lucky thing about that is that by using the AP app, you can get this news quicker in some cases, especially if you head into the Press Release section.
Be mindful, though, the Press Release section has no real filter, so you may have to sift through releases for Entertainment and sports while looking for news releases. You can also report news to AP through the app, if you're someone who does that sort of thing.
USA Today
This app is another app with lots of white, but not without its merits. USA Today's layout is big, which isn't a bad thing with all the lovely pictures, but it does mean you'll be scrolling more than on a more condensed layout. Sections and subsections are done well and easy to navigate, but the settings leave something to be desired.
The offline reading for the USA Today app is also a bit different, as you have to select it from the dropdown menu and then manually initiate the download while still on Wifi for later reading, so if you forgot to sync up before you headed for your train, you're SOL.
The Guardian
This app is almost offensively white, but the design elements, animations, and the fluid nature of the app almost make up for it. The Guardian manages to break up some of the white with blocks of color, especially bright red boxes with liveblogs. There's usually one in the news section and one in the sports section, and they are one of the best liveblogs I've seen done in a mobile app thus far.
Like the BBC, you can update automatically but you cannot denote if it updates over Wifi only. If you have a premium account, you can unlock more content, including the crosswords, which some say are the most important part of a newspaper. And since it's digital, you'll never have to worry about doing it in pen. The Guardian also has a slight one-up over its competition by having an Android Wear app, so you can get the news on your wrist.
New York Times
The New York Times is one of the premiere newspapers in the country, and as such, it has a premium to its content. The subscriptions for NYT can run from $14.99 a month to a whopping $34.99 a month, and while most of us simply can't afford to pay that for a news app, the Times is worth it for many, and for the price your paying, you're getting a decent app. You have settings for background syncing over Wi-Fi only and you have a night mode (huzzah). Navigating sections in the app can be a bit tedious, if for no other reason than the list of sections is massive, but unless you're spending lots of times in the blogs, you should be fine.
What news is good news?
So, where do you get the 411 on what's going on in the world? Are you a reader or a watcher? Do you even read the news? If not, you really should start, and there's plenty of apps here to help you get current on all the day's trending news.
Ara Wagoner was a staff writer at Android Central. She themes phones and pokes YouTube Music with a stick. When she's not writing about cases, Chromebooks, or customization, she's wandering around Walt Disney World. If you see her without headphones, RUN. You can follow her on Twitter at @arawagco.
Google Now does fine with my news... Magenta is the new Yellow

I typically use Yahoo News and Yahoo News Digest for my news updates. Digest is very clean for a quick update of the big stories in the world and I just like how clean the Yahoo app is for in depth topical readings. I do use Newsstand as a nice aggregator at times as well. -Shawn
Noting the world one S-Pen at a time.

This was strictly for apps by their sources, no news aggregator apps. That's gonna be a separate post, eventually. Posted via the Android Central App

The problem with these apps is too little is made of the screen real estate. It is why I stick with the browser and desktop version of news sites. I can navigate those for articles I want to read far more efficiently than I can do with their app equivalent.

The problem with these apps is I don't trust the news coming out of any of them.

I was going to say something similar but usually get called a nutcase and such. I thank you for your courage n5

This. Posted via the Android Central App

What sources do you trust, then?

Bingo. I've found fox news to be the most accurate when it comes to that sort of thing, but all the big news sites spin the stories. MSNBC is the worst. According to them everyone in the country is racist. Except for Al Sharpton of course. Posted via Android Central App on the Moto X

Dude.... Picking one major network that blows smoke up everyone's asses over other networks that blow smoke up everyone's asses is a bad choice. Do your thing though. Eventually you and most everyone else will realize this.

Which phone is that? Posted via Android Central App

I also like the design a lot :)

I was thinking the same thing... I'm guessing it's a sony based on the shape, but I'm just stabbing in the dark

No, definitely not something from Sony. Maybe ZTE? EDIT: Yup, looks like a ZTE ZMAX :)

Kind of looks like the Amazon Fire Phone to me.

It looks like It's a ZTE ZMAX to me.

I stick with Huffington Post. Posted via Android Central App

I've been using playstand and news Republic for content. I like flipboard too! AC@N5

Flipboard for me... I know, not really a 'news app', but it gets the job done. BTW, NYTimes app? Really??!! That thing sucks! it's the one thing I hate my tablet not letting me uninstall... Grrr....

CNN, CNN Money, CNBC, Bloomberg, NBC (Local Station).

Circa is pretty good too! Some unique features. https://www.androidcentral.com/e?link=https2F2F... Posted via Android Central App

This. Why read a story where half of it's rehash anyway. Circa just gives you the important facts and nothing else.

Circa :) Posted via Android Central App

SO I guess there's no new in Canada...

Sorry about that, I didn't know the major Canadian news outlets; I picked BBC because it's one of the biggest international news organizations with a decent app (sorry, Al Jazeera English) and the Guardian has Wear support and decent feature implementation (live blogs, etc). It'd be hard to do a best news apps for readers of every country because there'd end up being just too many. Posted via the Android Central App

Wall Street Journal and NBC News Posted via Android Central App

I was no news aggregated in this post. Don't worry, they'll have their own post eventually. Posted via the Android Central App

When's The Onion gonna' come out with an app? That's what I need.

The Fox News app is actually really well done, even allows you to watch live TV. Posted via Android Central App

+1 Posted via Android Central App on the Moto X

Why use a single source app? I use Pulse which allows me to bring all those sources (and more) into one package.

Pulse - on my tablet. I don't have news - other than Google Newstand- on my phone. (am i the only person who hates light print on dark background because it is almost impossible to read?)

Al Jazeera America has one of the best layouts of any news app. Posted via the Android Central App

Fox News >I'm the kind of guy who stops a microwave at one second to feel like a bomb defuser.

Google Now & Yahoo Digest News ..and occasionally I use the Huff.

News Republic. Multiple sources and configurable push notifications.

Feedly + feeds for TheBlaze and Washington Free Beacon.

Love The Blaze. I wish there was a native Android app like there is for iOS. Posted via Android Central App on the Moto X

You forgot about Fox News for those Republicans

Two words missing from this article and I'm surprised that they are, SKY NEWS anyone?

I use the Sky news app myself and find it very good! Posted via the Android Central App

What's the phone????? Such small bezels, looks awesome!

Uh, the size of that screen is 5.7". Scale accordingly. Posted via the Android Central App

I've been using news republic for awhile now.. may go back to BBC news even tough they haven't updated that app since November 2013. Posted via the Android Central App

Since I mostly care about tech news, I use AppyGeek.

I have most of the mentioned media sites on Twitter and Google+ and can access a constant stream of news 24/7. Posted via the Android Central App with my OnePlus One.

New York Times Skimmer in the browser: www.nytimes.com/skimmer/#

The official News & Weather app is the best IMO.

I use Pulse. I love that I can see 9 to 12 stories at a time from whatever sources I want. Posted via Android Central App

I use the Fox News app. The newish redesign took the app from horrendous to great. The UI is very easy to get around and it follows the Android design guidelines. Push notifications don't have settings, but they don't bombard you all day. The app only notifies you of braking news, and in the app there is a side bar that houses all of the breaking news alerts until you clear them. Posted via Android Central App on the Moto X

Thanks for the writeup. Going to give BBC a try. From your write-up, the app looks pretty good. And they actually focus on "news." Also looking forward to your aggregator article.

rss is the best way to go for news. You can have feeds for the different places all in one app.

ever since I started using the roku I never needed to keep cableI don't need to hear that stuff I can do bad on my own
Android Central Newsletter
Get the best of Android Central in in your inbox, every day!
Thank you for signing up to Android Central. You will receive a verification email shortly.
There was a problem. Please refresh the page and try again.