Best movies on HBO Max right now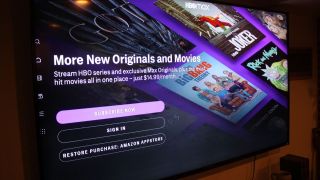 (Image credit: Keegan Prosser/Android Central)
HBO Max launched in 2020 as the digital hub for all of HBO's exclusive content. It features a rotating lineup of hundreds of television series and movies from Warner Bros., DC, Studio Ghibli, and more. HBO Max also launched brand new films from WarnerMedia in 2021 without waiting for them to play in theaters first. Here are the best movies on HBO Max right now, from new drama and comedy films to the best in family-friendly franchises and documentary films.
Movies and more
Find new releases and old favorites on HBO Max
HBO Max provides streamers with access to film and television content from HBO, WarnerMedia, and DC, among other studios. Subscribe now to check out new blockbusters or your longtime faves.
Just Added on HBO Max
In addition to being the hub for various WarnerMedia releases, HBO Max boasts a rotating lineup of fan-favorite films and HBO exclusives. With that in mind, here are the best new releases and additions on HBO Max right now.
Antlers (2022)
A supernatural horror film from Scott Cooper, Antlers stars Keri Russell as Oregon school teacher Julia Meadows, who teams up with her brother — local sheriff Paul Meadows (Jesse Plemons) — when she suspects that a boy in her class is suffering abuse at home. In reality, the boy is dealing with a demonic entity.
Kimi (2022)
Directed by Steven Soderbergh, Kimi stars Zoë Kravitz as Angela Childs, an agoraphobic tech analyst who overhears a crime taking place in a data stream. After reporting the crime, Angela is met with resistance from higher-ups and is forced to leave her apartment in the pursuit of justice.
The Fallout (2022)
The full-length directorial debut from Megan Park, The Fallout centers on an unlikely friendship that forms in the days following a tragic school shooting. The film stars Jenna Ortega, Maddie Ziegler, Julie Bowen, and Shailene Woodley.
Land (2021)
Land stars Robin Wright as a middle-aged woman named Edee Holzer, who moves off the grid in the Wyoming wilderness following a family tragedy.
Drama on HBO Max
HBO Max is also the place for some of the best drama movies licensed for streaming. Whether suspenseful, fast-action flicks or sci-fi thrillers are your preference, here are the top action movies you'll want to watch on HBO Max before they're gone.
Fahrenheit 451 (2018)
An adaptation of Ray Bradbury's award-winning novel of the same name, Fahrenheit 451 is set in a dystopian future where books are banned and burned, starring Michael B. Jordan as a curious fireman who uncovers an underground rebellion determined to protect literature. The film also stars Michael Shannon, Sofia Boutella, Lilly Singh, and Martin Donovan.
Nightmare Alley (2021)
From director Guillermo del Toro, Nightmare Alley stars Bradley Cooper as a charming and ambitious carnival worker with a secretive past who takes big risks in hopes of taking his career to the next level. The ensemble cast also includes Cate Blanchett, Toni Collette, Willem Dafoe, Richard Jenkins, Rooney Mara, Ron Perlman, Mary Steenburgen, and David Strathairn.
Sin Senas Particulares (Identifying Features) (2022)
Sin Senas Particulares (Identifying Features) follows a woman as she embarks on a journey to find her son's whereabouts after he leaves Mexico in hopes of finding work in the United States.
The Eyes of Tammy Faye (2021)
The Eyes of Tammy Faye stars Jessica Chastain and Andrew Garfield as televangelists Tammy Faye and Jim Bakker, and follows their rise to, and fall from, fame.
Comedy on HBO Max
Additionally, HBO Max is an excellent hub for a variety of movies that will make you laugh. With that in mind, here are some of the funniest movies currently streaming on HBO Max.
21 & Over (2013)
21 & Over stars Justin Chon as Jeff Chang, a promising student who decides to celebrate his 21st birthday with his two best friends the night before his interview for medical school. As expected, things get a little too wild. The film also stars Miles Teller and Skylar Astin.
Admission (2013)
Admission stars Tina Fey as a college admissions officer who embarks on a scheme to get an underqualified student accepted at her college after learning that he might be the son she gave up for adoption years earlier. The film also stars Paul Rudd, Nat Wolff, Lily Tomlin, and Michael Sheen.
Moonrise Kingdom (2012)
Directed by Wes Anderson, Moonrise Kingdom follows a 12-year-old orphan named Sam Shakusky as he attends Camp Ivanhoe summer camp on the New England island of New Penzance. Upon arrival, Sam meets and instantly falls for 12-year-old Suzy Bishop, and the pair decide to run away together.
Pineapple Express (2008)
Pineapple Express stars Seth Rogen and James Franco as a pair of stoners who find themselves at the top of a mob hit-list after they accidentally witness a murder. The buddy comedy also stars Danny McBride, Gary Cole, Rosie Perez, and Amber Heard.
Kids' & Family on HBO Max
HBO Max also offers an expansive and ever-changing roster of films that are perfect for the whole family. Here are some of the best streaming right now.
Eargwig and the Witch (2020)
Directed by Gorō Miyazaki, Eargwig and the Witch tells the story of an orphan girl named Earwig who has no idea that her birth mother had magic powers. Eargwig's life takes a weird turn when Earwig is adopted against her will and learns that her new mom is a witch.
Fantastic Beasts franchise (2016-)
A prequel to the popular Harry Potter franchise, the Fantastic Beasts films star Eddie Redmayne as "magizoologist" Newt Scamander and follow his adventures as he attempts to convince both wizards and muggles that his magical creatures aren't as dangerous as they appear while solving a massive magical mystery. Catch up on 2016's Fantastic Beasts and Where to Find Them and 2018's Fantastic Beasts: The Crimes of Grindelwald ahead of the premiere of Fantastic Beasts: The Secrets of Dumbledore this spring.
Ron's Gone Wrong (2021)
Ron's Gone Wrong follows a socially awkward boy named Barney, who receives a robot named Ron and soon realizes the device has a hilarious malfunction. When the executive behind the robotics company realizes the toy could impact his company's stock price, he sets out on a mission to shut Ron down.
Scoob! (2020)
A reboot of the animated Scooby-Doo film franchise, Scoob! centers on the early days of friendship between Shaggy and Scooby and follows them on their first adventure with new friends Fred Jones, Daphne Blake, and Velma Dinkley.
Documentaries on HBO Max
If you're looking for a new documentary to check out, HBO Max has a lot to choose from. Whether you're interested in politics, true crime, sports, or music, here are some of the most interesting documentaries available right now on HBO Max.
Adrienne (2021)
Adrienne celebrates the life and work of late actor and Waitress filmmaker Adrienne Shelly, who was murdered in 2006.
And Just Like That...The Documentary (2022)
And Just Like That...The Documentary takes a behind-the-scenes look at the making of HBO Max's hit Sex and the City reboot. The film features new footage and interviews with Sarah Jessica Parker, Cynthia Nixon, and Kristen Davis, along with other members of the cast and crew.
Carole King & James Taylor: Just Call Out My Name (2022)
Carole King & James Taylor: Just Call Out My Name gives fans an intimate look at the creative partnership between Grammy-winning artists Carole King and James Taylor, alongside concert footage from their legendary Troubadour Reunion Tour.
Music Box: DMX: Don't Try to Understand (2021)
Another installment in HBO Max's Music Box series, DMX: Don't Try to Understand focuses on a year in the life of late rapper Earl "DMX" Simmons and features new footage and interviews from his 2019 comeback tour.
More exclusives on HBO Max
Why you can trust Android Central Our expert reviewers spend hours testing and comparing products and services so you can choose the best for you. Find out more about how we test.
HBO Max is also the exclusive home for the Studio Ghibli Collection. As part of the partnership, the entire Studio Ghibli catalog can stream now via HBO Max. This includes award-winning animated titles such as My Neighbor Totoro, Kiki's Delivery Service, and Spirited Away.
Outside of the Studio Ghibli projects, HBO Max offers a wide selection of family-friendly content perfect for your next family backyard theater experience, including favorites like the Harry Potter Collection, All Dogs Go to Heaven, and the original Jurassic Park trilogy.
There's a lot to consider when choosing what to stream these days, especially when you're presented with the amount of content available on HBO Max versus Peacock versus Disney+, and so on. And like its competitors, HBO Max regularly updates its expansive media library with fresh content and brand new releases.
Movies, movies, movies
HBO Max has all the new movies
The HBO Max streaming library boasts more than 10,000 hours of exclusive film and television content from HBO and WarnerMedia. Check out new releases, all-time classics, and your personal favorites.
Get the Android Central Newsletter
Instant access to breaking news, the hottest reviews, great deals and helpful tips.
Keegan Prosser is a freelance contributor based in the PNW. When she's not writing about her favorite streaming apps and devices for Android Central, she's listening to a true-crime podcast, creating the perfect playlist for her next road trip, and trying to figure out which fitness tracker she should try next. You can follow her on Twitter @keeganprosser.