Best microSD cards for Moto G4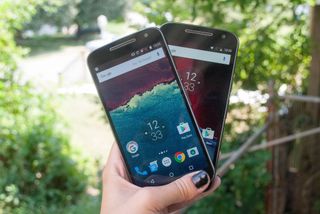 When you buy your Moto G4, it only comes as a 16GB phone. That may very well be enough for some people, but you're looking to improve that number significantly. Good thing the Moto G4 comes ready with a microSD card slot, perfect for Adoptable Storage or portable storage (if you want to transfer files between devices). The best microSD cards for you Moto G4 are only a click away!
Transcend 64GB microSDXC Card
Why you can trust Android Central Our expert reviewers spend hours testing and comparing products and services so you can choose the best for you. Find out more about how we test.
You're looking for three simple things: quality, storage, and a good price. The Transcend microSD card ticks all three boxes for about $17, and if 64GB isn't quite enough, you can upgrade a little bit more (for only a little extra bit of money) to their 128GB card.
The 64GB version runs 45MB per second and is great for pictures and videos, for which you want plenty of room to keep around on your Moto G4. Music lovers will be pleased to know that one of these 64GB cards can hold up to 16,000 songs, so your playlist can go on and on. Great price, great card.
See at Amazon (opens in new tab)
Samsung EVO Plus 64GB microSDXC Card
There's no denying the quality of Samsung's products, and the Samsung EVO Plus microSD card will work seamlessly in your Moto G4. It's built to handle the elements and safely store your files, even if x-rays or magnets are nearby.
The 64GB version features 80MB per second data transfer, and it's ideal for video and picture taking. It's inexpensive at just over $20, and if you find you need to max out your storage options, it's available in a 128GB version as well.
See at Amazon (opens in new tab)
SanDisk Extreme PRO 64GB microSDXC Card
In all fairness, SanDisk does tend to be a more expensive brand, but it's popular and trusted for a reason. You're going to pay about $45 for a 64GB card, but you're getting solid quality for that money — not to mention a lifetime warranty.
It reads up to 95MB per second, and writes 90MB per second. If you're in the market for portable storage, SanDisk includes an adapter so that saved files can be easily inserted into another device, like your laptop. This version does max out at 64GB, but it's mighty fast, and it might be all that you'll need for a long, long while.
See at Amazon (opens in new tab)
PNY U3 Turbo Performance 64GB microSDXC Card
For the avid photographer who's keen to take advantage of the excellent camera capabilities of the Moto G4, the PNY U3 Turbo Performance microSD card is an easy choice. The 64GB version can store over 22,000 photos. Shutterbugs rejoice!
It features a 90MB per second data transfer rate and is perfect for capturing video. The lifetime warranty and price point that just scratches above $25 are icing on the cake.
See at Amazon (opens in new tab)
Kingston 64GB microSDXC Card
You've likely got several Kingston USB flash drives kicking around the house or the office, and for good reason, too. The Kingston brand is popular, trustworthy, high quality, and inexpensive; they've applied this same recipe to their microSD cards, too.
For $18, Kingston's 64GB card gives you 45MB per second read speed and 10MB per second write speed. It's a good buy if you're a budding photographer, and it's got a lifetime warranty just in case. If you're worried at all about storage space, Kingston also offers a 128GB version of the microSD card.
See at Amazon (opens in new tab)
Gimme some room!
Are you using a microSD card with your Moto G4? Tell us about your Adoptable Storage experiences in the comments below!
Android Central Newsletter
Get instant access to breaking news, the hottest reviews, great deals and helpful tips
I am currently using a SanDisk 200gb microSD card which I picked up for $60 on Amazon a while back Posted via the Android Central App

This is a fascinating article but as a Buying Guide it should tell the reader what to look for and why. Please help me understand what makes one microSD card better than another for a specific model phone. This doesn't really call out what makes these cards "the best" for the Moto G4 specifically as opposed to other similarly spec'd cards available. I guess it would be helpful if you shared the criteria used to select and evaluate the test samples, and the benchmark data you compiled during your testing of each card in the G4 in order to conclude these cards are the best. Thanks. I'm looking forward to understanding before I invest in a card. ...Joe K.

I doubt they did any testing at all. I am guessing they went to Amazon, searched for "64GB MicroSD" and picked the top 5. Then they created links using their affiliate code and posted them on herel. If you want to see a guide that actually does testing I suggest going here: http://thewirecutter.com/reviews/best-microsd-card/ I check that site now before making any electronic purchase. From Christmas lights to SD cards they cover it all. So should have AC done similar testing before making their recommendation? Yes. Do they? Except for handsets, no.

Thanks for the link, it provided great information.

Samsung EVO Plus 64GB microSDXC Card always shows a prompt that the SD card is slow and may reduce performance.

If buying on Amazon or Ebay search fake or counterfeit Micro SD cards. A big issue with bigger cards, especially overseas sellers. Has been a huge scandal on Amazon for large SD cards.

There are many articles and You Tube videos. Don't get burned A Boy!!!
Android Central Newsletter
Get instant access to breaking news, the hottest reviews, great deals and helpful tips
Thank you for signing up to Android Central. You will receive a verification email shortly.
There was a problem. Please refresh the page and try again.