Best microSD cards for Moto G4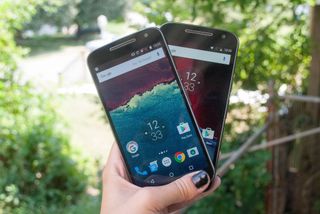 When you buy your Moto G4, it only comes as a 16GB phone. That may very well be enough for some people, but you're looking to improve that number significantly. Good thing the Moto G4 comes ready with a microSD card slot, perfect for Adoptable Storage or portable storage (if you want to transfer files between devices). The best microSD cards for you Moto G4 are only a click away!
Transcend 64GB microSDXC Card
Why you can trust Android Central Our expert reviewers spend hours testing and comparing products and services so you can choose the best for you. Find out more about how we test.
You're looking for three simple things: quality, storage, and a good price. The Transcend microSD card ticks all three boxes for about $17, and if 64GB isn't quite enough, you can upgrade a little bit more (for only a little extra bit of money) to their 128GB card.
The 64GB version runs 45MB per second and is great for pictures and videos, for which you want plenty of room to keep around on your Moto G4. Music lovers will be pleased to know that one of these 64GB cards can hold up to 16,000 songs, so your playlist can go on and on. Great price, great card.
Samsung EVO Plus 64GB microSDXC Card
There's no denying the quality of Samsung's products, and the Samsung EVO Plus microSD card will work seamlessly in your Moto G4. It's built to handle the elements and safely store your files, even if x-rays or magnets are nearby.
The 64GB version features 80MB per second data transfer, and it's ideal for video and picture taking. It's inexpensive at just over $20, and if you find you need to max out your storage options, it's available in a 128GB version as well.
SanDisk Extreme PRO 64GB microSDXC Card
In all fairness, SanDisk does tend to be a more expensive brand, but it's popular and trusted for a reason. You're going to pay about $45 for a 64GB card, but you're getting solid quality for that money — not to mention a lifetime warranty.
It reads up to 95MB per second, and writes 90MB per second. If you're in the market for portable storage, SanDisk includes an adapter so that saved files can be easily inserted into another device, like your laptop. This version does max out at 64GB, but it's mighty fast, and it might be all that you'll need for a long, long while.
PNY U3 Turbo Performance 64GB microSDXC Card
For the avid photographer who's keen to take advantage of the excellent camera capabilities of the Moto G4, the PNY U3 Turbo Performance microSD card is an easy choice. The 64GB version can store over 22,000 photos. Shutterbugs rejoice!
It features a 90MB per second data transfer rate and is perfect for capturing video. The lifetime warranty and price point that just scratches above $25 are icing on the cake.
Kingston 64GB microSDXC Card
You've likely got several Kingston USB flash drives kicking around the house or the office, and for good reason, too. The Kingston brand is popular, trustworthy, high quality, and inexpensive; they've applied this same recipe to their microSD cards, too.
For $18, Kingston's 64GB card gives you 45MB per second read speed and 10MB per second write speed. It's a good buy if you're a budding photographer, and it's got a lifetime warranty just in case. If you're worried at all about storage space, Kingston also offers a 128GB version of the microSD card.
Gimme some room!
Are you using a microSD card with your Moto G4? Tell us about your Adoptable Storage experiences in the comments below!
Sign up for Black Friday email alerts!
Get the hottest deals available in your inbox plus news, reviews, opinion, analysis and more from the Android Central team.