Best lighting accessories for Android photography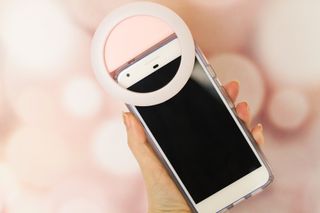 Have you ever tried to shoot some video or photos with your Android phone in lower light, only to have them come out dark and blurry? Then when you turn on the flash, suddenly they're all over-exposed and washed out?
An external light source is a great tool to keep in your pocket if you want to have more control over the amount of light that floods into your shots – and depending on whether you're shooting portraiture, nature shots, or selfies, there's a light accessory to match everyone's needs!
Here are a number of lighting accessories to keep your Android photos and videos looking sharp and professional.
Xuma Mobile Daylight Balanced LED
Why you can trust Android Central Our expert reviewers spend hours testing and comparing products and services so you can choose the best for you. Find out more about how we test.
The Xuma Mobile is as simple as portable lighting gets. Just plug it into the headphone jack that your phone totally still has, turn on the light, and start shooting away! Since the headphone jack isn't specific to one direction, you can angle the light towards your front camera, rear camera, or anywhere in-between. If you don't have a headphone jack, don't worry — the light comes with a clip and a suction cup mount, too.
The Xuma light puts out a whopping 46 lumens from its 48 LEDs, and is rated to last for four hours per charge. Once it dies, you can recharge it through Micro-USB instead of fussing with batteries. If 46 lumens is too bright for you, you can reduce the intensity, and the light comes with a warm filter to change your color temperature.
Bower smartphone LED light
If you're shooting in extremely low light, you might prefer the LED video light from Bower. This 50-LED kit is considerably bigger than the light from Xuma, and lasts for up to 18 hours per charge. It ships with warm and cool tone filters, and has a wide range of brightness levels for different shooting situations.
The larger size means that the Bower light illuminates a wider shot, and the included cold shoe mount means that you can attach it to your DSLR or mirrorless camera when it comes time to step up your image quality. Bower also includes a retractable claw to attach the light to your phone, regardless of whether or not it has a headphone jack.
Lume Cube
While that line comes from a classic chunk of Shakespearian dialogue, it can also be attributed to the Lume Cube.
The Lume Cube is a durable, rugged, waterproof, resilient little box that makes illuminating your videos and photos a hell of a lot more fun. If you're someone who likes to shoot action or adventure photos and videos with your phone, then the Lume Cube is absolutely the next logical step.
With the Lume app, control the cube's brightness from 1 to 1,500 lumens and the duration of the light from 1/8000 of a second to a continuous flow. Then simply attach the cube to a tripod, mount it to your phone, or simply use it on its own to get the best-lit results.
You can even control up to five different Lume Cubes with the app. The lighting possibilities (and adventures!) are endless!
Ocathnon ring light
If you've ever noticed a ring of light in your favorite vlogger's eyes, that comes from … well, a ring light! Ocathnon's ring light attaches easily to the top of your phone to augment your selfies and vlogs, with 36 LEDs aligned in a circular configuration. It comes in a variety of colors, and the inside of the clip is padded to avoid scratching your phone.
The Ocathnon ring light requires two AAA batteries, but on the bright side LED is so power efficient that you won't need to replace the batteries very often. If you often find yourself in poor lighting while taking selfies or live-streaming on Instagram, this cheap ring light could be the perfect solution!
How do you light up your life?
Are you a fan of using external light sources, or do you think they're a useless accessory and hassle?
Have you gotten some incredible shots using any of the products above? If so, let us know in the comments below!
Replaced some discontinued products with newer lights like the Xuma Mobile, Bower LED, and Ocathnon ring light.
Sign up for Black Friday email alerts!
Get the hottest deals available in your inbox plus news, reviews, opinion, analysis and more from the Android Central team.