What color LG Watch Style should I buy?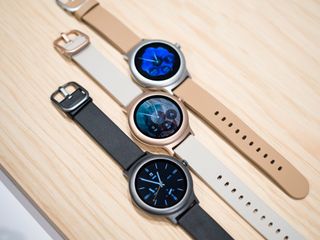 The LG Watch Style has arrived with Android Wear 2.0 and is available in three different colors. Before you jump into the car or desperately try to order one online, there is a very important choice that you need to make: which color should you buy? It's a big decision, and we're here to help you make the choice that you'll be happiest with!
Titanium (black)
Why you can trust Android Central Our expert reviewers spend hours testing and comparing products and services so you can choose the best for you. Find out more about how we test.
Titanium is the go-to color for most people, and for good reason: it goes with everything. Titanium (which is close to black) is a solid utilitarian color and it'll look great with almost any color watch band you may decide to pick up. The black is a brushed gunmetal rather than a matte finish, but it retains its sleek look on your wrist.
Silver
If want a color that stands out a bit more, then the silver option should certainly pique your interest. The silver brings some flashiness to your wrist, but it's also understated, and the uncolored stainless steel goes with any outfit. Like many "regular" watches, the silver LG Watch Style can be paired with any number of band colors and styles.
Rose Gold
For those who like to stand out from the crowd a little bit, then take a peek at the rose gold option. It's a paler shade of rose gold, with a brushed metal finish. While some folks will say it's the feminine color option, don't be fooled. Anybody who enjoys a bit of color can easily rock it, and it has a fashionable quality to it. It's also got the versatility to work with a variety of colors if you decide to swap out the watch band.
Which one is best
While the black model is slick, and the silver has a shimmer that may draw you in, the rose gold option can be paired with a number of different watch band colors and styles — and it's very pretty.
Which LG Watch Style is your favorite color? Be sure to drop us a line in the comments below and let us know!
Android Central Newsletter
Get instant access to breaking news, the hottest reviews, great deals and helpful tips
Jen is a staff writer who spends her time researching the products you didn't know you needed. She's also a fantasy novelist and has a serious Civ VI addiction. You can follow her on Twitter.
The sport is the only one I like. The other has a modern watch look. Reminds me of a Skagen. But the bezel for it just doesn't really fit the design IMHO. But I like that LG differentiate from all the other AW looking the same and trying to be either a Huawei or Motor. So while most people hate the look, LG is giving something a different taste and definitely more appealing to women with the rose gold.

My opinion this is not a unisex watch . Granted my gear s3 because of its size will be worn by most men I have seen a few women on the net waring it and plenty waring the s2 my wife is one. But this watch from lg looks so cheap. Lg needs to steal some of Samsung design team

I never thought they were unisex, but I have seen many regular watches that look like the LG and plenty of men wear them. Cheap is subjective because it depends on a person style and I like the fact that LG went with a simple style to provide more option for people so that every AW doesn't look the same. I don't necessarily disagree with you and I wouldn't wear it either because it's not my taste. If I could switch the straps with a mesh to look like my Skagen, I'd be more inclined to liking it. The sport however is the better design. I've learned to never give final judgement till I can see it in person cause I loved the Gear S2 till I seen it in person and passed on it for the Huawei. And let's not forget that LG has already designed several watches already and not forget about the Urbane 2 which was an awesome design.

I'm personally offended about what you said about the rose gold watch...lol!!
I love rose gold as a man, but i am slowly coming to terms that rose gold watches...........are for women :(

I like rose gold also, but it has to be in a way that's doesn't make it look feminine. The watch in this case is definitely more of an appealing look for women. Just like the Huawei watch for women that's rose gold. That color has always been targeted toward them more than men. For the record, I don't own anything RG... lol

The correct answer is, don't buy any of these.

Correct. These look like McDonald's Happy Meal prizes.

You are better of getting a Moto 360 2nd edition than these since it will be updated. I ended up picking up a black Moto 360 sport for $150 new. Was planning on getting a Style but it didn't have a heart monitor. The Lg sport is way too big for me. It's even thicker than the S3 which wouldn't even fit under my dress shirt.

Ehh, these are still cheaper than the regular 360 2nd gen and they have the nifty rotating crown... OTOH the 360 has a battery that's 20% larger. I actually prefer the look of these so I'm leaning towards it as an upgrade from my OG 360.

Is there any android wear before this that have rotating crown?

I agree... Don't buy any. These are ugly. and the Sport is simply too bulky.

Here's what I love about the direction of the gear s3 most if my friends think it's not a smart watch until I tell them it is ,now that says it all for for me . Most of the other my gear s2 including looks like something the Jetsons would ware

Since I'm in the market for a new smartwatch I was looking forward to the official launch of these watches, but I think I'm going to get a Gear S3 instead.

Good choice you'll love the gear s3

I find all the complaints interesting with this watch. Ever since the first gen Moto360 I have wanted something thinner and less obvious that it's a smartwatch. I liked pebble but didn't like the design of the UI. This watch is thin, simple, and does what I need it to: check notification and be an ADD ON to my phone. I really think its near perfect! I do wish it had a bigger battery, though. From a 25 year old dude.

+1 Ditto, from a 34 year old.

If one could afford the LG, I'd probably get the Titanium version. Looks nice but I see the comments clearly suggest not to buy one. Looks bulky.

If you're going to spend money on this... Just buy the Zenwatch 3... You get MORE for LESS
Android Central Newsletter
Get instant access to breaking news, the hottest reviews, great deals and helpful tips
Thank you for signing up to Android Central. You will receive a verification email shortly.
There was a problem. Please refresh the page and try again.