The best gifts for kids this holiday season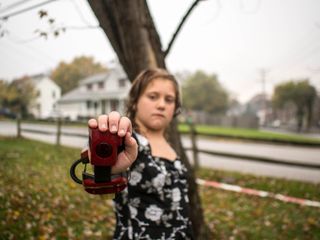 No one's more excited about the holidays than our kids, and with all the amazing toys to choose from the selection can become overwhelming. We've narrowed down some cool gifts to consider this year that will be a hit with any kid for the holidays. And, if you need help shopping for other friends and family members feel free to check out our extensive 2015 Holiday Gift Guide that covers our absolute favorite gadgets.
Sphero BB-8
Your kid doesn't need to be a Star Wars fanatic to appreciate how fun this mini-droid can be. The Sphero BB-8 connects to your Android or iOS device so you can control its movements and even talk to it. The authentic movement of this droid is pretty amazing when matched with its autonomous behavior and adaptive personality. You can even create and view holographic videos with the BB-8, however the feature is a little underwhelming as it stands. Whether you want to keep the kids entertained for hours or torment your pets, this is definitely one of the hottest tech-toys of 2015.
$150 at Amazon $150 at Best Buy
Lego Mindstorms EV3
This LEGO set takes creativity to a whole new level, allowing you to assemble your own robot and control it using the included remote control or free Android or iOS app on your smartphone. The intelligent EV3 Brick features an ARM9 processor, 4 motor ports, Micro-SD card reader, Wi-Fi connectivity and back-lit buttons. Using an infrared sensor system, intuitive software, and an easy drag-and-drop programming interface you can command your newly constructed robot to do your bidding. This kit includes building instructions for only one robot, but you can download additional plans from LEGO's website.
View-Master Virtual Reality Starter Pack
Using an immersive combination of virtual reality and augmented reality, Mattel's View-Master VR box revitalizes the classic design from our childhood and makes room for our phones for a truly unique experience. By downloading one of the View-Master VR apps on your smartphone you can enjoy 360-degree environments that pull you in like never before. The viewer itself is built pretty solid so it should stand up to some heavy use — perfect for kids. Included with the Starter Pack is the View Master viewer, 1 preview reel, and an adapter for the iPhone 5 series of smartphones.
Bitsbox
Perfect for kids who are all about creativity, Bitsbox is a fun and unique way to break them into the world of coding. The idea is simple: Each month they'll receive a Bitsbox to their front door with material inside they can skim through. Once they've picked out a page they like, it's off to the BitsBox website to enter in the code on said page. After they've finished, the app will come to life on the virtual tablet displayed on the screen. With a quick QR code scan from any smartphone or tablet, the app they've just created will be right at their fingertips to show off to their friends. There are even a few different subscriptions you can choose from to fit your needs (and your budget).
Anki Overdrive Starter Kit
Control futuristic supercars from your Android or iOS device and battle it out on a variety of different tracks that you can create with the Anki Overdrive Starter Kit! Go head-to-head with your friends or simply test the skills of AI controlled commanders until you're a master. This starter kit comes with 2 robotic supercars, Ground Shock and Skull, featuring their own unique weapon systems and intelligence to handle themselves on the track. You can construct 8 different style tracks with the pieces included or add ramps and corners (sold separately). The Anki Overdrive app makes it easy to control your supercars and guides you in learning the ways of battle.
LEGO Dimensions
Who says your favorite fictional characters can't share the same universe? LEGO Dimensions make anything possible, allowing up to 7 vehicles and gadgets into the game by placing them on the included LEGO Toy Pad. Friends can even join in when they want with co-op mode and there's always more adventures to be had by purchasing additional expansion packs — adding to your collection and opening even crazier combinations. LEGO Dimensions lets your imagination run wild with a multiverse of puzzles to solve and endless challenges to conquer. This starter pack goes for about $85-90 depending on what console you're rocking.
Playstation 4 XBOX One Nintendo Wii U
Playmation Marvel Avengers Starter Pack Repulsor
Let your little ones bring Marvel's Avengers to life with this incredibly fun Repulsor Starter Pack. By loading up the smart figures onto the power activators they become part of the battle while you track progress and receive new missions with the AvengersNet app. The wearable Repulsor Gear reacts to player movements using motion-sensing technology and lets you battle through missions with 3 blast modes, dodging, blocking, sneaking, running, and jumping. Kids will love the amazing light and sound effects that go along with the Repulsor vibrations on every blast.
Samsung Gear VR
The new Gear VR headset from Samsung and Oculus improves upon previous versions offering a virtual reality experience that's lighter, more comfortable, and rocks an updated touch pad that's simple to use. To properly utilize the new Gear VR you'll need a Galaxy S6, Galaxy S6 edge, Galaxy Note 5, or Galaxy S6 edge+ on hand to pop in the front of the headset. With Samsung Milk VR you have access to new 360-degree videos daily and Oculus Cinema lets you purchase and experience hundreds of movies and TV shows like never before. Best of all — games. There are plenty of compatible games for the new Gear VR to check out, but you don't want to pass up some of the best.
Get the Android Central Newsletter
Instant access to breaking news, the hottest reviews, great deals and helpful tips.