Best e-book apps for Android 2022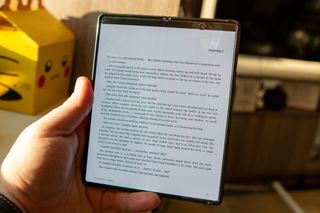 (Image credit: Andrew Myrick / Android Central)
If you've been considering the jump from physical books to e-books, you'll need to figure out the best e-book apps for Android. Books can be heavy, expensive, and take up valuable space in a cramped apartment, so making the transition is worth it. Thankfully you've got a few options, depending on where you want to get your books and how you want them to look on the screen.
Take a peek at our picks for the best e-book apps for Android!
What are the best e-book apps for Android?
Why you can trust Android Central Our expert reviewers spend hours testing and comparing products and services so you can choose the best for you. Find out more about how we test.
While there are many apps on the Play Store that make it easier than ever to find and read new e-books, there's only one that stands largely above the rest. The Amazon Kindle app provides a vast library of e-books and audiobooks, with more choices than you could ever imagine.
What if you have an e-book from an independent publisher, or from a friend that they just finished, and it's in a weird format? Well, Moon+ Reader is an e-book app for those who have books in various formats, including EPUB and RAR.
Maybe you're someone who wants to support your local library. Libby, by OverDrive brings the library to wherever you are, making it easy to check out e-books and read them at your pace from your smartphone or tablet.
1. Amazon Kindle
Amazon Kindle pulls ahead of the pack with its access to a huge library of content, which includes free books and content from indie publishers, and you can read them on your mobile device or on desktop with the Kindle app. There is a book out there for you no matter what genre you are looking for.
In the app, you can also customize fonts, margins, line spacing, and organize the books you've downloaded into collections so that it's easier to find the book you want to read. Kindle will also remember the page that you left on when you switch devices. This means that you can switch between your phone, Fire Tablet, and PC without ever losing your page in the process. Or you can grab one of the best Amazon Kindle E-Readers and go back and forth between your phone and the Kindle.
The Kindle app is so versatile that you can even have other reading pieces sent to the app, such as articles saved in Instapaper. You can also sign up for Kindle Unlimited and get access to more than one million titles for less than $10 per month.
The obvious choice
Get access to more books than you can fathom
Amazon's Kindle app is the way to read and enjoy e-books from your mobile devices. There are more than one million titles at your fingertips, giving you plenty to read and a single place to keep tabs on them all.
2. Moon+ Reader
While being able to purchase books from a major retailer and download them to your phone is awesome, sometimes the books you want to read are ones that you already have the files for. Whether you've picked up e-books from an independent publisher, or you've gotten the files from a now-defunct program, being able to open and read them is key. That's where Moon+ Reader comes in.
It has support for more than 10 different file formats, from RAR files all the way to EPUB files. On top of that, you can still customize the way words look on the screen, back up your library online, and access to five auto-scroll options on top of plenty more fantastic features. With the ability to view content in various formats, it's easy to understand why Moon+ Reader is one of the best Android apps, let alone why it's also one of the best e-book apps for Android.
Standard formats, but not
Read anything you want with a single app
Many e-book apps for Android limit you to only using their app to read and enjoy content. Moon+ Reader throws that out of the window and makes it so you can enjoy just about any e-book, regardless of the format it was downloaded in.
3. Libby, by OverDrive
Long gone are the days where you needed to head to your local library just to find some new books to read. Thanks to the digital world and apps like Libby, your library is now with you wherever you go.
If you live near a participating library, Libby opens your world to new books at your fingertips. There are standard books that can be "checked out", along with audiobooks, and both of these can be saved for offline use so you can read them even if you don't have any internet connection.
For those who enjoy reading on a Kindle, Libby makes it possible for you to check out a book, then send it over to your reading device. The app itself has all the expected customizable options, so you can read right from the app and take notes. Did you come across a word you've never seen before? Libby will be able to even define it for you from the app, making it so you don't have to open another app in the middle of an intense chapter.
Bring the library home
Your local library at your fingertips
Libby, by OverDrive is an app that works with your local library to give you access to your favorite books. While it's fun to actually go to the library, sometimes it's just not feasible and with Libby, you won't have to worry about those pesky late fees.
Other great options
With the Play Store at your side, there are even more e-book apps for Android than you may have even imagined. These are some more of our favorites, even though they didn't make the top three.
Google Play Books
Google Play Books gives you access to a vast bookstore, some of which are free. You'll also find some textbooks, although we'd like to see the textbook selection improve in the future. You can read books offline, use a dictionary to look up unfamiliar words, and have your notes and place in the book saved across multiple devices through your Google account.
If you have a family account set up, then you can share books between everybody without having to purchase them multiple times. Staying within the Google ecosystem also makes it easy to share your purchases with family members, and keep all of your media in one place.
Probably already installed
Sticking with Google's ecosystem
Google's Play Books app is one of those applications that doesn't get as much attention as other e-book apps for Android. Still, Google has done a wonderful job at combining a catalog of endless selections with a solid reading experience, right on your phone or tablet.
Kobo
Kobo has been around for quite some time, and was purchased by Rakuten, but that hasn't stopped this e-book app from being great. It's a great way to read your favorite books whether it's on your phone or tablet. It has a gigantic selection filled with both new and established authors, including magazines and children's books. The most popular and trending e-books are even updated hourly so you won't miss an amazing story, even when it's coming from an author you've never heard of.
As you begin to buy books and Kobo learns your preferences, it will build a recommendations list made up of suggestions for new books or magazines. There is also an awesome reading activity feature that'll show you how much time you've spent reading in the app, what books you are currently reading, a running tally of how many books you've read, and how many pages you've turned in the process.
Earn points for reading
The more you read, the more you earn
In addition to having access to e-books and audiobooks, Kobo also has a rewards system that rewards you for reading more and more books.
PocketBook
PocketBook is another one of those apps that makes it easy to read books, regardless of what format they're in. The app supports more than 25 different formats, and makes it possible for you to read magazines, comic books, or even listen to your favorite audiobooks.
The biggest benefit to PocketBook over similar apps has everything to do with cloud syncing. PocketBook Cloud will synchronize your progress for anything uploaded to the app, so you can start reading something on your phone, only to pick up right where you left off in a browser. You can even sync files from the likes of Dropbox and Google Drive if you don't want to manually upload the books to your phone.
Cross-device syncing
Pick up where you left off
PocketBook is a useful app for those who enjoy reading from multiple devices and want cross-device syncing. The app supports 26 different book and audio formats, and you can upload your own files from the likes of Dropbox or Google Drive.
Wattpad
Whether you just enjoy reading books that you won't find at the library, or if you're a writer who wants to share a story, Wattpad is perfect. For writers, Wattpad works with publishing partners to get your book seen and published by some of the biggest names. The app has seen stories come and go that have even been adapted into a TV series.
This community is home to more than 80 million readers across the globe, with more than 20 different e-book categories to choose from. There's something here for everyone, and the app syncs across all of your devices, so you can pick up your new book from wherever you are.
For readers and writers
The one-stop-shop for Indie content
Wattpad has come a long way from the days of just being another e-book app for Android. E-books published to Wattpad have been adapted for TV or the big screen, and there are more original stories added that you won't find anywhere else.
NOOK: Read eBooks & Magazines
While Amazon has always been an online-only store, Barnes & Noble has been one of the largest bookstores still hanging around. To try and keep up with the times, the company unveiled a series of e-readers, but has since largely pivoted to the Nook app. Like the Kindle app, you can browse a vast library of titles, genres, and much more right from your phone.
After finding a new book to settle down with, you are able to customize different aspects of the reading experience. This includes adjusting the font style, changing the margin sizes, and even switching up the page animations. As you might expect, you can make notes and add bookmarks that can then be shared with your friends if you come across an inspiring quote or just something funny. The Nook app is free to use, and includes more than 75,000 free eBooks, or you can start building your digital library by purchasing eBooks.
An alternative to Kindle
NOOK: Read eBooks & Magazines
Another virtual bookstore
Nook comes from a time where the traditional bookstore was still popular, but Barnes & Noble has evolved and recognized our phones make for the perfect portable library. Nook includes thousands of free eBooks, but can also be used to check out magazines, or to purchase new eBooks.
Goodreads
Goodreads isn't an app to read your favorite e-books, but instead is a social community for everyone who enjoys reading and sharing book recommendations and ratings. Sometimes it's not always feasible for you to be able to catch up with your friends and family about what new books they are enjoying. That's where Goodreads comes into the foray, as this app makes it easy to see what your friends are reading and what they think of those books.
You can create lists however you like, including books that you want to pick up later. You can also find recommendations based on your reading lists and read reviews. It's a must have for every dedicated reader.
Join the community
A community for e-book readers everywhere
If you are someone who reads a lot of books, you may run out of ideas on where to find the next one. Goodreads changes that as this is a community-driven app where you can find and share opinions and ratings for books with friends and family.
Scribd: Audiobooks & ebooks
There are a lot of subscription services out there today, but not all of them are as worthy of your time and money as Scribd. This app provides access to thousands of books for just $10 per month, but it goes beyond just books. You'll be able to read your favorite magazines, listen to audiobooks, and even go so far as to check out some sheet music if you want to teach yourself a new song to play.
All of the content in the app is free to download and enjoy, and Scribd offers a 30-day free trial so you can determine whether the app is right for you. Going through the setup process for the first time, Scribd will ask you what your favorite types of content are, so it can then provide accurate recommendations for each category within the app. Seriously, if you want to get back into reading, or just want an all-in-one content consumption service, then Scribd is the way to go.
A worthy subscription
Scribd: Audiobooks & ebooks
One subscription for all of your reading needs
If you are tired of the other subscription services for eBooks and want to try something different, Scribd is for you. Not only will you get access to a vast library of eBooks, but the app also provides access to audiobooks, magazines, and much more.
Get the Android Central Newsletter
Instant access to breaking news, the hottest reviews, great deals and helpful tips.
Senior Editor - Chromebooks, tablets, and wearables
Andrew Myrick is a Senior Editor at Android Central. He enjoys everything to do with technology, including tablets, smartphones, and everything in between. Perhaps his favorite past-time is collecting different headphones, even if they all end up in the same drawer.