Best Accessories For Huawei Watch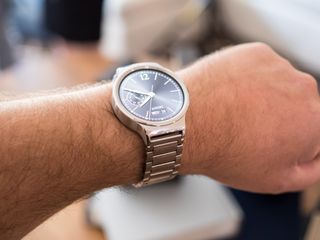 Whether you want a different watch band to wear with your Huawei Watch (opens in new tab) or you need to replace your charging cradle, there's an accessory for the Huawei Watch out there for you.
Update January 2017: These are still our top picks of accessories for your Huawei Watch.
Motong tempered glass screen protector
You paid good money for your Huawei Watch. Protect your investment with a tempered glass screen protector.
Motong's tempered glass screen protector melds closely with your watch's screen so that there aren't any gaps where dust can accumulate or that might get damaged.
At 0.3mm, the glass overlay is very thin and is therefore hardly noticeable. Better still, since it is designed with touchscreens in mind, it doesn't interfere at all with the screen's sensitivity.
Although thin, it is quite strong with a hardness level of 9H, just under the hardness rating for diamonds.
See at Amazon (opens in new tab)
Yesoo magnetic Milanese stainless steel strap for Huawei watch
If you're looking for style and that rich, upper-crust feeling, then look no further than Yesoo's magnetic Milanese watch strap.
Yesoo blends elegance and durability together with this watch band. Made of stainless steel, its beautiful Milanese loop pattern won't look out of place at a black-tie event.
Forget fumbling and struggling with buckles to get your watch strapped on. Yesoo's magnetic clasp clicks into place with little effort and stays closed until you decide to take your watch off.
This watch band is 18mm wide and adjusts to fit wrists that measure 12.5mm to 17.5mm in circumference.
For more watch bands, head on over here.
See at Amazon (opens in new tab)
Huawei Watch charging cradle
If you've misplaced the charging cradle for your Huawei Watch — or if you just want a spare one for the office or your travel bag — you're in luck because the Google Store sells a replacement.
Made of brushless stainless steel, the cradle is attractive and strong.
See at The Google Store (opens in new tab)
Swiss Watch International 24-slot watch strap storage case
There are so many different watch bands available for your Huawei Watch — so many in fact, that you need a place to keep all of them
This storage case from Swiss Watch International is perfect for all your watch band storage needs. The exterior is made out of durable synthetic leather while the interior is covered with soft black velvet that's perfect for protecting your watch straps
It holds up to 24 straps that measure up to 22mm wide. Each watch strap slides onto a holder though the loop in the band.
See at Amazon (opens in new tab)
Mudder 5 piece watchmakers screwdriver set
If you frequently replace your watch band, then you might like to have a watchmaker's screwdriver set. These small tools make removing those tiny watch screws a simple matter.
Mudder's watchmaker tool-set has five pieces:
0.80mm screwdriver
1.00mm screwdriver
1.20mm screwdriver
1.40mm screwdriver
1.60mm screwdriver
Each screwdriver is color-coded so that you can easily find the size you need, and replacement tips are included, too.
See at Amazon (opens in new tab)
MODE Bands
If you are tired of watch band pins and the tiny tools you need install them MODE bands could be for you! Google has now released their MODE bands and they might just be the easiest watch bands to install ever! If you take a look at the neat video on the MODE site, you can see just how easy these bands can attach to your Huawei Watch.
All you have to do is replace the original pin that is on your Huawei Watch add the MODE pin. The it's just a simple matter of sliding your MODE band over the pin, and locking it shut!
Hadley Roma is currently the only manufacturer making the MODE bands, and they start around $50. Remember, in order for this to work with your Huawei Band you need to get the the 18 mm band so it fits properly.
See at Amazon (opens in new tab)
Do you use accessories for your Huawei Watch?
Tell us in the comments which accessories you like to use, and which are your favorites!
See Huawei Watch at Amazon (opens in new tab)
Wood carved stands for the charging cradle: https://www.etsy.com/shop/DakotaPrairieCraft?ref=s2-header-shopname

Got myself a night stand:
http://www.gadgethuset.dk/smartphone-tablet-tilbehor/3067-night-stand-do...
Fits perfectly.

De varven snygg o smart laddare

Aren't these accessories for an accessory? Will the cost never end?
It was expensive already :( Can I order a bigger wrist and hand?
.... although that would make everything I touch seem suddenly smaller :p

Yeah, it sure adds up! I'm sticking with my LG G Watch R. It still looks great and runs really well with MM. Posted from one of my various Nexus devices.

I've been trying to get an extra charger for months but it always says it 't not available.

Why does it need a screen protector? Isn't the cover sapphire?

Exactly. Seems odd to cover a really resistant screen with a fragile bit of glass. I have the Huawei watch and one of the big reasons I chose it was for the sapphire. I have another watch with sapphire glass and once ran it down a rough wall by accident reaching behind a unit in my garage. It showed no marks at all. I think I'll trust the sapphire!

The screen is sapphire glass, it has no nicks or any evidence of wear after almost 8 months of daily wear. The SS casing is a different story altogether. The crown around the screen has lots of nicks. No protector for that. LOL No I'm not banging my wrist into hard objects either. The mesh band was already on my watch from Huawei and I can recommend it highly.

Ya the screen is still great after months of use on mine. The SS used on this watch is super soft. I wore a black Moto 360 for 18 months and the black anodized coating still holds up... Not sure why Huawei did not go with a harder steel but still looks nice when polished!

How about an accessory that holds Huawei to stand behind their claims and honor their warranty in the U.S.? The Huawei watch was marketed as IP67 — but only outside the United States. In the U.S., Huawei will not honor any warranty claims for any water "damage" whatsoever, which is B.S. A 30-second splash in less than a foot of water ruined my watch, and Huawei's response was to pound sand. NOT a good way to build brand equity and allay concerns over quality.
Android Central Newsletter
Get the best of Android Central in in your inbox, every day!
Thank you for signing up to Android Central. You will receive a verification email shortly.
There was a problem. Please refresh the page and try again.