Best of 2018 Awards — The Best Smartwatch & Fitness Tracker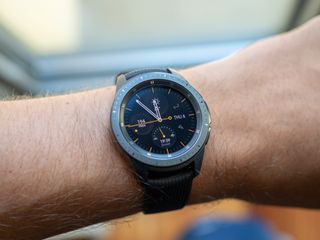 (Image credit: Android Central)
2018 was the year that Google made its wearable platform exciting again, thanks to a revamped software experience, new processing tech from Qualcomm, and a new name/brand with Wear OS. However, it wasn't a Google smartwatch that stole our hearts this year. No, that title goes to the Samsung Galaxy Watch. The Galaxy Watch doesn't bring anything revolutionary to the table, but it is one of the best smartwatch experiences you can get on Android right now.
The Best Smartwatch & Fitness Tracker
The best smartwatch money can buy.
Samsung's Galaxy Watch is a ambitious smartwatch that tries to do a lot, and in the end, it does just about everything really, really well. It has a stunning AMOLED display, a great fitness-tracking platform, and a smooth/responsive software package all wrapped up in an incredibly well-designed body.
Why we picked the Samsung Galaxy Watch as the Best Smartwatch & Fitness Tracker of 2018
Why you can trust Android Central Our expert reviewers spend hours testing and comparing products and services so you can choose the best for you. Find out more about how we test.
Samsung's consistently made some of the best smartwatches that money can buy, and with the Galaxy Watch, we have years of experience coming together to create one of the most polished, feature-rich, and enjoyable wearables around.
At its core, the Galaxy Watch isn't a lot different from the Gear Sport and Gear S2 that preceeded it. It's a smartwatch running Tizen with a circular body and rotating bezel around the display. Those are all things we've seen before, but they're at their best on the Galaxy Watch.
Speaking of Tizen, Samsung's own OS is now better than ever. You may not have the Google Assistant on it like you do with Wear OS, but in many respects, Samsung's leaps and bounds ahead of what Google's doing. Every element of the OS feels like it belongs on the Galaxy Watch. The rotating bezel is still one of our favorite ways for navigating a device of this form factor, performance is consistently fast, and the entire UI with its black backgrounds looks fantastic thanks to the Galaxy Watch's stunning AMOLED display.
Samsung Health is used for all of your fitness-tracking wants/needs, and while it's still not on quite the same level as something like Fitbit, it's getting darn close. Samsung Health on the Galaxy Watch can automatically detect workouts, remind you to move throughout the day, keep track of how much water you're drinking, and more. It's powerful, looks great, and carries over nicely to the excellent Samsung Health companion app on Android.
On the hardware side of things, the Galaxy Watch is just as impressive.
The metal case is sturdy and looks great, the watch is available in two different sizes (42mm and 46mm), there's NFC for Samsung Pay, built-in GPS, waterproofing, optional cellular connectivity, and really good battery life that should get you through 3-4 days of use before needing to charge up.
Again, none of this is ground-breaking or revolutionary, but Samsung took all the main components of a smartwatch & fitness tracker, executed everything almost perfectly, and the end result is a wearable we can't recommend enough.
Runners Up
Wear OS pick
A sleek, gorgeous watch that continues to impress.
If you want a smartwatch that runs Wear OS, the Skagen Falster 2 is your best choice. Yes, it is running the older Wear 2100 processor, but its exquisite hardware combined with the latest version of Google's smartwatch platform make it a worthy contender for a spot on your wrist
For the fitness freaks
An outstanding fitness tracker that's also pretty smart.
The Versa is only Fitbit's second-ever smartwatch, making it even more impressive just how darn good the thing is. Fitbit's industry-leading fitness-tracking/health management system shines on the Versa and is a pure joy to use. Plus, the hardware's also pretty nice thanks to a sleek body, crisp display, and 4+ days of battery life.
Bottom line
For all of the reasons mentioned above, the Galaxy Watch is our favorite smartwatch and fitness tracker of the year. Striking that balance of offering helpful smart features and engaging health-tracking tools isn't easy by any means, but Samsung hit a home run in these regards with the Galaxy Watch.
If the Galaxy Watch doesn't appeal to you for whatever reason, though, something else that's worth checking out is the Skagen Falster 2. The Falster 2 isn't perfect, mostly due to its outdated processor, laggy performance, and unimpressive battery life, but despite all that, it's still the best Wear OS watch you can get this year.
Why? The hardware is so insanely good. Skagen's been crafting watches since 1989 and those years of experience shine through with the Falster 2. The watch is slim, minimalistic, and has a sense of class that's seldom found on other smartwatches. Add that together with Google's Wear OS that's lightyears better today than it was at the beginning of the year, and you have a gadget that could be perfect for the right buyer.
On the other hand, the Fitbit Versa may be the best fitness-focused smartwatch available right now.
Samsung Health and Google Fit are getting better with each day that passes, but Fitbit is still king in the land of fitness tracking. Along with basic things like tracking steps, calories, miles, etc., the Versa can also be used for monitoring your weight, sleep, and even your menstrual cycle.
The Fitbit app is easy to use with a thriving community of like-minded individuals that you can quickly interact with, the Versa consistently gets 4 days or more use on a single charge, and it's just about the comfiest smartwatch we've ever tried. As we go into 2019, we'd like to see Fitbit continue refining FitbitOS and double down on app support.
If design and aesthetics are your main concern, get the Falster 2. If you want something that'll help you live a healthier life, get the Versa. If you want a gadget that offers the best of both worlds, the Galaxy Watch is, undeniably, the way to go.
Get the Android Central Newsletter
Instant access to breaking news, the hottest reviews, great deals and helpful tips.
Joe Maring was a Senior Editor for Android Central between 2017 and 2021. You can reach him on Twitter at @JoeMaring1.