Bentley complements ultra luxury with Android in the new Mulsanne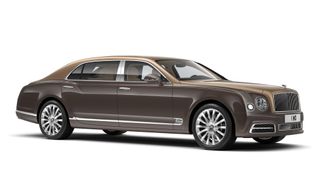 At the recent Beijing Auto Show, manufacturer of things that are luxurious, Bentley, was on hand to show off the new Mulsanne First Edition. This is a car for the ultra wealthy, and the ultra wealthy that like to travel in ultimate style and comfort. It's one of those cars that it's better to sit in the back of.
And to aid in the sophisticated enjoyment is Android. Yes, that's right, Android. The Mulsanne comes equipped with something known as the "Bentley Entertainment Tablet." Running Android.
Of course, this being Bentley it's not as though it just threw in a couple of Pixel C tablets and called it a day. No, no no. It's far more elegant than that.
On the tech front, Bentley is using a pair of 10.2-inch tablets of undetermined origin packed with 4G LTE. Because when one is in the back of a Mulsanne, one doesn't want to be faffing around with a mobile hotspot. Each has 32GB of internal storage and a microSD card slot, as well as a front facing camera for conducting those ever important video conferences with the board members. They can also be taken away from the car should you so wish.
While Bentley has designed a custom interface for the tablets, they're still fully Google certified which means full access to the Play Store and all its apps and content. If you're in the mood, audio can be streamed from the tablets through the Mulsanne's sound system. You can also send route information directly to the on-board navigation system. So you don't even have to talk to your driver.
And you probably wouldn't have the energy to lean forward either, what with sinking into airline-style reclining seats trimmed in only the finest leather. And it's probably best not to ask how many trees worth of wood is inside, either.
What the new Mulsanne is, is the ultimate in luxury with a slight twist embracing modern smart technologies. It would have been incredibly easy just to throw in an iPad or two, a couple of custom apps and have done with it. But Bentley went the whole nine yards and embraced Android, allowing it to do much more than that. Even if most of us will never, ever get to experience it.
Get the Android Central Newsletter
Instant access to breaking news, the hottest reviews, great deals and helpful tips.