Behold, the unholy marriage of a Tegra 3 game on a Snapdragon S4 device!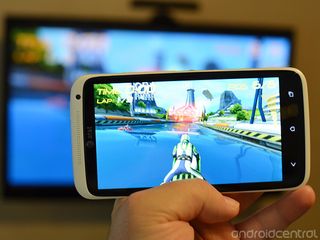 Update: The folks at VectorUnit got in touch with us and filled in some details about this one. While what you're seeing is the same app that is used for the Tegra 3 version, it's not really the same game. Rather than have two distinct apps, they've rolled up the Tegra 3 enhanced version and the "normal" version into one application file. That's why it plays so well, and that's why it looks so , erm, different. It's like the game within the game. Gameception. Anyhoo, thanks to VectorUnit for taking the time to let us know, and thanks for the kick-ass game!
One of the greater marketing successes of the past year or so has come from NVIDIA and its Tegra platform. Tegra 2 kicked off the dual-core era in early 2011. And in late fall last year, it upped the game even more with the quad-core Tegra 3 platform.
One of NVIDIA's major competitors in the space, Qualcomm, has answered back in 2012 with its dual-core Snapdragon S4 processor and Adreno graphics. And in one of those bizarre manufacturing twists that can only happen with Android (or so it seems), we've got the opportunity to see both in action in the HTC One X.
It can get a little confusing, though. In the United States, the HTC One X refers (thus far) to AT&T's version with its Qualcomm processor and LTE data. Outside the U.S., the Qualcomm version is referred to the HTC One XL, and Tegra 3 is the One X. Follow?
Back to Tegra 3. For some time, NVIDIA's strategy rested solidly on Tegra 3-optimized games only being available on Tegra 3 devices, and some only through NVIDIA's own Tegra Zone store. A number of titles have since made their way into Google Play Store at large and are now available on non-Tegra 3 devices. We're using Riptide GP as our example, because we're very familiar with it. Very. There's a version in the Google Play store that plays on pretty much all high-end devices -- Qualcomm S3 and S4, OMAP, Exynos, etc. It plays very nicely, and our hat's off to the developers for such a great game.
But when that same game is loaded up on Tegra 3 devices, you see all sorts of effects and graphics that other processors just can't handle. Things like water splashes on the screen, or a cool hyperspeed blurring effect when you use speed boosts. Here's what the developers have to say (opens in new tab) --
Other games, like Shadowgun THD won't even load on our S4 powered HTC One X. And on GTA3, you need to be running a Tegra 3 to max out all the settings and run at the full frame rate. We can't just dismiss these differences, and NVIDIA gets the nod for having the wow factor.
So. What happens when you run one of our favorite games -- Riptide GP -- on the dual-core Qualcomm Snapdragon S4 version of the HTC One X? Only one way to find out. Hit the break to see how it holds up.
Get the Android Central Newsletter
Instant access to breaking news, the hottest reviews, great deals and helpful tips.
and many special effects are gone..

I'm sure once root is achieved just run chainfire 3d and you can probably run most tegra games. I was able to run Shadowgun and Riptide on my Evo 3d even before it was available for non tegra devices with slight tweaking in Chainfire settings. Same could be done for SGS2 devices.

Old
Happened with tegra 2

Title is misleading, sounds like you were running the tegra version on the s4. Thumbs down.

No hes not, where are the blur and splash effects??

this is great marketing. you traded the better chip for lte, get over it.

That is the whole point. The Tegra 3 is not "better". YOU will have to get over THAT!

"It does not help my gaming abilities whatsoever." Phil, you were in 1st place.

So this was not Tegra enhanced game tested here, it was regular version which works on most of other phones.
Sad part is, that no matter how fast new phones are, nVidia is the only one that supports developers and thanks to that we have THD versions of games, that look more or less better.
So, you can get a phone that's GPU 5x faster than Tegra, but you are still limited to "generic" games. Or you get slower Tegra and yet games look better.
Hopefully, already announed Tegra 3+ will fix the battery problem, because it's 32nm too and (if I remember correctly), has 24 GPU cores. So it should provide both: great gaming and great battery life.
Tegra 3 is a bit of trade off, but it's still great.

Except the S4 Krait is based on 28nm. Not 32nm.

What is that game and how do I get it?

Riptide GP.. Buy it in the Play Store..