Multiplayer Beach Buggy Racing is nearly perfect portable fun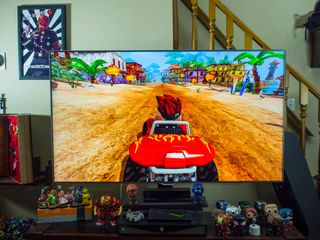 With just about everybody gaming these days, whether it's on phone, tablet, or using a controller. Plenty of us play the same games as our friends, and compete across leaderboards. Integration with Google Play and Facebook makes it easier than ever to play against your friends, but the real fun is the rare occasion when you're all in the same room to do something together. Finding mobile games that support split screen multiplayer however, are few and far between. Beach Buggy Racing has allowed up to four players to compete for a little while now, but it's worth pointing out just how much fun this is with relatively little hardware.
Beach Buggy Racing is a go kart style racing game. You have multiple tracks, buggies, drivers, and track distances. The controls themselves are a little bit slower to react than you might want if you're familiar with this kind of game, but otherwise it's fun. In a pinch it works as a Mario Kart replacement if you don't have access to a Wii U.
While Beach Buggy Racing is a free to download and play game, somebody in your party will need to purchase the premium edition to access multiplayer. It clocks in at $4.99, and unlocks plenty of other features, but the important feature is the ability to split screen. It's actually pretty easy to set up, which is a relief. You want to play against your friends, not spend half the night getting things adjusted to be played.
You should have one player with a Chromecast or Android TV since you're all going to be watching the same screen. From there, each player just needs to open Beach Buggy Racing on the device of your choice. The person who purchased the game should be on the controller if you're using Android TV, since they're essentially hosting the game. Each mobile device needs to hit the 'remote control' button in the upper left hand corner to connect to your Google Cast system.
When it comes to controls, you have one of two options from a phone. You can choose between steering by tilting your device, or by tapping on the screen. On the smaller screens, the tilting method seemed to work better. Primarily because you still need to tap to brake, access your driver's ability, or use in game items.
When you're playing split screen you do get a nifty screen on your device. It shows you break pedals, your current item, and your special ability along with MPH and RPM. You also have the ability to disconnect your mobile device, even if you are mid race, by hitting a button at the bottom of the screen. Again, this is why we suggest the tilting method — that way its much more difficult to accidentally hit the disconnect button.
In our testing, some phones weren't big fan of Beach Buggy Racing, and after selecting multiplayer the app would force close. Restarting the game would fix whatever the problem was, but there didn't seem to be any way to avoid this initial jank. Once you get everyone connected and playing it's a lot of fun, particularly when you are playing against your friends.
Beach Buggy Racing is a decently fun game by itself. When you're playing against your friends and trying to ruin their run in the process, it becomes far more enjoyable. Best of all you can play this anywhere you can stick a Chromecast in, so it's an experience you can bring with you wherever you want.
Get the Android Central Newsletter
Instant access to breaking news, the hottest reviews, great deals and helpful tips.
Jen is a staff writer who spends her time researching the products you didn't know you needed. She's also a fantasy novelist and has a serious Civ VI addiction. You can follow her on Twitter.