BBM for Android now available on the Amazon Appstore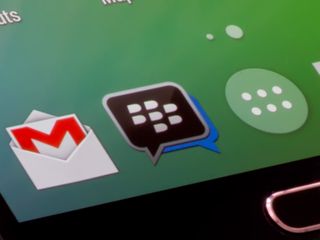 Although this announcement might not mean a lot for BlackBerry users, it could come in handy when recommending others to download BBM. BlackBerry has now made BBM available through the Amazon Appstore.
Now, Android users have the choice of where they want to download BBM from, be it the Amazon Appstore (opens in new tab) or through Google Play (opens in new tab). The latest version supports Android 5.0 Lollipop, includes stickers, enhanced privacy options such as timed messages and message retraction and more.
Source: BlackBerry
Honestly, who cares about BBM??? Posted via the Android Central App

Me too. I love hangouts but yesterday for instance I picked my wife and kid up from the dr and it wasn't until halfway home that I got her message that she was coming down the elevator in the dr office. With BBM I know when it's delivered, when it's read and the reliability is just unmatched compared to other im apps.

Ya. I've had a number of MMS not send via Hangouts. Posted via the Android Central App

Whatsapp and Facebook messenger do the same exact thing (well both the same company but still) Posted via the Android Central App

I believe the 90 million users would care. Honestly.

I do. It's my favorite IM client. I would highly recommend it. Posted via the Android Central App

It's a billion times better that whatscrp Posted via the Android Central App

Yippee? Posted from my Droid Turbo, Kelly and Ozone

Can someone tell me why this is relevant? Posted via My Beastly Galaxy Note 4...(T-Mobile)

Probably not Posted from my Droid Turbo, Kelly and Ozone

Because BBM is now available in the Amazon app store on Android devices. This IS a Android website... Posted via the Android Central App

much cross platform
very diverse
wow

Dawg... Posted via the Android Central App

Hey.....One more place you can not download this app from.......In other news Re became Dundant.....

Dead Posted via the Android Central App

It still boggles my mind that they haven't released a web client.
Until I can access it from my desktop, BBM just isn't going to work for me.

Use a BlackBerry 10 and you can, Blend

Having to purchase a BB10 device to use BBM on the desktop defeats the purpose of it being a cross-platform app. Only a fool would buy a device to use one app.

Maybe, but maybe that one app is just that good. I'm sure you've tried it before commenting.

I have tried it, actually: back in the day on my BlackBerry Tour and on my at-the-time Nexus 5. I still think it's silly to purchase a phone for one app, especially a messenger, work obligations aside.

That's funny because it was never on the Tour, or any other BlackBerry OS device. It was just released first with the passport a few months ago, and now to all BlackBerry 10 devices with 10.3.1
I wonder what (if anything) you where using.

I see what you're doing: you're discounting my opinion because it doesn't favor your agenda. I have used BBM on BBOS, and I have used it on my old Nexus 5. Although it has evolved, it is still, at its core, the same BBM.

No, he's just talking about blackberry blend, not bbm. Bb10 folks like to do that when you're referring to bbm, they suddenly switch the convo to blend, as that's the only way to get bbm on a desktop or the Web client that was mentioned.

Ok, that makes sense. I know I'm not crazy, lol: BBM has been on BlackBerrys (BBOS and BB10) forever.

Blend is actually what doesn't make sense. Other instant messengers have accomplished this Web client and desktop functionality, without needing some other software to make it possible. You should be able to download a bbm app, on your phone and computer, and just use them to send messages from either device without this blend thing. Hangouts and whatsapp can do it...why can't blackberry?

I believe the original comment was about BBM on desktop, so then we're talking about Blend. Which BBM on desktop is one of the things Blend does. As for having to use Blend as opposed to a web client, you'd have to ask them.

Exactly, it was about cross platform bbm on a desktop. Not blend. Not bb10. You brought both up, on a android site. Bbm for Android and iOS should be able to function on a desktop, without bb10 or blend, like other instant messengers available to us. This feature will probably be something else they attempt to monetize bbm with, that no one will pay for.

People are so angry over here
" it was about cross platform bbm on a desktop. Not blend" - what you're describing is (at the moment) Blend, it's relevant because some BB10 people might visit an android site like this because they're related now. So now those people have that option, not everyone is strictly tied to Google like I take it you are

There was nothing angry in that sentence or anything else I said. I simply directed you back to the original post and what was actually relevant info to it. I don't see how you think blend is a valid answer to a web client for bbm on Android (or ios). Does it work cross platform, like bbm? This same article is posted on crackberry, no one is coming to an android site to research or find info about bb10/blend. I'm probably less tied to an OS than you are. I've only been on Android for a little over a year, after constant problems with a z10, and 6-7 years of bbos's spinning hourglass. If you want to see angry, next time someone comments on crackberry about wanting Google play services to work, reply with "it works fine, buy an android"

It's not possible that someone has a BlackBerry phone and is on here because they have a android tablet? Maybe that original commenter just thinks Web client as soon as he thinks desktop messenger. All I was saying is technically there is a desktop BBM/SMS/email/calendar/etc, but there is the requirement of having a BlackBerry 10 phone.

*yawns* Posted via the Android Central App

Thanks for the update Bla1ze. I use BBM on my nexus 6 and my q5. Posted via the Android Central App

How long till the amazon store is filled with these reviews. "Thank you so much this blackberry team. I was waiting this app. Its really great user friendly and smooth."

I love BBM but honestly I don't know anyone who uses it.
Android Central Newsletter
Get the best of Android Central in in your inbox, every day!
Thank you for signing up to Android Central. You will receive a verification email shortly.
There was a problem. Please refresh the page and try again.