Leaked: Barnes & Noble Nook Tablet release date, pricing and full specs!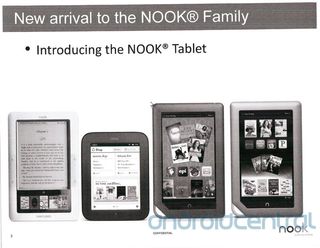 Behold, the Barnes and Noble Nook Tablet. Faster, lighter and no longer just a mere e-reader, if the promo materials we've been slipped have anything to say about it.
Let's back up a second, though. Barnes and Noble is in a horse race with the likes of Amazon and its new Kindle Fire to stake claim to the more-than-an-e-reader/not-quite-a-tablet realm. And The Nook Color did wonders for that over the past year. It was a slightly pricey (but still excellent) e-reader at $249, and it quickly became an above average Android tablet thanks to the Android hacking community.
So where does the all-new Nook Tablet fit in, with its "No, we're not an e-reader name"? We've got full specs, launch information and details on what we expect to see at next week's announcement. Keep on reading.
The Nook Tablet hardware
Let's start with the obvious: Even in a photocopied black-and-white image, it looks like the Nook Color, no? And it retains many of the same features. Same retangular design, same rounded corners, same hook in the lower left. The display is unchanged as well -- a 7-inch VividView IPS display at 1024x600 resolution and 169 pixels per inch.
But inside. Man, this thing's been beefed up. Consider these features and specifications:
Dual core TI OMAP processor at 1.2GHz.
It's a tad thinner, at 0.48 inches (down from 0.5 inches).
Weight is down a bit, too, at 14.1 ounces (from 15.8 ounces), or 400 grams versus 448 grams.
It's now got 16GB of internal storage, plus it can take up to a 32GB microSD card.
Battery life is listed as "to be determined," but it looks like BN's expecting 8 hours with Wifi off, or 4 hours of video playback
Speaking of Wifi, it'll support 802.11 b/g/n, just like the Nook Color.
So we're expecting it to look and feel a lot like the Nook Color, just a little lighter -- and much faster.
But hardware is just half the game. Content is key here, especially since Barnes & Noble is off the Google grid, with its own app store, and of course books movies and music. And the Nook Tablet wil rock HD movies, TV shows and music, thanks to the likes of Netflix, Hulu Plus and Pandora.
And as you'd expect, it's got an e-mail app, a web browser and lots of other applications. BN appears to be fearmongering just a bit here, saying that unlike Amazon's Kindle Fire, which will be routing your browsing through its servers to keep things speedy, you won't have any such privacy concerns with the Nook Tablet. That's a little tinfoil-hat-like for us, but we do see their point.
One thing that's not mentioned anywhere: The existance of Android. We're assuming it's still running Android, but there are no specs on that. And it makes sense. It's not running the same Android you'd run on your phone. It's totally custom, so whether it's running Froyo or Gingebread or whatever isn't really important.
Nook Tablet price and availability
So when can you get one? According to our slide deck, we'll see it announced on Monday in New York. Preorders will go live at that time, and it'll run $249, just like the current Nook Color. Demo units will arrive in stores on Nov. 15, and shipped units should arrive Nov. 16 -- that's one day after the Amazon Kindle Fire is slated to arrive. Interseting timing.
So that's that. A lighter, faster Nook Tablet -- no longer just an e-reader. Stay tuned Monday for the full announcement.
Sign up for Black Friday email alerts!
Get the hottest deals available in your inbox plus news, reviews, opinion, analysis and more from the Android Central team.