Audi commits to Android Auto vehicles for 2015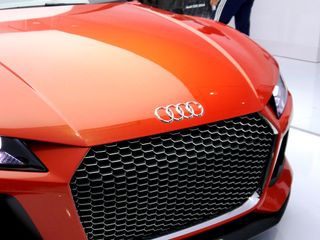 Hot on the heels of the Android Auto announcement at Google I/O, Audi has already committed itself to the system in future vehicles. The German auto maker has issued a press release detailing that the first Android Auto enabled Audis will be available in early 2015.
Audi's implementation of Android Auto will see it baked into the existing MMI in-car system, with drivers seeing a prompt when they connect up a compatible Android smartphone. It's important to remember that Android isn't taking over all of the running, Audi still has its own proprietary system underneath Android Auto run on the QNX operating system.
Good guy, Audi, also says that Android Auto will not make its cars incompatible with rival smartphone platforms. That's as important for us as it is for them. Audi will continue to offer an in-car experience no matter what phone you own, but it get's a little more special if you're running Android.
Audi Plans to Begin Introducing Android Auto™ Connection Into Vehicles in 2015
Android Auto will provide a seamless link for Android mobile car apps to function through the Audi MMI® infotainment system
Motorists will be able to project apps and services optimized for voice commands and the driving environment
Android Auto is the first innovation to come from the Open Automotive Alliance, a coalition of tech companies and auto industry leaders committed to bringing the Android platform to cars
Audi, through its role as a founding member of the Open Automotive Alliance, plans to begin introducing Android Auto technology with all-new models launched in 2015.
Android Auto debuted today at the 2014 Google I/O annual technology conference in San Francisco as the first innovation resulting from OAA, a global alliance launched in January by Google, NVIDIA, Audi and three other automakers to extend the Android platform into cars.
With Android Auto, drivers will be able to seamlessly access their Android device car apps using Audi MMI displays and controls optimized for safe and intuitive operation on the road. The OAA is dedicated to building an open ecosystem around a common platform in order to drive innovation in the car, allowing automakers to deliver cutting-edge technology more quickly to drivers.
"As the leader in the emerging field of connected car technologies, Audi recognizes the importance of meeting our customers' mobile technology needs on their terms," said Ricky Hudi, Head of Development Electrics/Electronics, AUDI AG. "But we should only do this through innovations, such as Android Auto, that reduce distractions and improve performance."
Personal transportation and the personal need to stay informed are two crucial components of everyday life fulfilled by cars and mobile phones. Android Auto helps motorists move the access point for information from the palm of their hand to the built-in displays of their cars allowing hands to remain on the steering wheel and eyes on the road.
After connecting an Android smartphone in a compatible Audi, drivers will see a prompt asking if they want their apps to function through the MMI touch display and controls. The graphics and audio streams, including microphone input and all control interfaces, will then operate with Android Auto which is seamlessly integrated into the Audi MMI mobile media application framework developed by the Audi software joint venture e.solutions on top of the QNX Car automotive operating system.
Apps showing multimedia video content or text heavy displays will be disabled while the car is in motion, a feature that is standard in all Audi MMI systems. Drivers can easily switch from the Android view and the Audi infotainment functions as desired, or upon disconnecting their Android phone.
The addition of Android Auto in forthcoming models will not make Audi models incompatible with other smartphones. Audi has a proven track record of improving the integrated access to mobile devices in its vehicles while focusing first on avoiding distractions for drivers.
Get the Android Central Newsletter
Instant access to breaking news, the hottest reviews, great deals and helpful tips.
Perfect, I think thats how it should be, it shouldnt be 100% Android as not everyone has an Android. It should have a standalone system for the people still rocking Nokia 3310's, and then if you have an android phone, you just plug in and everything getd androidified!

I would love it if my 2014 VW could get an update for this. It has the MMI port and everything. Posted via Android Central App

Yea, but do you have a cable that works for anything but a 30-pin iOS device?

30-pin is a little out of date...

That's what I'm saying. I have a 2013 VW with an MMI port, but it only has a connector for 30-pin iOS.

I have a 2012 and bought a MMI to USB that works great. Car came with 30 pin, but other connectors work if you purchase them. Posted via Android Central App

Where did you get that cable? I just googled it and found a few on Amazon, but they all have crappy reviews.

You can get it direct from VW. You will pay a little more, but if you are concerned about quality that is your best bet. I think I may have gotten it direct and it works well with my M8. http://www.parts.vw.com/vwparts/index.cfm?action=accessories&makeid=35&m...

I might be switching from BMW to AUDI in the next couple of years over this. BMW seems to be full apple...Sucks because i really like my 4 series ;-)

And the beemer is probably rwd....

Yes it is and i love it! Had a BMW 328xi coupe before the 4 series and it was good but handling and full economy is better on the rwd. Plus got though a ny winter on all seasons without an issue. Thats my only problem with AUDI...their front wheel drive based AWD system. Upscale VW...

Yea, I have my eye on an S4, but having gone through the most recent winter with fwd on my VW GLI without any real problems I'm realizing that it's more about the tires and driver.

It really is tires and driver. I have the Michelin Pilot Sport A/S 3 and they are just amazing in winter and perform better then some summer only tires!

Those are the same tires I have. They are expensive but totally worth it. I drove to work in 2 ft of snow. And they can take a beating. I hit some huge potholes that shook the whole car and didn't blow the tires. I finally managed to kill the front right, but had no where to pull over and had to drive on the flat for about half a mile. No damage to the rim. Winning.

Same here. Got my eye on an M2 in 2015/2016, but if they go with Apple and not Android, they can kiss my money goodbye. And there's no way I'll be buying anything but a RWD vehicle. I want something that handles.

M2 will be hot for sure! I really like the M235i and my have gotten it if it came earlier. My e92 was starting to get a little too old and starting to cost money so needed to upgrade. i was the first to have the new 4 series on the east coast pretty much. 428i Msport grey with red leather

I was already waiting to see the refreshed 2015 A7, but now even more excited. Bet it will have Android Auto. Going to have to make a few extra payments on my car to get ready to trade my car for a new A7!

That car in the picture is sexy. Posted via Android Central App

If only the TT could fit 3 in the back. http://youtu.be/Wlm6lD23d0g Posted via Android Central App on BlackBerry Z30

Audi is going to be the first vehicle manufacturer to introduce the complete Android based car. I am so eagerly waiting for the same
http://www.happynewyear2015photo.com/

It is really a great news that Audi now planning to introduce Android Auto Connection into vehicles in 2015. Though it's too early to predict how much it will work for the car users in future, still it is a kind of thing that generates much public interest nonetheless. Another nice thing I have seen here very interesting, that the Android Auto Connection not going make the car models incompatible with other OS in Smartphone. Definitely it is a wise marketing decision to attract other Smartphone users apart from Android based Smartphone at the same time. But as mentioned, guys with Android will get special experience like privileged customers!
http://oriona2.com/audi.html