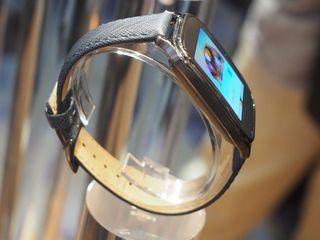 ASUS has not just one new watch on its hands, but two versions of the ZenWatch 2. It's the sequel to what's been regarded as one of the best Android Wear options available, added a few colors and options for bands — and even is offering a slimmed-down model.
That's just big strokes of what's changed, though. There's actually a good bit going on here. But for now, let's take a look at the basic specs of the ZenWatch 2.
The two models of the ZenWatch 2 are basically identical, save for body, band and battery size. The 22mm option is known as the WI501Q model. The smaller 18mm option is the WI502Q. Here are the full ZenWatch 2 specs:
Swipe to scroll horizontally
Category
Features
Processor
Qualcomm Snapdragon 400 (APQ 8026)
Operating System
Android Wear
Display
1.63-inch 320x320 AMOLED (large)
1.45-inch 280x280 AMOLED (small)
Cover Lens
2.5D curved Corning Gorilla Glass 3
Battery
400 mAh (large)
300 mAh (small)
50 percent battery charge in 36 minutes
Charging
Magnet pogo pin
Connectivity
Bluetooth 4.1, Wifi
Sensors
Six-axis gyro, sensor-hub
Resistance
IP67 water resistance
Body Colors
Silver, Gunmetal, Rose-Gold
Strap
22mm (large) or 18mm (small)
Rubber, Leather, Metal
Accessories
Chargeback 155 mAh power bank (22mm model only)
Dimensions
49.6 x 40.7mm (large)
45.2 x 37.2mm (small)
Image 1 of 4
Android Central Newsletter
Get instant access to breaking news, the hottest reviews, great deals and helpful tips
But will it say 'Feburary?'

Gah!!! At least they spelled it right in the other article's image.

Wow look at those ugly ass bezels!!! Instant fail for me go home asus. Posted via the Android Central App

I agree with you. Bezels problem.

At least if the top was black, you may not notice it...but with the gray, it's just staring down on you. I have the Zenwatch and the bezel is the thing I hate the most.

Are these placeholders for the actual specs? "Qualcomm processor" and "AMOLED" display doesn't tell us much. What about the actual SoC and resolution?

funny how you don't say anything about the battery

Leading up to the announcement they were talking about 4 day battery life, but their own press release doesn't mention anything at all about battery life. Even if it's not finalized, you'd think they would have at least said something like "multi-day" battery life or something. Posted via the Android Central App

Well, Phil at least wrote down 'not yet known' for the battery.

they could have at least made the screen a round-rectangle to soften those bezels

The screen is a round rectangle, just not in the rendered images this article uses.

The first one was hardly one of the best, then again there's only what, 7 android wear watches out? This is hideous compared to the rest.

I really wish these watches would have nfc built in. If I could have my shopping list on my wrist and then pay with my watch I would buy one in a heartbeat. Posted via the Android Central App

Sony Smartwatch 3 already has NFC built in. One of the few with built-in in Wifi, GPS and NFC which equals being future proof.

I actually first had a Moto 360 and thought it was really good. Then when I found out about the most recent big update I started looking around because at the time I didn't know that 360 had dormant WiFi (I found out about that couple days before selling). And got my self a Sony SmartWatch 3. It's the most water resistant watch out of all Android Wear, Apple and Pebble ones. It has GPS, WiFi, NFC and 2 day battery life (Yes 2 Full). 360 maybe looks a bit sexier but now I would not go back, no way. SW 3 is also quite a bit faster then 360 (When I had it I thought those lags were normal).
The ONLY thing I want at least for now is for Sony to sell me a metal band or a holder' that they showed in MWC for god sake!!!
Posted via the Android Central App

Asus fail to make a great design for Zenwatch 2. Bezels problem,

Article Title: Asus Zenwatch 2 Specs Content: "We don't really know anything yet". Awesome, thanks for the clickbait.

Resolution? Posted via the Android Central App

How about sensors? NFC, GPS, HEART RATE, GYRO, ALTIMETER ETC..... ?! Anything? Posted via the Android Central App

So explain to me why you need GPS and nfc on a smart watch . My gear watch already does turn by turn . And what would I be copying from my watch that would be important enough to use nfc .. both those things a re best used with a bigger screen. That's when you pull the phone out your pocket . These things where never design to replace your smart phone just to enhance the smartphone experience Posted via the Android Central App

running without bringing a telephone?

exactly...this seems to me an obvious oversight high-end smartwatch mfgs who omit a gps sensor.

What exactly does a GPS do on a smartwatch? If you're going out for a run or a bike ride and you don't bring your phone, can your watch give you location details to tell you where to go? I'm confused someone please answer.

Yea I have no idea. Android Wear phones do not have any connectivity. Even WiFi only allows it to connect to your phone over WiFi for longer distances. GPS always boggled me. Maybe you can start a run via Google Maps, let it sync, and then take off? GPS, WiFi, heartbeat monitor, and step counters WERE important to me until I actually picked up a LG G Watch and found that GPS is useless, at least I haven't figured a use for it, WiFi is useless (battery eater), I could care less about a heartbeat monitor, and the step counter on your wrist is completely retarded. I work at a desk all day and it says I walked like 4000 steps. WHAT is important is that this little gem is water proof with an IP67 rating AND has a built in hidden speaker (like the Hauwei). When Android 6.0 hits, and (if) they enable speaker support, this will be a super sweet upgrade to my LG G Watch.

As somebody who never runs or would use this feature, it's pretty obvious that people would like to track their distance running or biking without a phone. GPS allows for distance and path tracking.

Quite agree, I bought a Sony Smartwatch 3 purely because it had on board GPS, which is great for walking and golfing without lugging your phone around. You can get a number of commercial walking/map/golf course apps but unfortunately the golf ones are real battery hogs when they keep talking to the phone so I've written my own native golf (distance to flag, hazards etc) golf app on the SW3 using it's sensors alone ..so no need to buy a £150 golf gps watch. The SW3 is a real bargain when you consider what you can do with it.
Android Central Newsletter
Get instant access to breaking news, the hottest reviews, great deals and helpful tips
Thank you for signing up to Android Central. You will receive a verification email shortly.
There was a problem. Please refresh the page and try again.