ASUS Transformer Prime updated with Ethernet accessory support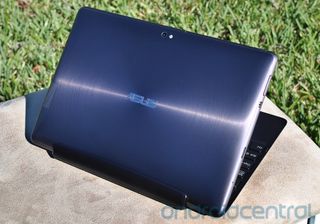 Good news, ASUS Transformer Prime owners! You should have a new over-the-air update waiting for you this morning. According to reports from the Android Central forums, the new software version 9.4.2.21 is now rolling out on devices in the U.S.
ASUS says the update introduces a raft of new features, including support for an upcoming Ethernet accessory, which will plug into one of the Prime's USB ports, allowing connectivity to wired networks. Also said to be included is a fix for the screen flicker issue affecting some devices, along with various ASUS app updates, improved HDMI support and enhanced lock screen options.
If you're rocking an ASUS Transformer Prime, then be sure to head to the usual spot in Settings -> About and check for updates. If you're already updated, then let us know how it went in the comments.
More: Transformer Prime forum
Android Central Newsletter
Get instant access to breaking news, the hottest reviews, great deals and helpful tips
Alex was with Android Central for over a decade, producing written and video content for the site, and served as global Executive Editor from 2016 to 2022.
Didn't Asus made an announcement recently saying there was something bing coming on an update for the prime? Was this it?

Now if they could get around to fixing the original Transformers they broke with the ICS update. Random reboots and bootloops are not good. http://forums.androidcentral.com/showthread.php?t=160073
TF101 ICS Update Issues http://forums.androidcentral.com/showthread.php?t=158247
Constant random reboots since ICS

No face unlock in the update...

same boat here. no face unlock found for me after update.

I hope it fixes the weird screen flicker when switching applications. Also, I doubt I'll use the face unlock feature on my tablet, but I like it on my GNex. Edit: the screen flicker is fixed, but the face unlock is a moot point; it's not included.

yeah, i noticed that to. I'm happy to say that flicker is gone with the update.

I bought four of these. First had dead pixels, second had LED light showing through the back like some of the LED lights were too bright, third had a large piece of something under the screen directly in the center about the size of a push pin head and fourth had the same weird LED issue the second had along with a piece of dust under the screen. The tablet was fast and worked great but the quality was terrible. I will never buy another ASUS product again. Their QC is pretty much non-existent. There is a reason no other company seems to be able to beat the price and specs of the Prime, it is because they cut corners and hope you're happy with your $500 sub-par quality tablet.

LOL. Nice try troll. I love my prime. It works great

I never said mine didn't work well. And FYI, usually a troll is not being truthful or just trying to fan the flames on a controversial topic. I am stating my experience. So, call me what you want but I really hope people browse a few forums before buying one.

I think hmmm just has bad luck. I think product is well built but can fix the ics issues on the original Transformer.

The Transformer ICS issues almost make it unusable.

Editing my post to both report good news and potentially offer help to anyone else who comes across this..... Got the update this morning (Kansas City), have never had an issue with an update before so jumped on it, unfortunately only thing new I've noticed is a problem. Have a set of bluetooth headphones and I'm not getting any sound from them since the update. In addition, with them connected, video play within MX Video player stutters. Turn off bluetooth, and sound comes out of the tablet just fine and the video plays fine. Double checked the headphones with my phone and they work just fine. EDIT... Restarted the tablet and bluetooth works now. So after the update completes and the tablet restarts, shut done and restart again, worked for me.

I have a use the jabra clipper on mine. Sound is working from music and pod casts for me. I notice that on KX video i have a slight video / sound time lag, basically the video is a second faster and the sound is a second or two late but there is no stutter at all. When not using BT the MX player works perfectly. I typed all this before I saw your edit. I'm going to try what you did as well.

No face unlock but did see a status bar lock that wasn't ther before. It's in the ASUS Customized Setting. It locks the status bar so that you can't accidentally open the notification pop-up or hit home while in the middle of a game or movie by touching it with your palm. You have to touch a dot in the center that brings up a lock icon that has to be slid to unlock the status bar again. I still have to take a look and see if there are any performance changes.

Just downloaded and updated. I do notice the flicker is gone, thanks! performance seems better, but I am sure that is just my imagination.

Updated and everything is fine except the face unlock will not activate. My son has a prime also and same thing for him.

My son thinks another update may be coming to finish the upgrade process. Maybe so

My Prime just arrived at the service center in Grapevine, TX. I am just hoping to get it back with working WiFi and BT, and not have so many random FC's. Seems like a large number of people are having the wifi dropout while using a BT device. Unfortuantly I have not heard anyone claim to have the problem fixed after sending them in for repairs. A lot of the ones I have seen on the forums have been in other countries, so I hope my luck will be better.
I love the design of my Prime and dock, I just need it to Function.

Im having some bad WiFi problems, what process did you go through to fix yours? Appreciate it

Got the update in Canada as well. All the fixed items are the same as other users stated, but i also notice the battery usage now works as it should. Now it gives the battery usage by individual app.

I WISH THAT THEY WOULD PUT BACK THE ABILITY TO TETHER AND AD-HOC RECOGNITION.... and THE ORIGINAL BATTERY MONITOR!!!
Android Central Newsletter
Get instant access to breaking news, the hottest reviews, great deals and helpful tips
Thank you for signing up to Android Central. You will receive a verification email shortly.
There was a problem. Please refresh the page and try again.