ASUS Transformer Prime (TF201) Jelly Bean update is now live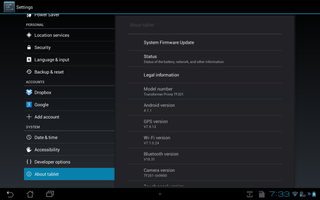 Well we heard officially last night that ASUS was going to start pushing the Jelly Bean update to Transformer Prime (TF201) users today, and it seems that the rollout is now in full effect. If you haven't been notified of the update yet, you can check in About tablet > System Firmware Update, and then wait for the download and install. Users report that the reboot can take a while -- so do your best to be patient while the update does its thing.
Having issues or want to share your experience with the update? Hit up our forums and see what everyone's talking about.
More: ASUS Transformer Prime Forum
Andrew was an Executive Editor, U.S. at Android Central between 2012 and 2020.
Yes, lunch time so I can go update my Prime.

ASUS - Appropriate System Update Schedules

just got my prime back from RMA and tried checking for the update but not available yet.

Same here...mine is on the FedEx truck as I write this...had to send it in a SECOND time for 4-5 hot spots but also random vertical lines on the left side and it feet like components were moving inside of it. While I've enjoyed it, I am tired of the RMA's. I may sell it for a Surface...but until then, I'll be loading JB as soon as I get it.

yea, I just got it back after a 2nd RMA. the 1st RMA was for the USB port not working properly (which was after I had unlocked so I had to pay for it to be fixed... grrrr). this time it was for a bad HDMI port... luckily I hadn't unlocked it again, as I figured there would be more problems, and sure enough there were. I just wish unlocking the tablet wouldn't void the warranty. esp for a hardware issue. not too happy with Asus right now. and it's still saying there is no update for my tablet.

Got it for my wife's prime..... But I usually do a factory reset before major updates (since everything contacts, music pics, are all backed up on the cloud)... I've realized that I've had less problems in case any app isn't compatible and impedes the update process.... It's working great very smooth and responsive.

I've been trying all day and either get a download failed please wait a moment and try again message or a message saying update available check notification area but nothing shows up.

I have had the same type of error. I don't know if it is my wifi connection or perhaps the tablet or update

i was having the exact same problem...so what i DID was went to settings- apps- all- DMClient- clicked clear cache AND force stop...restarted the tablet and BLAM it was there

And this is why i love android central! Your solution worked great and i'm now downloading. Thanks!!

worked a treat for me to here in Australia. Downloading update as we speak. Thanks mate

You rock. I've been frustrated by a greyed out "Check Updates" for ever and then tonight did this, and (as you say) blam, update downloaded.

Same here then it finally started downloading only to get stuck at 41%. Any fixes?

Hmm, mine gets stuck at 77%

I am really getting a positive impression of ASUS recently, I hope they release some more phones. I think an ASUS Nexus phone would be awesome! :)

Honestly though...this update made my prime just...ENJOYABLY USABLE...haha im not sure if thats a word but so far no anrs errors or glitches and project butter just makes me feel...confident..as in i am confident enough in the tablet that i can take it wherever i want to and i will KNOW that it'll work. Great job ASUS..everything that i didnt like about the tablet just got fixed...only question left is...where do we go from here?

Personally, I view it as a lousy update and a poorly implemented process. The thing hung the update system for hours with a message that the file could not be downloaded and to try again later. Since it is now installed, I see absolutely no change in performance, just graphical slight of hand to make it appear that apps are opening faster, when the time to actually have apps opened in a useable state is about the same as before. Taking out the appearance of lag without eliminating the actual lag is not progress. It still speaks of a poorly optimized OS that taxes quad core hardware and a gig of RAM more than should be possible. Boot times are also now longer and I had to reboot several times to get it to stop saying it was updating apps that were the same apps it said it finished updating the previous time. If you do a cold boot there are also now additional options for which I cannot yet find a definition. Oh, if you do a cold boot they have reversed the selection functions associated with hitting the up or down sound buttons. Good work - it ranks right up there with other Android upgrades from Google. If Apple, Microsoft, or RIM released an update with such poor quality control, people would be all over them in the news; on the web; etc.. FWIW, I wish Google would spend less time coming up with stupid names for their upgrades, and trying to convey that they are somehow different as a business (they are not), and actually finished a version of Android with an actual commitment to quality control before release.

Still waiting for the update in Thailand. Already tried the previous posts suggesting to stop services with no luck. Will try tomorrow. Really looking fwd to this update...

It's now here in Bkk. Probably about an hour ago.. lol
But mine has failed to download and I'm told to wait to try another time.

Downloading the update now. Goodbye Flash I suppose, I'll side load if I honestly miss it, but I'm hoping I won't.

Anyone else experiencing reboot issues and keyboard glitches with this update?

Marybee, Yes, I've had problems too. Are you using a third party keyboard like swiftkey 3 or swype? I noticed that I was not having problems when my tablet was not docked to the keyboard. Mine was only restarting when it went into a screen-off mode.
How about you? I uninstalled third party keyboards and it seems to have fixed the problem. I noticed during the install that there was a keyboard dock firmware update. I wonder if there's a problem out there.

I tried updating but he ended up lying on his back with a red exclamation mark...trying a factory reset to see if that helps.

ok, so I did a factory reset but now the update is not found when I do a scan >_< any ideas anyone?

I updated and it is NOTwhat I hoped for. My Asus was fine on ICS, but now on Jelly Bean, AWFUL!! Its slow, flash is gone (I heard I might jump through hoops to get it), landscape/portrait doesn't work correctly, can't view many formats like before, entire screen goes "extreme white noise" with lines during video playback. I have more issues but don't to bore you all. I have performed reboot after factory reset after reset. Asus said if I send it to them, they will revert back to ICS and maybe replace, but what a pain. Has anyone else experienced these or similar issues? This tf201 was awesome before JB, so I use my smartphone now because its 10 times better to use.....I'm so bummed!!! Thx, DJ

My Asus was also fine on ICS. I use Bluetooth to tether my phone to my ASUS, and Jelly Bean breaks that. I also have frequent random reboots.
Android Central Newsletter
Thank you for signing up to Android Central. You will receive a verification email shortly.
There was a problem. Please refresh the page and try again.