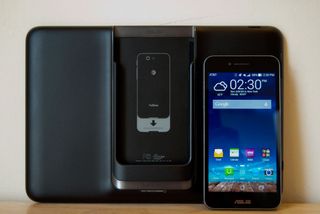 (Image credit: Android Central)
The PadFone X is finally here, and it may just be the best bang for your buck on the market today.
It's finally here. After what seems like an eternity of waiting with baited breath, the Asus PadFone X has finally arrived on AT&T shelves and, in large part, it was well worth the wait.
First introduced back in January, Asus' smartphone/tablet hybrid was unlike anything else on the market, and today it's as unique as ever -- combining a powerful, flagship worthy 5-inch smartphone (dubbed the "PadFone") and an equally impressive 9-inch tablet (dubbed the "PadFone Station"), the PadFone X is as good of a two-for-one deal as you'll find, priced at an affordable $200 on a two year contract.
But as you'll see, Asus sacrificed form for function, and the PadFone X could take some cues from its fellow 2014 flagships in the style department. But all things considered, its power, usability and cool factor more than make up for its shortcomings.
Pros
It's a phone! It's a tablet! It's $200! The PadFone X is a great value with smooth and powerful performance, long lasting battery, and great camera that only sweeten the deal.
Cons
There is nothing sexy about the PadFone X: both the PadFone and the PadFone dock suffer from a bulky, uninspired design. Both sets of speakers could be better, and while Asus' software touches are light, a stock Android experience would have been preferable.
The Bottom Line
Asus took a concept that Android manufacturers have been playing with (unsuccessfully) for some time now and pulled it off in a really impressive way. The PadFone X is a unique device that offers high-end specs and well performing hardware that rival other 2014 flagships, all for an incredible value: $200 will get you a top-shelf smartphone with an equally impressive tablet that doesn't require an additional data plan. It's simply one of the best bangs for your buck on the market today.
Inside this review: Hands on | Hardware review | Software review | Camera review | Usability Test | Conclusion
Hands on
Hardware review
Let's cut right to the chase: Asus took a gamble here, stepping out of the box and experimenting with a concept that companies have agonized over for years. The result is a package that's bulky, uninspired, and, at certain angles, downright ugly, yet still remains fresh and inspired.
Let's start with the PadFone. It's a chubby little thing that at first glance could easily be mistaken for a 2011 model – at just over 172 mm thick and weighing in at 150 grams, this is by no means a sleek and stylish device. But in the same breath, it's not ugly either. Its black matte plastic removable rear, which houses the phone's mono, less-than-impressive speaker, has an oh-so-subtle pattern to it that adds an ever-so-slight sense of style. Plus, even at five inches, this phone feels great and is completely usable in one hand.
The PadFone Station suffers from the same ailments. Cut from the same cloth as the phone, it too is a bit overweight and pudgy with a design that's far from revolutionary. When paired with the phone, which, to be clear, is the only way the tablet will function, it turns into a heavy, bulky slab. But again, this is far from a deal breaker all things considered.
The displays on these devices win the PadFone X major points. The PadFone sports a 5-inch, 1080x1920 pixel panel at 441 PPI that offers stunning clarity and color reproduction, wide viewing angles, and vivid detail. In a word, it's gorgeous, as is the PadFone Station. Here, Asus is filling 9 inches with 1920x1200 resolution for 252 PPI -- it's not quite as sharp as the phone's display, but it's nothing short of impressive either. Be sure to spend some time in the preloaded Splendid app, where you'll be able to tweak things like saturation, color temperature, and more.
My only real beef with the PadFone X's display is with the tablet's bezel. It's incredibly obtrusive and, proportionally, it seems like it accounts for a very large part of the front of the device. To be fair, it does house two front facing stereo speakers that produce admirably rich sound, but even so, we've seen this done better elsewhere.
While the smartphone and tablet each have a unique set of outer hardware, they share one set of internals, which means that without the PadFone, the PadFone Station is left powerless. And though the specs might not be the mightiest out there today, they work very well in this setup. The PadFone X sports a Snapdragon 800 processor, 2 GB of RAM, and 16 GB of internal storage (expandable up to 64GB), and man, could this thing fly. Performance is super fast and fluid in just about any scenario, even when making the transition from smartphone to the more demanding tablet hybrid. The PadFone X has more than it needs to keep things churning.
One exception to the rule is that the PadFone and the PadFone Dock do not share a battery. With a 2,300 mAh (removable!) pack, the smartphone is capable of powering through nearly 15 hours of moderate to heavy usage. The tablet, with its 4,990 mAh battery, can easily achieve a full 12 hour day, which is fairly typical for my light-to-moderate tablet usage habits. One bit of a bummer on this note: the phone and tablet cannot feed off of each others' batteries, which means if one component is dead, the other cannot function. The bright side, though, is that you can charge both simultaneously while the device is docked.
Software review
At first glance, the PadFone X appears to operate on Asus' own custom UI atop Android 4.4.2 KitKat. The good news, however, is that upon further inspection, this is actually very close to a stock Android experience. What Asus has done is skin stock Android, adding a bit of color here, some flair there, to create a more vivid, robust experience.
But TouchWiz this is not. Asus' edits are topline at best – you'll best notice them in things like the settings menu, which is identical in layout to stock Android with a blue and grey color scheme. You'll also notice it in the app drawer, which despite its selectable categories located at the bottom of the screen is also identical to stock Android. There are things that Asus took more liberties with, like the now-pastel notification drawer or the bit cluttered lock screen, but all things considered, Asus' touch is light at best.
Bloatware is a completely different story. The PadFone X is riddled with AT&T's suite of junk, including the carrier's FamilyMap, Locker, Mobile Locate, and DriveMode to name a few. But the device also has some slightly more useful pieces, like a trial of Beats Music, Wildtangent's Game Portal, and Isis Mobile Wallet. Plus, some of Asus' custom software, likes it AudioWizard profile manager, its Splendid display enhancement app, and its Usage Manger, which keeps track of your battery, data, and storage, are actually quite useful.
Most importantly, though, is that nothing of what Asus has done gets in the way of Android's speed and fluidity. This is the ultra smooth, ultra powerful KitKat we've grown to know and love.
Camera review
Asus chose a 13 megapixel shooter for the PadFone X, and despite relatively low expectations going in, I was pleasantly surprised by how well these optics performed. The PadFone X is capable of producing some really stunning shots, especially outdoors and in well lit situations. Colors are vibrant and accurate, noise is minimal, and details are rich. In low light conditions, quality takes a hit, but not a fatal one.
What's more, the PadFone X's camera is a joy to use. Shutter and focus speeds are lightening quick, which means it's dead simple to catch your shot before it passes. And with a ton of customizable options and shooting modes, the PadFone X is equipped to shoot in all sorts of conditions.
For selfies, you'll have a choice: the PadFone packs a 2MP shooter, while the PadFone Station has its own 1 MP front facer. Both are more than adequate for doing their job.
Usability Test
So we know the PadFone X performs admirably as both a phone and a tablet, but what else in your digital arsenal can it replace? Like many, my first thought upon seeing the device was whether or not it could be a one-stop shop for all of my computing needs. The answer, after a week of using the PadFone X, is a disappointing no.
It's no fault of the hardware: with the optional Asus Bluetooth Keyboard, available for $99 at AT&T, the PadFone X transforms into a fully functional clamshell computer. While the keyboard adds weight and girth, the device still remains portable and highly comfortable to use. That's not to mention how well the PadFone X's processor and software can handle more intensive computing.
The problem lies within Android. A fine (dare I say superior) mobile operating system, Android simply doesn't have what it takes to be the sole system for all of your computing needs. It lacks the sophistication and usability of both OS X and Windows for tasks that demand PC-like advanced multitasking, document production, and graphics-intensive manipulation. Android-powered hardware might be inching closer to PC-like performance, but for now, the OS is still a way's away from being an ideal solution.
Conclusion
What a journey it's been for Asus and the PadFone X. After what seems like years of hype and anticipation, its arrival on AT&T's shelves is ridiculously overdue. But once you put the PadFone X to good use, you'll agree that it was well worth the wait.
Asus makes up for the points it lost in the design and form factor categories with a perfect 10 in novelty and function. It's a pudgy, heavy device, but a unique and exciting device nevertheless. Alone, both the phone and tablet look dated and tired, and even when docked the duo look obtrusive, but their faults are outweighed by a refreshing dose of forward-thinking functionality.
The PadFone X is a powerful smartphone with the chops to compete with the likes of the HTC One, Galaxy S 5, and just about any other flagship on the market today. What makes it stand out, though, is that for the standard $200 flagship price tag, you also get a capable, unique 9-inch tablet that doesn't require an additional data plan. It's when the two components pair together that the PadFone X really shines --performance is fast and fluid, battery life is superb, and the camera is admirable – all of from one of the first fully functional hybrid Android devices to ever reach mainstream notoriety. It may not be able to replace every single device in your arsenal, but it comes pretty darn close. Asus deserves a pat on the back not only for thinking outside of the box, but also for doing so remarkably well.
Get the Android Central Newsletter
Instant access to breaking news, the hottest reviews, great deals and helpful tips.