ASUS 'Cube' loses the Q, appears for pre-order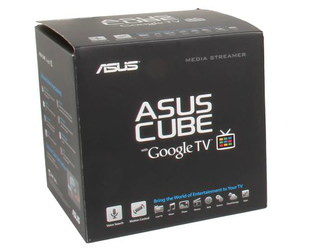 Qube no longer; renamed streaming box due for release Apr. 24 for $140
First announced at CES, ASUS' Google TV-powered streaming box is set to go on sale in just over a week, according to listings at Newegg. What's more, it'll do so with a pretty reasonable $139.99 price tag and a brand new name.
The ASUS Qube is no more -- behold the ASUS Cube. With a C. Because that's how you spell "cube." Packaging over on the retailer's website confirms the name change, as does a promo video (opens in new tab) on its YouTube channel.
The Cube runs Google TV with a customized "cube" interface, and support for streaming services like HBO Go and Netflix (not to mention YouTube, of course.) Other key GTV apps like Google Chrome are present and accounted for too.
No word on any international release plans just yet, but readers in the U.S. can pre-order over at the source link.
Source: Newegg (opens in new tab); via: AndroidOS.in
Alex was with Android Central for over a decade, producing written and video content for the site, and served as global Executive Editor from 2016 to 2022.
Is this running Honeycomb or Jelly Bean out of the box?

It's a hybrid device, really. It runs Jellybean (v4.1) with the latest version of GoogleTV built in. So with access to the Play Store, and GoogleTV, it is what the Nexus Q should have been, software-wise.

According to NewEgg, it's got Honeycomb. https://www.androidcentral.com/e?link=https2F%2Fclick.linksynergy.co...

Really not interested in another honeycomb device; especially when it's releasing 3 weeks before KLP is. I liked my old Google TV device but it died recently (it got in a fight with a dog and lost), but not sure if this is really better or not. I liked the old one because it made my TV feel like a 60 inch tablet; but being on HC makes a lot of cool Android features I like now nonexistent. Having HBO Go baked in is a good step up though. Wonder about Amazon Prime (flash support needed if using Chrome) or a dedicated service.

Can this receive miracast/WiDi?
Can this work as a Bluetooth sink (receiver)? I'm looking at my android phones/tablets and wondering why google TV's aren't incorporating the same technologies.

I actually preferred the "Qube" name. Now it just sounds like a cubical block made by Asus.

Yeah, the Qube name to me was also preferable over the simple Cube description.

Not feeling that UI. I was looking at the OUYA but I think i'll go with the cube. I'll drop XBMC on it soon as I get it. Not waiting til june for OUYA.

The GoogleTV platform still doesn't support the Android NDK which XBMC requires to run. So if you try to install XMBC on the Asus Cube, it'll just force close when you try to run it. Maybe Google I/O will finally bring a post-Honeycomb update to GoogleTV that adds NDK support. But it's just a "maybe." P.S. XMBC runs just fine on OUYA.

Looks much better/polished than I thought it would. Still some lag on the searching and voice functionality, but seems to have integrated well. Cube interface doesn't look bad (would be especially nice if you can add your own "sides" to the cube. Remote with no dedicated numpad on the front though is kind of a deal breaker. GTV, despite what Google wants, is still primarily a tv-augmentation device. Not being able to easily change channels is a killer.

I'm tempted to get it, but I think the Ouya will get more developers support (CyanogenMod) so I rather wait.

I changed my mind. seeing that the cube only comes with 4gig storage made me say no to the cube. Finally was able to find the spec sheet on it. I need storage. I have too many of those streamers with 4 or 8gig. Going back to look at the Exoon box instead. 16gig on the exoon.

It looks to me like HBO GO is not included. That would be a dealbreaker for me. Can anyone comment on that?

The review on youtube says it is.

You can still watch HBO GO and many other Google TV channels at http://gtvlist.blogspot.com

At $140, is there really any reason to buy one of these instead of something like the OUYA that has better internals for $40 less? I understand that the OUYA isn't really being sold as a GTV, but it's easily modded so I'm sure it won't be long before GTV functionality is possible right?
Android Central Newsletter
Get the best of Android Central in in your inbox, every day!
Thank you for signing up to Android Central. You will receive a verification email shortly.
There was a problem. Please refresh the page and try again.