Are you using a screen protector on the Note 8's curved display?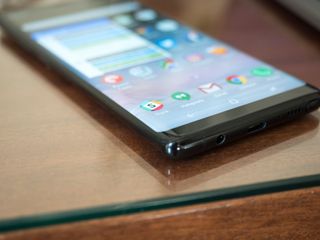 There's a lot we can say about Samsung's Galaxy Note 8, but one of its hallmark features is its massive 6.3-inch curved AMOLED display. This display is a true beauty for watching movies, playing games, and browsing the web, but as some of our forum users are quickly discovering, it's not necessarily the most practical thing in the world.
Because of the Note 8's curved edges, a lot of our forum users are having a tough time trying to apply a screen protector to the thing. This is an issue that all phones with curved displays are susceptible to, but it's even more pronounced on the Note 8 due to its ginormous size.
Here's what some of you have had to say.
If you're rocking Samsung's latest, we'd like to know – Are you using a screen protector with the Note 8?
Joe Maring was a Senior Editor for Android Central between 2017 and 2021. You can reach him on Twitter at @JoeMaring1.
Well, I am about to enter this conundrum of curved screen protectors... I have been looking at the "whitestone dome" and the comments on various threads... We shall see. My order arrives tonight. I hope it was worth it

My big question about that one is, if the protector cracks, can you remove it? If so, does it leave behind adhesive?

I'm currently using my 2nd Whitestone glass on a note 8. The protector can be easily removed. The projector is fragile.

Yeah I had the whitestone dome, it lasted a month before a small chip on the edge became a spiderweb across the screen....I haven't put a replacement on since...

I just read all the 1 star reviews on Amazon. Please come back and let us know how well yours worked.

Have you seen the installation videos for the whitestone dome? It's pretty ridiculous what a process it is to get that thing on your phone and required "two" curing steps with a UV lamp. Um no. My philosophy on screen protectors is that they have to be easy to install/remove and look decent. The idea being that if it's scratched, you replace the protector and you have a pristine screen again. With the expense (the Whitestone is not cheap) and time taken to install it, most people will live with a scratch on the protector--than what's the point?? The scratch might as well be on the phone.

I actually used the Whitestone Dome for the S8+, and the installation was definitely a little more complicated than a 'normal' screen protector installation, but not exponentially so. And the final effect was having a protector that was almost as beautiful as the screen itself. The only issue I had was the cost of a replacement glass, which was almost as much as the whole kit with the UV lamp...

Puregear sells a really good tempered glass screen protector. *I wish I was getting paid for this insert.

That one doesn't cover the whole display, which isn't a problem for me. I had one just like it on my Note 4, and I barely noticed it didn't go all the way to the left and right edges. However, as much as I like the look of a curved display, the curve on the Note8 is so subtle that Samsung might just as well have put a flat screen on it. That would remove all the frustration with tempered glass screen protectors.

Be forewarned. I have seen a ton of reviews were there was too much glue in the bottle and it made it seem into the speaker and even glued the phone to the table. I'd hate to see a $45 product cost you $1000 in the end.

Just got my note 8 yesterday and it already has a scratch (but it's very small) I will definitely be putting one on today.

Yes. I'm using the Spigen NeoFlex. I hate plastic screen protectors, but this one isn't as bad as I thought it would be. I'm still going to try another brand eventually. I tried the Skinomi protector and it was a disaster. It stuck to the display better than the Spigen, but that thing smudged terribly and was impossible to wipe to keep smudge-free. There is a tempered glass screen protector for the Note8 that's supposed to be spectacular, but the name escapes me. EDIT: it's the Whitestone Dome, mentioned by bgbagz. It's about $45 and it comes with a special adhesive, an ultraviolet light to activate the adhesive, and a plastic vice to push down the protector on the screen. I might shell out $45 for that.

Nope. I do have a nice pouch.

I have the Zagg glass screen protector. This is actually my second one. I dropped my phone during a drunk evening and shattered the first one. However, the Zagg did it's job and left my screen unscathed. So now I have my second one and combined it with a Spigen Ultra Hybrid case. The glass fits perfectly on the screen, and the case comes within a millimeter of the glass protector. Very happy with both.

I also got this tempered glass protector last week when I got my phone. Yes it was pricey. But the T-Mobile rep put it on for me and did an outstanding job. I know they should not cost alot but sometimes for quality, you have to pay and I'm glad I did.

Using the official samsung screen protector for my s8. Plastic but it worked

Nope. Clear view takes the beating

I tried a LOT of screen protectors on my S7Edge a while back and ended up settling on the wet-apply variety, specifically from best skins ever. They (BSE) tend to be a bit slow releasing screen protectors for new phones, though, so I switched to IQ Shield case-friendly protectors on my S8+ and now that's what I'm using on my Note 8. I'm only an occasional s-pen user, so the texture of the "soft" screen protector doesn't bother me much, but if you use the s-pen a lot, I can imagine it would drive you nuts.
If applied correctly, the wet-apply protectors will stick to the edge just fine. I had the same protector on my S8+ for 5 months (the entire time I owned it) with no lifting on the edges. Far as I know, the new owner of the phone still has it on there.

I definitely prefer glass to plastic with the S Pen, and I use the S Pen constantly. But as much as I hate plastic screen protectors, the S Pen feels pretty good on the Spigen NeoFlex. It's definitely not the same as glass, but it's not as awful as the plastic protectors I tried on my Note 4. I'm still going to try another brand, though. I tried several before finding the perfect one for my Note 4, and I'm going through the process again with the Note 8. The only type I avoid completely are the tempered glass protectors that only have adhesive on the edges.

Whitestone Dome is the best. Touch sensitivity is the same, if not better, and it protects against fingerprints and is so much easier to wipe off than the screen.
There is no residue left on the screen after you remove the Dome - mine cracked and had to be replaced.
Regarding the cost and process to put it on: I have $1000 phone, I can go naked and get annoying scratches, or spend $50 (just bought 2 extra once on eBay at &$35 each), watch instructional video, spend 20 minutes to carefully install it, and I haven't been happier. Which option would you prefer?

I'm glad you are happy with it, but the Note 8 has been out a little over a month and you've already had to replace your $50 protector once. Granted, your second and third protector is $35--but that's $120 in screen protectors alone. If I drop my phone and the screen shatters it's a $29 deductible at Best Buy to get it replaced so I would prefer to go that route.

The new tempered glass is there for note 8 its little small but works we'll with note 8 curve screen...i have installed it on mine and few friends phone also

Look up qmadix liquid screen protector. Goes on any phone. It's like a alcohol wipe. Jus wipe it on the phone wait 5 min and buff. It's nanotechnology.

Was planning on going without a protector on our Note8s but the wife got the smallest of scratches on hers so we went ahead and got them. Got the amFilm ones from Amazon and have been impressed for the month or so they have been on. Yes the dot matrix is visible when the screen is dark and you have a lot of reflection, but under normal use we don't notice it and touch sensitivity doesn't appear to be that affected if at all. Nice thing about the amFilm, comes with an alignment tool to get the screen on right the first time.

When I bought my Zizo case it came with e tempered glass protector and it works pretty well...it's not the best but hey it was free..I would even consider purchasing it again if this one breaks..it had easy installation and looks pretty good too.

I got lucky and got in on the .40 cent Whitestone Dome blowout on Amazon a month or so ago. I have to say it is probably the best tempered glass screen protector I have used. The install isn't as bad as it sounds. I did watch a video and after that it was easy.

I'm using the Spigen screen protector, and it has worked great for me. I've been using it since the S8. Installed on my friends and family phones. Only one friend has his that is peeling up on the sides now, we all got ours on day one. On my note 8 has been on with no problem. I've changed cases a few times now too. Recommendations? Use a small heater to dry it while the phone is off for about 15 mins. Phone gets hot! But don't turn off.. Maybe that's why it works for me?

I quit screen protectors years ago. The more expensive my phone the better I take care of it. The cost, application, inevitable peeling and glare from the sun that i use to subject myself to has been avoided just by treating my phone like the valuable thing that it is.

I have been using the i blason tempered glass screen protector since i got my note 8 in September and its been perfect no lifting edges, no rainbow effect, and the touch sensitivity is not impacted at all and it fits with most cases

My Mi Note 2 is as naked as f***. I don't really like screen protectors. They just take away the beauty of the screen.

No, I don't have a screen protector, I never really liked them. In fact, I only have a DBrand skin on my Note, no screen protector or case. I didn't see a point in having a "bezel-less" phone if I'm just going to put a case on it which creates big bezels.

I am using one for my Note FE 😁

https://www.moutfitters.com/clear-coat/matte/ That's what I use, and it's brilliant. If you don't like the Matte (I do because I hate fingerprints), the regular clear coat is gorgeous too,

Use the Whitestone dome glass for both my S8+ and note 8. Yes it is expensive but worth it

Haven't used a screen protector since the Note 4 and even that was short lived. Instead, I just use a wallet style case. In particular, I really like the Samsung LED cases.

I tried 2 zagg's from Best Buy, it was horrible. The bottom of the curve didn't quite adhere, and dust filled the tiny gap. Took it back and tried it again thinking it was defective but the second one did the same thing. I gave up and just have it in an OtterBox defender, have dropped it face down on gravel a couple times but no scratches yet.

I use a rearth invisible defender.it has a design that curves around onto the back glass of the phone so no lifting a wont be disturbed by cases https://www.amazon.co.uk/gp/aw/d/B074J4CQ8P/ref=mp_s_a_1_1?ie=UTF8&qid=1...

Note 8 Screen Protector - Case Compatible / Case Friendly - Tempered Glass - Samsung Galaxy - Olixar - 2 Pack https://www.amazon.com/dp/B0752LCF8R/ref=cm_sw_r_cp_apap_44Ztd36JPpBVk?t... Using a Spigen Tough Armor case and this protector works well with it. Very simple installation. The protector stops just a hair before the slope on the sides so No lifting or separating and touch sensitivity hasn't taken a hit in my opinion. 2 pack for $25 on Amazon.

I use Skinomi on my Galaxys and glass on my iPhones.

I have the Zagg Tempered Glass screen protector along with the Spigen Neo Hybrid case. It greatly reduced screen sensitivity. Response in games like Contest of Champions became near abysmal. I've also had to adjust how I type using Swiftkey, and draw with the SPen in Sketchbook Pro, as the pressure sensitivity has taken a dump. The glass also doesn't fully cover the curved screen, so it picks up a nice line of pocket lint along the sides. The only way I have found to increase the screen sensitivity is to change the "Hard Press Home Button" option to the lightest setting. I wish they had the sensitivity settings my Note 4 had, where you could actually use it wearing light gloves...
I suppose it's a small sacrifice for the protection. Luckily, I have not had any hard drops to validate it.

My Zagg screen protector is Working great!

I work in property maintenance so keeping my phone scratch free or without a cracked screen is a must so I've tried everything .screen protectors are a horrible idea they're so easy to scratch all of them make the screen look full of scratches from the pocket alone let alone dust or debris. I've had the glass screen protector on my note 4 and my son knocked it off the night stand face first, the drop I thought was minimal, shattered the glass screen protector, or so I thought, nope it was the note 4 cracked with the glass screen protector. Ever since then all my screens are naked or as with my note 8 a simple Spigen rugged armor case no screen protector. I always put my phone in my front left pocket (not on my strong side) and nothing at all else goes in that pocket ever. That pocket no matter what is my dedicated phone pocket. In reality all anyone really needs to do is train themselves into carrying their phone in a dedicated phone only spot wether in a pocket or purse and it will not ever get scratched and the case is for drops. As I said I work in property maintenance so you would think it's easy to damage a phone but in reality i believe everyone underestimates how strong gorilla glass is. Samsung uses the latest gorilla glass which can withstand most scratches already. I still have my old note 5 that I've had since first released I trained myself to keep it in my pocket as I described and although I have the note 8 now the note 5 still looks new . Basically I say all of this to say get a good thing case and go naked for the screen the note 8 is a sexy phone, don't ruin it with screen protectors that just get easily scratched and make the phone looked abused and ugly. 😎
Android Central Newsletter
Thank you for signing up to Android Central. You will receive a verification email shortly.
There was a problem. Please refresh the page and try again.