Are you skipping the Galaxy Note 20 for the Z Fold 2?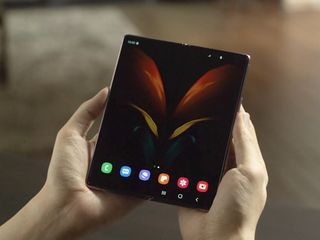 (Image credit: Samsung)
Now that reviews of the Galaxy Note 20 are live, everyone across the internet is getting a feel for whether or not it'll be a good purchase for them.
The Note 20 Ultra (opens in new tab) is a darn good phone, but with an incredibly high price and no must-have features compared to other flagships that are out there, it may be a tough sell for some folks. This is made even more true when you consider that the Galaxy Z Fold 2 is also coming out soon.
What we've seen so far of the Z Fold 2 is seriously impressive, and compared to the Note 20 Ultra, will be a much more exciting phone. Some of our AC forum members recently shared their thoughts on the upcoming foldable, saying:
What about you? Are you skipping the Galaxy Note 20 for the Z Fold 2?
Joe Maring was a Senior Editor for Android Central between 2017 and 2021. You can reach him on Twitter at @JoeMaring1.
As a dedicated Note user since day 1, I have to say I wasn't impressed with the Note 20 series this year. I am going to wait until September 1st for the Fold 2 announcement and decide. Otherwise I am going to keep my Note 10 for another year. Also I may ditch the Note series altogether if they don't make the smaller iteration next year just like the Note 10 was. This year's Note 20 definitely wasn't as small compared to the Note 20 Ultra and they cut too much corners for the price. I may just go with the next S series with the smallest model...

Unless I was a reviewer being paid to use a folding phone I wouldn't buy or use one.

I'm skipping them all as they are too expensive...

Yes, skipping Note 20. Little or no 5G Verizon coverage, and the price is outrageous. I just got an almost new Note 9 for $500 to replace my dying Note 8 and I am very happy with it. I'll be skipping the Fold also even though I like what I see so far. For me, its a matter of $ and I don't trust it to hold up yet, so I'll let the dust settle before I give it serious thought.

Not yet. Maybe next year.

Looking at prices I think I'll opt for a dual screen phone for now

Nothing replaces a Note as I swipe this with my s pen. Folding devices are neat but too expensive for my tastes right now and I'm concerned about long term durability. Sure durability tests have been done but what happens in 3 years living in MN? I'd imagine the screen is more bridal when cold. Even without the cold will the screen actually last several years?

Nope. I'm skipping the Note 20 Ultra and the ZFlip 2 to stay with my five month old Note 10+.

Without the S pen is out of my interest.

Never, ever, ever would I buy a folding phone.

I gave up on the note series 2 years ago. Samsung used to release new tech on the note but now they basically refine the new tech from the S series so I've been buying into the S and really glad I did this year too. The fold has me curious but durability and the plastic display have me overly cautious
Android Central Newsletter
Get the best of Android Central in in your inbox, every day!
Thank you for signing up to Android Central. You will receive a verification email shortly.
There was a problem. Please refresh the page and try again.