Are you interested in the Microsoft Surface Duo?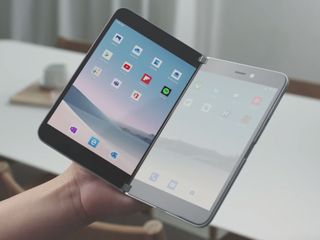 At Microsoft's big Surface event this week, the company took everyone by surprise with its announcement of the Surface Duo — an Android smartphone with two displays that can fold up with a hinge in the middle.
The Surface Duo has created for a lot of chatter in the mobile space, some good and some bad. It's a very interesting concept, but with other companies like ZTE having tried (and failed) with similar designs in the past and Microsoft gunning for a Holiday 2020 release date, the phone's getting a lot of mixed feedback.
Taking a look at the AC forums, this is what some of our community members have to say.
What about you? Are you interested in the Microsoft Surface Duo?
Get the Android Central Newsletter
Instant access to breaking news, the hottest reviews, great deals and helpful tips.
Joe Maring was a Senior Editor for Android Central between 2017 and 2021. You can reach him on Twitter at @JoeMaring1.
Yes. But I'd like to see it slightly more narrow as to fit in a suit jacket pocket etc... I'd like to see it locked down like a blackberry and have all the Microsoft apps and services included in the cost of the device.

Yes. There is a lot to unpack there. Of course a preview is not enough to form an opinion on a device, especially not one that won't be available for purchase until late 2020. I'd like to get my hands on the device and see it in action. Then I'll get a better idea of it's worth as a device, it's versatility, user interface, software, specs, battery life...and surely enough, pricing. But, I think there is something there...the Microsoft Duo could succeed and bring some change to an otherwise stale handset market.

If they put a proper camera on it and made a version running Windows 10X, I'd probably give it serious consideration. I have no use for a folding Android smartphone...

No. I could see it being useful though.

Probably not the first iteration but I like where it's heading.

A bit too wide even when folded. This looks like the old Courier they were planning years back...

Absolutely. I don't care right now about the current state of folding phones and I love the implementation of this old concept. I only wish the screens were able to connect with no bezel in between to really take advantage of the hinge to make a true one screen (per se) appearance. But I'm extremely intrigue with this.

Oh God yes!!. It will be my next mobile device without question!! TAKE MY MONEY!!!!!

It looks awkward to hold. I don't buy 10" tablets for the same reason.

Yes, though it would have to fit into a pocket and be thin enough. Cost is the next hurdle. I know I am asking for everything.

The only thing that would make me hesitate is how good the interaction with my Galaxy watch would be with it. I could lose Samsung Pay and survive. If that's the only loss with the watch then color me signed up. Hopefully the Surface pen (new or old) will work with it as it will be the ultimate portable onenote device (title currently held by the Note 9.)

Definitely! It looks great and will have Android

This is much closer to what we saw in Westworld than the Galaxy Fold. I agree that it's a bit too wide when folded, but things are moving in a good direction.

I would definitely get one if it were an Android One phone!! Price has a lot to do with it also.

Yes. I have a Surface Pro for work and am very impressed with the hardware. Really, it's the best MSFT related product I've ever had. I would anticipate that same quality with the Duo or a more traditional smartphone...

Yes. I'll be buying this one next year for sure.

Yes. Daniel Rubino at sister site Window Central said it is thinner than it looks and quite pocketable.

I am tempted but I doubt I will shell out for it at first gen. Maybe 2nd or 3rd gen. Based on an interview at the verge, this is the 3rd I internal revision of the platform and is final form of the shipping product. Having said that, I wouldn't be surprised if the cpu was upgraded from the 855 it has now to whatever the current 800 series chip will be next year or if the batteries get tweaked. Some Microsoft employees are already using it as their daily driver, so it's not a "demo product under glass".

Gotta get some hands on time, but I could definitely see this as my next phone...

Without Windows OS, what's the point?

I'm always interested in Microsoft products and phones, but just not this one. I'm just not feeling it.