Are you happy with the Note 10's in-screen fingerprint sensor?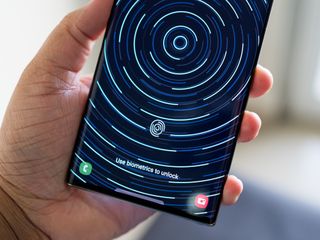 (Image credit: Harish Jonnalagadda/Android Central)
One of the most notable smartphones trends for 2019 has been the in-screen fingerprint sensor. The idea of embedding a fingerprint sensor underneath a phone's display is undeniably cool, but as we've seen, it can have mixed results.
The Galaxy Note 10 is the latest handset to ship with an in-screen sensor, and looking through the AC forums, some of our members have a lot of feelings about it.
Here's what a few of them have to say.
Now, we'd love to hear from you. Are you happy with the Note 10's in-screen fingerprint sensor?
Joe Maring was a Senior Editor for Android Central between 2017 and 2021. You can reach him on Twitter at @JoeMaring1.
Like others, I cant believe how much better it is than the s10+'s. Really night and day.

...it's the same exact ultrasonic FPS as the S10+'s.

...nobody said it wasn't.

yet the 10plus blows it away.

If it's anything like the S10+'s FPS, I know I'll hate it. The S10+'s FPS only worked for me about half the time and that was after registering the same finger four times.

I have no issues with the sensor. Works fine for me.

I use the pin pattern instead of the FPS on my s10+. The damn thing is too finicky. I really dislike it, pain in the ass!

I second every piece of this comment!

Never having used an underscreen FPS before I had no idea what to expect. I did miss the FPS being on the front of my S7+ (putting it on the back for the S8+ just felt too awkward). I've had my Note 10+ for a week now and I love the underscreen FPS. It's so much more convenient than trying to find it on the back. It's not quite as fast as the FPS in my old S8+ but the added convenience more than makes up for that.

Same here, first underscreen FPS for me. I was pretty sure I would like the placement, as opposed to the back of my Note9. It works 99% of the time as long as I get my finger placement correct. I do notice that it is ever so slightly slower than my Note9 one.

It's somewhat fascinating to see such extreme experiences, some with it sucks to some that it's perfect?

Took some getting used to, but I'm good now.

Not happy, it's obviously not like in Pixel 3 but it's ok. I rely mostly on face unlock now.
Problem with fps is the fact that area is too small and you have no visual clue where it's located, on top of that add 0.5 sec delay. If you place your finger in the right spot, then it's decent, but that's not always the case

Tuen AOD on with a tap, or hit the power button for the lock screen if you want the target.

There will be variations on how worn you finger prints are, skin hardness, etc. As with any technological interaction with the human body, your mileage may vary. Now, if only there was some form of secure face unlock...

Honestly, it's not great. My OnePlus 6T in screen scanner was world's faster and more accurate.

I registered my FP without the factory installed screen protector then installed a protective film afterward. But my FP still work flawlessly without re-registering my FP.

The problem is simple. There's no physical delination on the screen to be able to use the scanner with "muscle memory". Even after using the scanner extensively, the odds of a successful "pocket-pull scan" are probably 2-in-10. To me, the best solution is, bar none, a scanner on the rear, or a scanner on the bottom part of the chin of the phone (IE: old iPhones). I, personally, have a thing for "immediate unlock" access into my phone, and the
S10/Note10 line of phones are by far the slowest unlockable phones Ive used in years.

AOD on will give you the target. Tap, press, done.

He wants to be able to do it without looking at the screen. He wants instant access to his phone unlocked by the time the phone is removed from his pocket and he is looking at it. Sounds to me like bluetooth unlock may be what he needs.

Samsung really need to improve and updrade this sensor for the Galaxy S11 !!
Android Central Newsletter
Get the best of Android Central in in your inbox, every day!
Thank you for signing up to Android Central. You will receive a verification email shortly.
There was a problem. Please refresh the page and try again.