Are Bose QC 35 headphones water or sweat resistant?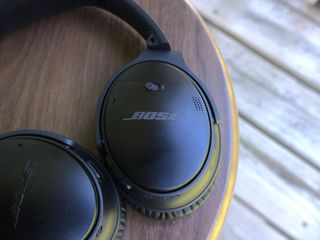 (Image credit: Joe Maring / Android Central)
Best answer: The Bose QC35s are not water or sweat resistant. If you need a pair of headphones for working out, we recommend Bose's SoundSport Free instead.
Amazon: Bose SoundSport Free (opens in new tab) ($199)
The QC35 headphones are not water or sweat resistant
While the Bose QC35s sound great, are extremely comfortable, and have excellent noise-cancellation, they are not water or sweat resistant.
The headphones should be fine on a quick run or if it's lightly sprinkling outside, but you definitely don't want to push them to their limits.
With enough sweat or water, the QC35s could turn into the world's nicest-looking paperweight before you know it.
Bose's warranty doesn't cover damage from water/sweat
Bose does cover the QC35s with a 1-year limited warranty, but since there's no official rating for water or sweat resistance, the warranty does not cover any damage for sweat or water.
If you try contacting Bose about headphones that have been damaged for these reasons, you'll be told that you were using the headphones improperly and that'll be it.
The company's SoundSport Free earbuds might be a better fit
The QC35s clearly aren't the best headphones to accompany you at the gym or out in the rain, but the Bose SoundSport Free (opens in new tab) earbuds are.
In addition to an IPX4 rating that protects the SoundSport Free from sweat, water, and intense weather conditions, you also get five hours of playback time plus an extra 10 hours with the included charging case, a "Find My Buds" feature that helps you track down a lost earbud, and Bose's superb sound quality.
Oh, and they're $150 cheaper than the QC35s.
Get the headphones that fit your lifestyle
It's a shame that the Bose QC35s aren't water or sweat resistant, but thankfully, the SoundSport Free does an excellent job at filling that gap.
Our pick
(opens in new tab)
Bose's best water and sweat resistant headphones.
While we love the QC35s, they're not a good pick for someone that needs water and sweat resistance. Instead, we recommend getting the Bose SoundSport Free.
Joe Maring was a Senior Editor for Android Central between 2017 and 2021. You can reach him on Twitter at @JoeMaring1.
Android Central Newsletter
Thank you for signing up to Android Central. You will receive a verification email shortly.
There was a problem. Please refresh the page and try again.