ARCHOS unveils Fusion Storage and new 256GB Magnus tablet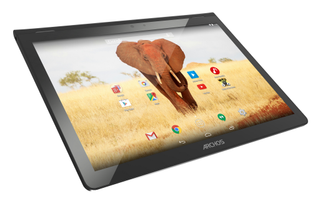 The new line of Magnus tablets include the 101 Magnus, 94 Magnus and 101 Magnus +. The 101 Magnus is sporting a 10.1" screen, 1GB RAM, 64GB of storage and a 4000mAh battery. the 94 Magnus features a 9.4" screen, 1.5GB RAM, 256GB of storage and a 6400mAh battery. the 101 Magnus + is rocking a 10.1" screen, 2GB RAM, 128GB of storage and a 7000mAh battery.
The 101 Magnus Plus and 94 Magnus will be priced at $349, while the 101 Magnus will sell for just $179. All of the tablets are set to be available in April.
ARCHOS Invents "Fusion Storage" and Announces First Ever 256 GB Android Tablet
Paris – March 2, 2015 – ARCHOS, a pioneer in Android™ devices, presents the ARCHOS Fusion Storage, a revolutionary software that seamlessly combines the memory of any micro SD card with the internal storage on a device. On display at Hall1, Stand 1G29 during Mobile World Congress in Barcelona, ARCHOS will also be unveiling its range of Magnus tablets featuring up to 256 GB of internal storage.
Fusion Storage by ARCHOS
A revolutionary and unique technology, ARCHOS Fusion Storage optimizes data storage by fusing internal memory with external micro SD card memory. Once activated, ARCHOS Fusion Storage automatically migrates data from the micro SD card and optimizes memory balance, resulting in an increase in install space for apps and games, as well as more storage for media and large files.
ARCHOS Fusion Storage will be available on all new ARCHOS tablets and smartphones, including the new Magnus tablets, and through Over-The-Air updates on select models.
The Magnus Range – Up to 256 GB of Internal Memory
The first ever Android tablets with up to 256 GB of internal memory, the Magnus range embodies ARCHOS' belief of delivering excellent tablets with huge storage capacity. Replacing mechanical drives for ultra-fast flash drives, the Magnus series guarantees excellent processing power, superb speeds, and an immersive user experience.
The ARCHOS 94 Magnus and ARCHOS 101 Magnus Plus feature 256 GB and 128 GB of internal storage respectively and enthralls users with amazing HD graphics and outstanding app and media experience without worrying about running out of space for their files, music, games or pictures.
Whether watching an HD movie, surfing the web or gaming in HD, the Magnus tablets completely immerse you into another world. The ARCHOS 101 Magnus Plus and 94 Magnus feature super powerful Cortex A17 quad-core processors capable of running apps and games smoothly while remaining energy efficient for even longer battery life.
The ARCHOS 101 Magnus Plus 128 GB will be available in April 2015 for $349. The ARCHOS 94 Magnus 256 GB will also be available in April 2015 exclusively on the archos.com online store for $349. ARCHOS will also be launching the ARCHOS 101 Magnus – the first tablet with 64GB of internal storage for $179.
For more information about ARCHOS' entire selection of Connected Devices, Smartphones and Tablets, visit us at www.archos.com.
By day, Adam is a writer for multiple Future Publishing brands with over fifteen years of experience. He's expertly researched and written hundreds of articles ranging from mobile phones to mobile homes to baby mobiles. By night, he's a gadget geek, avid disc golfer, 80s nerd, cord cutter, cook, husband, dad, and memory collector.
256gb should be the minimum for all phones and tablets Posted from my Droid Turbo, Kelly and Ozone

The 1GB or 1.5GB of RAM is too low! Oh, and a typo: You listed the Magnus 101 for both the 10.1 & 94 models. "The 101 Magnus is sporting a 10.1" screen, 1GB RAM, 64GB of storage and a 4000mAh battery.
the 101 Magnus features a 9.4" screen, 1.5GB RAM, 256GB of storage and a 6400mAh battery." Posted via the Android Central App

Looks good, I'd buy it for the storage. Posted via Android Central App

Looks good, I'd buy for the storage. Posted via Android Central App

My first experience with Android was with an Archos tablet back in like 2011, I think! It was a big deal when it updated to 2.2 Froyo! The thing had only 256 MB RAM and an 800x480 screen, but man was that cool at the time.

the best part of that whole thing is the fusion! Not only do you have the regular internal storage but you can use your microsd card as real actual storage!! That is an idea that all of the manufacturers of low end phones may want to consider. Way to go Achros!

It was as simple as formatting the microSD with a Linux-compatible filesystem and mounting it correctly. Why couldn't anybody do this earlier? I could only think that Google's interest is in crippling local storage, but why couldn't anybody at Samsung, HTC or Motorola? It is far what the Apple Newton Messagepad awesome expandable memory model could do, of course. I'm talking about a Jobless-Era product, BTW. There you could specify the location of any record. I mean anyone. You could have some apps internal and other ones external. But you could also split contacts, notes, I mean anything. And all of them where first class citizens. Not like in Android external storage system. And the best part.... It was hot pluggable! No need to turn off the device.
Guys, this was 1998!
Sadly, the CPUs at that time were slow. My Newton 2100 was fast enough, but earlier models and price were affecting sales. On top of that Jobs came and killed the product out of revenge against the other administration.

I know this is from a year ago but, has this tablet been released yet? If so, where can it be purchased?
Android Central Newsletter
Get the best of Android Central in in your inbox, every day!
Thank you for signing up to Android Central. You will receive a verification email shortly.
There was a problem. Please refresh the page and try again.