Archos Smart Home gets you connected, but you can probably do better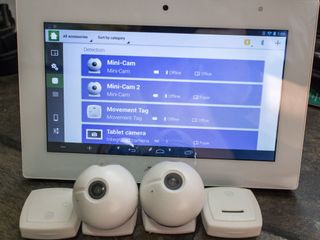 A tablet, cameras and movement tags make up this $250 kit
Archos recently released their latest offering in the connected home space, dubbed Smart Home. We first checked out the system back at CES in January, and Archos has recently made the starter kit available in the U.K.
The Archos Smart Home system offers smaller, less expensive components than most other systems but still boasts many of the same features (and is also lacking a few). The $250 starter pack includes an Archos tablet, two mini-cams, two movement tags, and two weather tags. The entire setup works not over Wifi, but over Bluetooth Smart (AKA Bluetooth LE). This means that the modules can last for a year on a single battery — which makes for less hassle and less worry — and more awesomeness. You can use the Smart Home system with a companion app on Android and iOS, though everything first routes through the included Android tablet via your home Wi-Fi network.
What's in the kit
At the heart of the Smart Home system is a 7-inch Archos tablet running Android 4.2.2. It has all the necessary software ready to roll for your Smart Home system, and still doubles as a regular old Android tablet — though not an extremely good one with just a 1.2GHz processor, 1GB RAM and 4GB of memory. It also isn't very portable as it's very bulky and the design is made to sit still on your desktop. Still, you can use it as you see fit aside from controlling your system, but don't expect it to be your main tablet.
There are a variety of components supported by the Smart Home system — some in the starter box and some on the way later this year. Included with this setup are two small VGA cameras (mini-cams), two movement tags, and two weather tags. Forthcoming are a motion sensor, siren, and light module.
All of the included components are all super small and super light, meaning you can place them just about anywhere you want and they won't be in the way (or even noticeable) in most cases. They can get into all kinds of small places you wouldn't normally be able to stick similar monitoring devices, which is a big plus. The attach to surfaces via padded sticky tape, so that also means if you want to remove them, you might have some residue left behind. It also means that moving them around isn't really an option since the tape isn't the easiest to remove.
Pairing the modules is as simple as tapping a button on the device while the tablet seeks it out. The app will know what you're adding and will let you change settings and assign rooms accordingly. Connecting all the devices gave us no issues and everything was up and running in just a few minutes.
Cameras
I love the physical design of the cameras — they're extremely compact and about the size of a ping-pong ball. Each includes a magnetic base that can be stuck just about anywhere, and the camera adjusted in nearly any direction thereafter. Unlike the cameras in bigger systems which need to be mounded with more hardware and wired to power, these little guys are so small they can go on the ceiling, wall, under things, over things — just about anywhere you need an extra eye. They're waterproof as well so you can absolutely use them outdoors to monitor your yard, driveway or front door.
I've used bigger cameras with my Nexia system for years, so having some that are this small is very impressive. I can stick them in rooms where I couldn't put cameras before (due to no power or just plain ugliness) so it opens a whole new set of options. If you don't stick them to anything right off the bat, you can also move them around very easily — useful for watching kids or keeping an eye on the cookie jar.
As far as function goes, the cameras can only snap low-res 640x480 images or record 7-second video clips — kind of a downer given today's hi-res demands. You won't be able to fire up a live feed of your living room for example, which is kind of expected with a new home monitoring system. Yes, the cameras are small and very compact, but not being able to record longer videos or take hi-res photos means that in certain cases, these cameras won't be of much use at all.
It's almost like you have to trade off the recording capabilities for the fact that the mini-cams are so compact. For some this might not be an issue, but for most people, having better recording options is necessary in a system like this.
Movement Tags
The movement tags come in two parts and are used for tracking when your doors or windows are open, or when objects are moved. The two-piece tag can be placed on either side of a door or window to monitor the open / closed status, or you can attach it to things and be alerted if motion is detected. These too are extremely small and can be stuck just about anywhere — use them on entry doors, interior doors, garage doors, windows, or even your refrigerator. They're light and inconspicuous so they won't stand out in most cases. Again, you can't really move them around too much, so once you stick them you're best to leave them where they are.
I typically use sensors like this on my doors and windows, but having the ability to use them to track movement as well is very cool. These can tie into automations as well (which we'll get into later) so you can snap a photo when your door is opened, get an alert when a window is closed or record a video clip when something is moved.
These tags are probably my favorite part of the system. You can easily add them to every door and window in your house and have a secure system that will alert you when doors and windows are opened — or even moved — so you'll always know the status of all your entry ways.
Weather Tags
Not much to explain with these little guys. The weather tags can be stuck anywhere — indoors or out — and report back with the current temperature and humidity readings. I like that there are two included with the system so you can put them in different areas outside, or use one outside and one inside.
You can track weather variations over time on a calendar, and also add automations based on the weather. Set the tag to send an alert if the temperature drops below a certain level so you can check for freezing pipes, or if it gets too hot so you can turn the AC on.
Siren, Motion Ball and Smart Plug
In the coming months, Archos will release new modules that include a Motion Ball for detection movement, a siren (which can be triggered based off a movement tag for example), and a Smart Plug for controlling lamps and small appliances. Each module is available for around £30 — which is a nice price when you look to add more components to your system outside of the included devices.
Adding these into the system will give a much broader range of functionality. The movement ball can be used indoors or out and, as you guess, tracks movement. This one will be key for automations, letting you fire up your camera when movement is detected, or get an email when someone is at your front door.
The Smart Plug will plug into an outlet and let you control lamps or other small appliances remotely. Turn lights on or off, make sure the coffee maker is shut down, and even track electricity used by a connected appliance. Automations galore here too — set the Smart Plug to do things like turn on the lights when you open the front door.
Software
Using the Archos Smart Home app on the tablet lets you take control of the entire system. The app itself is fairly easy to use, though some things could be a bit more intuitive.
Each component can be assigned a room (you'll be asked when first setting up each device) and you can quickly scroll through rooms to see the status of all the connected devices therein. At a glance you can view the current state of the movement tags, check the weather, and see a quick view of your mini-cams.
Each component has its own "block" within the room view. Movement tags show open/closed/movement status, camera show a snapshot, weather tags show the current readings. You can tap into each block for more options and other settings.
You can create various programs (AKA automations or scenes) using each device, which allows you to automate the system. You can choose to receive alerts when a door is opened, record on a camera when movement is detected, or be alerted when the temperature in your house reaches a certain threshold. You can tie in more than one module as well, so you can have a Motion Ball tell a camera to record when it detects movement in the hallway, for example. Everything is easy to find within the app and automations take only a few taps to setup.
Beyond just "checking in" on your modules, setting up some simple automations, and receiving alerts — you can't go too much further outside the Smart Home system. There's no IFTTT integration (yet anyway) to interact with other connected devices, but it does work with Tasker, which itself is bulky and hard to use for many.
The bottom line
Overall the Archos Smart Home system is a nice setup for those looking to get into the connected home space, but there are too many downsides for us to be able to recommend it at this point in time. We absolutely love the size and battery life of the different components of the system, but the fact that is has to run through the cheap, non-portable Archos tablet knocks off a ton of points — and the mobile apps are spotty at best. The low price tag is a big selling point, and expanding with additional components won't totally break the bank. The modules all work as they should, and do so very well for the most part. Adding automations and setting things up as we needed all worked great, but there's only so much this system can do in its current state.
It's inexpensive in comparison to other systems of similar quality — and the fact that add-on components are all around £30 is great for anyone who needs to expand with multiple devices — but overall the Archos Smart Home system just falls short for us. The whole thing almost feels dated at this point — from the clunky tablet to the mobile apps to the use of Bluetooth. Hopefully Archos will improve the system over time — adding more components and updating the software & apps — but for now we think your money will be better spent elsewhere on other home monitoring solutions.
Get the Android Central Newsletter
Instant access to breaking news, the hottest reviews, great deals and helpful tips.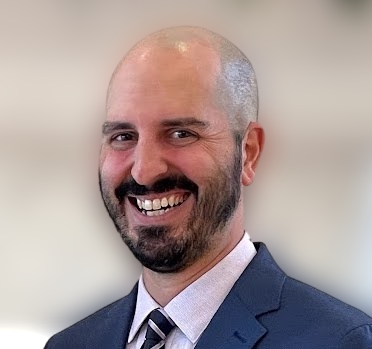 Editorial Director - High Yield
Adam is the Editorial Director of High-Yield content at Future. Leading an outstanding team, he oversees many articles the publisher produces about subscriptions and services including VPN, TV streaming, and broadband. In addition to identifying new e-commerce opportunities, he has produced extensive buying guides, how-to-watch content, deal news, and in-depth reviews. Adam's work can be seen on numerous Future brands including TechRadar, Tom's Guide, T3, TTR, Android Central, iMore, Windows Central, and Real Homes.