Archos 97 Platinum and 80 Platinum hands on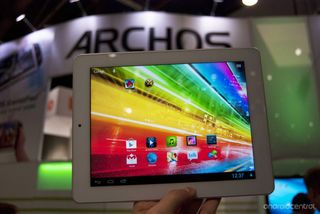 One of the things I was most excited to see at this year's CES was Archos' 97 Titanium, the 9.7-inch Android tablet introduced by Archos late last year. Its stunning Retina-quality 2048 x 1536 display is one of the best on any Android tablet, and its nearly-identical-to-the-iPad design will almost certainly grab the eyes of consumers and lawyers alike. Much to my surprise, what I found was a new line of Archos tablets, the Platinum series, one step above the still-fresh Titanium. ​On hand here in Las Vegas were both the 97 Platinum and its smaller sibling the 80 Platinum.
These devices are nearly identical to the 97 Titanium HD and the 80 Carbon respectively aside from a minor boost in specs-- both processors have been bumped to a quad-core 1.2 GHz chip, up from their previous dual-core brains ( a trend we saw on most of what Archos brought to CES this year). Aside from that, other specs remain the same, including the front and rear 2 MP cameras, the nearly-vanilla Jelly Bean experience and the ultra-premium design.
The true stars here, though, are the displays, especially the 97's (above)-- it's easily the best display I've ever seen on an Android tablet, and can rival the iPad in terms of both pixel density and saturation. The 80's 8-inch 1024 x 768 panel (left) falls short of Retina territory but looks fantastic nonetheless, and feels splendid in the hand.
Buzzing through the UI was fast and breezy, and seeing a company opt for a pure Android experience never gets old. We weren't able to run any benchmarks on the devices in our short time with them, but we expect to see quality results and performance-- after a string of disappointments, Archos is finally in it to win it.
As you'll see in the shots below, the comparisons to the iPad are not exaggerated-- these devices look and feel strikingly similar to Apple's tablet, so stay tuned for the inevitable uproar and legal action when Archos brings the line to the states in March. Expect a $329 pricetag on the 97 Platinum, and a $199 pricetag on the 80. Photos of the 97 as well as the 80 (easily differentiated by the screen's orientation-- the 97 is horizontal, the 80 vertical), along with comparisons and a video, follow the break.
Image 1 of 16
Be an expert in 5 minutes
Get the latest news from Android Central, your trusted companion in the world of Android