Apps World: Hands-on with the new and improved Zeebox TV app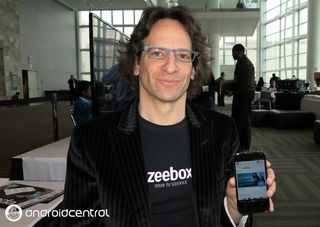 Updated features expected to hit within the next few days
We travelled to this week's App World event in San Francisco to learn about new and interesting apps coming to Android. One section of the show – TV Hackfest - specifically showcased apps relating to television and video viewing.
Inside of the TV Hackfest area, we met with Anthony Rose, Co-founder and CTO of Zeebox. Zeebox is a second-screen TV app that offers a customizable TV guide, news feeds for users' favorite shows, discussion rooms for those shows, and more. The Android version of Zeebox is due for an update with exclusive features within the next few days. Check out our hands-on video to see how Zeebox can make watching the shows you like better and easier.
More about Zeebox
Zeebox is a free service that users can experience through the Zeebox website or by using the mobile app. Whichever platform you access it from, your profile, shows you follow, and other settings follow you on the cloud. The mobile apps are of course most ideal for the second-screen experience (using while watching), and provide some enhanced interactivity beyond what the website offers.
When you think second-screen TV app, you probably imagine using the app to chat or read about television programming while watching the show. Zeebox of course offers those features. Many program offer interactive content, such as polls to gauge how viewers feel about the latest reality show or news event. Or you can read more information about a topic that comes up – without having to search for it. Socially, users can chat in rooms dedicated to each program or comment via Twitter and Facebook.
Some shows like American Idol are tailored to that social experience, and their viewers like to discuss the show as it happens. Others require more viewer concentration; you don't want to miss what's going on in an action-adventure or drama by constantly looking away from the show itself. Zeebox still has something for people who just want to focus on the shows themselves. Whatever shows you follow, the app provides content and news to read about as well as opportunities for discussion after airing. The goal is to keep users engaged even while they wait for the next episode to air.
Not sure what's coming on? The Zeebox TV Guide has a full channel listing. Once you find the show you like, follow it or interact with Zeebox's content for it. You can even set up notifications for new airings of your favorite shows.
New Features in the update
Google Plus login: All versions of Zeebox support Twitter and Facebook. But only the Android version gets Google Plus support at this time.
Rich notifications: Accept invites from friends to watch shows and even change the channel on your compatible television/box with a single click
Home screen widget: View a stream of information and news about the shows you follow directly from your Android home screen. See this feature in action in our hands-on video above!
A two-screen future
Nobody needs a smartphone or tablet just to watch TV. But in this day and age, many of us love to look up information on actors and plot points or just tweet about the show as we're watching it. Zeebox caters to those people and even people who love TV but don't hold onto a device while watching. Check out the Zeebox website or grab the app for extra features – both are completely free to users.
Get the Android Central Newsletter
Instant access to breaking news, the hottest reviews, great deals and helpful tips.