Emojis for people with disabilities have been submitted to Unicode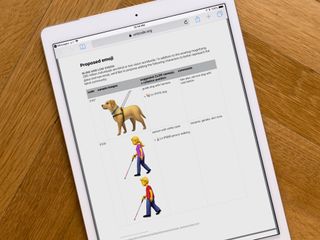 There may be a whole new set of emoji headed to your phones, tablets, and computers! Apple has submitted a proposal to the Unicode Consortium for emoji that would "better represent individuals with disabilities."
In it proposal, Apple points out one in seven people has some form of disability and suggests that emoji should better reflect that:
Some of the proposed emoji include the sign language gesture for "deaf," a person in a wheelchair, a prosthetic leg, and a service dog. You can check out the full list of proposed emoji — along with a description of each — over on Emojipedia. The site says if they're approved at the Unicode meeting next month, we could see these emoji as soon as the first half of 2019. Also, even though Apple's the one making the proposal, an adoption by Unicode would see these come to Android as well as iOS.
Thoughts?
What do you think of these new emoji? I'm pumped to see Apple pushing for more inclusion and diversity in what's quickly becoming a fun, universal language. The more the better!
Android Central Newsletter
Get instant access to breaking news, the hottest reviews, great deals and helpful tips
Mikah Sargent is Senior Editor at Mobile Nations. When he's not bothering his chihuahuas, Mikah spends entirely too much time and money on home automation products. You can follow him on Twitter at @mikahsargent if you're so inclined.
They should have a MAGA hat to indicate those with mental disabilities

I think that's amazing. Let's include all!👍

I will get yelled at, but... what's the point? It used to be just yellow smilies to show emotions. And sure, it's funny to send an emoji of pizza or something once in a while. But it's not a language. It doesn't need to include literally everything in it. Original emjois were ideal - genderless, raceless, orientation-less, just an average and relatable concept. Including everyone. Not political at all. Creating emojis like this just for the sake of inclusiveness is just silly (and possibly nothing but a marketing trick). I'd prefer Apple to spend the funds spent on this on doing actual stuff - donating to hospitals and such.
Even worse so, if we include everything in emojis, we run the risk of emoji actually becoming a language. I'm pretty sure a lot of people can actually imagine that happening - and we should do as much as possible to avoid it. Txt was bad enough.

I agree. The point of emojis is to express feelings that might not come across over texts. But I just don't see the point of having a person in a doctor outfit or construction worker. The only time any of these would be used is if someone asks what u do for work. But you still wouldn't send an emoji too answer that

Far too long overdue I agree with you Jerry. I just wish there was one to cover when I want to tell someone that the reason I am in a wheelchair is because "I am paralyzed from the neck up..."
(BTW, I am a 2x through knee amputee)

It seems a bit creepy somehow. Most of the disabled people I know strive to lead ordinary lives.
Android Central Newsletter
Get instant access to breaking news, the hottest reviews, great deals and helpful tips
Thank you for signing up to Android Central. You will receive a verification email shortly.
There was a problem. Please refresh the page and try again.