Apex Launcher's latest update is your wake-up call to switch to something better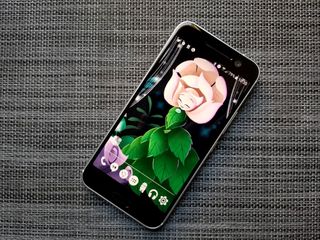 Apex Launcher restarted development last May, and since then, there hasn't been much to say about the old, but well-liked launcher as it tried to update its interface, improve its feature set, and start competing again. Well, the 4.0 update Apex Launcher pushed out this week has undone all of that progress and then some, and what users Apex Launcher had left are not happy.
Apex Launcher pushed out its 4.0 update on July 17th, and between the flood of users reviews (opens in new tab) and the redditors rioting, it's pretty clear that something went horribly awry. A number of Apex's settings have been dramatically changed or removed altogether with no warning: users had widgets deleted, home screen pages altered, app icons resized and their search providers switched to Yahoo overnight when the app auto-updated.
If I went to bed with my home screen laid out just the way I like it, then woke up to it being completely different, I'd be seeing red no matter what theme color I set before bed.
Apex Launcher's update has forced a lot of users to make the following choice: set up everything the way you like it on Apex Launcher again or get a new launcher and start fresh. If any Apex Launcher users needed any help making that decision, a recent addition to the Apex Launcher site is helping push them towards the latter. Apex Launcher's site is advertising an app recommendation partnership platform, asking developers to "Partner With Us" to promote their app through Apex Launcher.
Android launchers have access to an incredible amount of information like what apps we open the most, what times of day do we open apps the most, what times we're most active with our phones, and how often we use their included search functions. Like a third-party keyboard, a third-party launcher needs to be trusted, and launchers with app promotion programs traditionally haven't always been as transparent with their intentions as we'd like.
Apex Launcher is like any business; it needs to make money to survive, and app promotion programs can be done in a way that doesn't betray the user or impede upon the user experience. But Apex Launcher's last update just wiped out a ton of users' settings and not only has there been no public communication from Apex Launcher since the update, there hasn't been any public communication from Apex Launcher in the several months. So if you're a longtime Apex Launcher wondering if now is the time to switch, my answer to you is going to be "You bet your Android it is".
So, what should you use instead? Well, if you liked the granular customization of Apex, try Nova Launcher or Action Launcher. If you want a launcher that's easy to use but still just customizable enough to keep things beautiful, try Smart Launcher 5 or the completely free Evie Launcher.
Android Central Newsletter
Get instant access to breaking news, the hottest reviews, great deals and helpful tips
Ara Wagoner was a staff writer at Android Central. She themes phones and pokes YouTube Music with a stick. When she's not writing about cases, Chromebooks, or customization, she's wandering around Walt Disney World. If you see her without headphones, RUN. You can follow her on Twitter at @arawagco.
This is just sad. Apex was one of my very first launcher and its customizations is what made me love Android so its sad to see it fall like this. Glad I moved to Nova Prime a couple of years ago.

Nova on all of my non-Stock Android devices.

I realize they just probably picked a stock photo of a Pixel (2?) to use in their partner advertising, but it's also showing the Google Now Launcher. You'd think they'd at least use a phone running Apex, no?

Dear Apex,
Thank you for reminding me to back up my current Nova setup...

Hey Apex, thanks for completely f...ing up my phone, wasting hours and hours... AND HOURS of time spent setting my phone up just the way I wanted it to be, causing me to have to spend similar hours setting up with another browser, and a nice nervous breakdown to boot. Right back at ya, Pal.

Yeah, I'm sorry for your troubles and hope you settled on a nice new launcher that can make you happy for years to come. Now that you've got things set up on your new launcher, you should back up your launcher settings so that you can revert back to this if something screws it up again (or your phone gets wiped and you have to set everything else back up, too).

Or buying a new device. Download your apps and restore from backup.

Thanks for the article. The update hit my phone today and I was wondering what on earth had happened, at least I know the answer. Definitely time for a new launcher I think.

Yeah, it sucks. I really liked Apex, but it looks like the repairs I want to make aren't even an option anymore. The icons in my group folders are so small now that I literally can't see them without opening the folder. And until opened, the folder background is partially translucent so it acts more like camoflage than anything else. My individual icons can't be made any larger than 98% of their full size. My widgets are not displaying correctly either. Anyway, thanks for letting me know that this isn't just a glitch on my phone. I guess it's time to try something else.

OnePlus's Oxygen OS is so close to stock with additional customizations that I haven't had to put Nova on it. It's just awesome.

As is sending your user and usage data back to China without your consent. Just awesome. Btw, the discussion here are launchers, more precisely 3rd party launchers, for those who wants to replace stock (whatever it is)

What's the point of owning a One Plus phone if you don't tell everybody about it all the time no matter what the topic of conversation is?

I got blindsided with the beta I didn't know I was signed up for at all. It was enough get me to painstakingly set up nova. I really missed my up and down swipe gestures on my dock icons. I don't think there's are any other launchers that have that particular feature, but I haven't looked in awhile.

Uh, swipe gestures are pretty common, and I think there are a couple that offer swipe gestures from the dock. Nova lets you add a swipe gesture to every folder and app shortcut on the home screen.

I think you have to have Nova Pro for all the really good features like that.

I know Nova has those options. I even went so far as to use it when all of this started, but I discovered that my problem is my own habits. In my Apex dock, I can launch say 15 different apps as opposed to 10 in Nova just from the dock. I've gotten so used to using those shortcuts that I become my own roadblock in getting a different launcher to work better for me.
I kept my Nova (pro) setup... Maybe I'll give it another shot.

"In my Apex dock, I can launch say 15 different apps as opposed to 10 in Nova just from the dock." I have seven apps in the Nova dock, and two screens of dock shortcuts. That means I can (and do) launch 28 apps from the dock alone.

And in addition to swiping on folders and short cuts, you can set a ton of swipe gestures on the blank space on your home screen.

I love how so many use Nova prime. I don't use anything else since I found it. Thanks Apex for reminding us why we love Nova!!

Way back in the olden days I discovered Apex Launcher and loved everything about it. Then a buddy suggested I try out Nova Launcher. Once I did, I never went back. Thanks for the olden days Apex! Thanks for the future Nova!
Android Central Newsletter
Get instant access to breaking news, the hottest reviews, great deals and helpful tips
Thank you for signing up to Android Central. You will receive a verification email shortly.
There was a problem. Please refresh the page and try again.