any.do 3.0 is here, and we take this major update for spin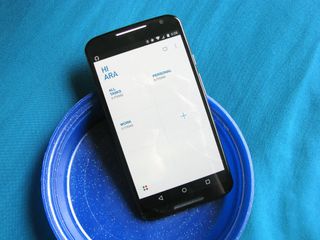 The last time any.do rolled out a big update, it was focused on bringing in expanded functionality, with attachments and collaboration with other being the focus. That design was close to material, but now we're full-on minimalistic material design ... maybe a little bit too much so.
Today any.do 3.0 is available on Google Play (opens in new tab). Let's take a look at it.
any.do's layout is still simple, almost to a fault. After signing in, you're greeted with your all tasks list, sorted according to date, but you have two new layout to pick from: list and priority view. The list view throws everything into one big list, and priority puts starred tasks at the top, but most of the time, the good old-fashioned date view was what we used.
One tap on a task will bring up its options, which are unlabeled, so you'll want to commit them to memory. There's sub-tasks, the list picker, notifications, attachments, and share & delegate, where you can ship a task off to a team member or friend. Tapping the task again will collapse it. Swiping right across a task will mark it as completed, and then an x will appear on the right side of the done task to clear it. If you accidentally swipe right and tap that clear button, you'll have to dig into the setting for Completed Tasks in order to swipe left on it and bring it back to the board, so swipe carefully. Adding users to a list is also easier than ever, just tap the add icon under the list's name.
any.do 2.0 came with four color themes in addition to the standard white: pink, green, blue, and black. Well, blue seems to be missing in action this time around — which is too bad, because I was a fan of that soothing blue — and as before, the pink and green are only available to Premium any.do users. The widgets for any.do follow the theme in the app, so if you like the pink theme but don't want a pink widget on your manly homescreen, you're outta luck, sorry. That said, you can still opt for the dark theme this time around, but as much as I love glorious dark apps, this app's dark mode is a bit of a double-edged sword.
Good news: this is a dark theme that will be great for your AMOLED screen battery-wise. Bad news: it feels a little like you're fumbling around in the dark with it. None of the fine black lines that help users distinguish the boundaries between list items or list squares are really visible in the dark theme unless the brightness on your phone is cranked up, so you just have floating text/icons in a vast sea of pitch black. And that's fine if you're backstage at a concert checking off the last of the pre-curtain preparations, but when you're in the office, not so much, especially since the iconic blue icons and accents in any.do blend in with that black theme. The sections, titles, and list squares are also a dim gray, testing your eyes even more in an app that should be easy to glance over and then get on with what needs doing.
As before, you can quickly assess, re-order, and re-schedule today's items using any.do moment, which you can access through the multi-colored four-dot button in the bottom left corner of the app's main screen. You can schedule any.do Moments so you're reminded to do them at a certain point on certain days — the default is every weekday morning — or you can start one yourself with that colorful button. The blue floating button in the bottom right corner is the new task button, and it'll add it to whichever list your're in at the time.
All in all, any.do 3.0 is ready for the fast-paced schedules of both you and those you share a workload with, and while the themes could use a little bit of help, the UI they color is snappy, responsive, and minimalistic to a fault. Are you happy to see an even more material any.do, or are you still sticking with Google Keep? Is anyone else disappointed that there's still no Android Wear support for this app?
Ara Wagoner was a staff writer at Android Central. She themes phones and pokes YouTube Music with a stick. When she's not writing about cases, Chromebooks, or customization, she's wandering around Walt Disney World. If you see her without headphones, RUN. You can follow her on Twitter at @arawagco.
I'm using Swipes right now but I will take another look at Any.do Swipes is great and has just the basic features. I like it's design more than Any.do or Todoist.

The one thing that i hate about Any.Do is i use it for my bill reminders. So i have them set up monthly repeating. if i mark one as complete and i have the list set up in date view, i would like that task to go to the bottom as its now a month away from being completed compared to my other tasks that are coming before this. I need to find an app that can do that, and i have yet to find one.

Built in Reminders app on iOS does that, but that is of no help to you :|

Have you heard of Google now? You don't even need to set anything up, all you have to do is use your Gmail as your billing email, Google now will automatically reminds you a week before due date each month Posted via the Android Central App

Only problem is when i pay bills early i don't want to see the reminder. With Google now, there's no way to dismiss it if i pay early.

Wouldn't swiping the card reminding you of your bill remove the notification? I'm pretty sure that doing that will take care of it if you end up paying early. Posted on my OnePlus One

Well i tend to pay some bills way more than a week early sometimes. So if the card doesn't come up till 1 week before hand i can't dismiss it early.

Yah i was originally on iOS a long time ago and it worked perfectly doing that. I miss it.

I've been using Remember the Milk for a couple of years because it can do exactly this, as well as prioritizing todos for any given day. I am very happy with the app. Posted via the Android Central App

Any.do was awesome when it came out but still lacked and has never implemented some basic features and once they relegated their best features behind a bloated subscription and continued to have inexcusable bugs and such remain it just became a crap app compared to newer apps like Tick Tick which is much more feature rich, cross platform, reliable syncing, sharing, android wear support, and is updated frequently. It's dissapointing though that Google has multiple products, tasks, now, keep, etc that all do lists and reminders but each has a fatal flaw that makes them poor choices for robust list and task management. Outlook tasks on Windows ce/pocket Pc still better and that is over 15 years ago. As great as Google can be it really fails in so many ways....

I knew looking at these comments would do me good. Tick Tick does EXACTLY what Any.Do won't do for me that i was talking about in my above comment. Thank you Bruceo!!! Any.Do just got thrown out the window.

Yes, i just tried out Tick Tick and it is exactly what im looking for; recurring tasks work properly! i have the same use case as you. Glad i read these comments too. i used to use Astrid a while back until it shutdown then i was fiddling around with various task apps but never found one that worked how i wanted. closest i got was the task functions in Samsung's S Calendar which was great when i had my Note devices and a Samsung tablet but having moved to a Nexus 6 and 9, i was back to looking for a good task app. Tick Tick is it. thanks!!

YES! i had Astrid as well and hated that it shut down. Tick Tick is my new app for sure.

SplenDO is another good one to try. It handles recurring tasks well and allows for more options (bi-weekly, etc).

Another awesome thing that made me try tick tick is if you go into their settings you will see an anydo import option so it made it super easy for me to migrate as it imported my many todos and lists flawlessly.

I used to be all about any.do, then I felt like it got clunky. Coincidentally my favorite company Google came out with Keep, and I never looked back.

The new Any Do is NOT intuitive at all! I used to be able to see all my tasks as soon as I open this up- I have a LOT of tasks on Queue; I'm a student. Now it defaults to the categories, and I have to tap each category to see my tasks. It's inconvenient and slow. Ugh. At least it looks nicer, PS. I 'wrote' this review with the new Google handwriting input on my Note 3. works well enough, but it needs better intelligence with text spacing.

Looking at Tick Tick too. I don't understand why Any.do can not give us an option to select when i want to be reminded again. The defaults are OK but I want a custom choice too. Too much focus on making it different and not enough on the base function.

What's a great reminder app compared to ios reminder for android? Posted via Android Central App on 1+1

I just don't like how they removed Google Tasks integration a few versions ago and didn't even say anything about it. I just realized after a while that my tasks in Gmail were not updating. Not cool! So I'm looking for an Any.Do replacement. I really want to use Google Keep now that they've added labels and recurring tasks but when I snooze a notification it doesn't come back and you can't even snooze recurring tasks. It's a bug I've reported to Google but haven't heard anything back. Also searched for the issue but couldn't find anyone else having the same issue...

I prefer Wunderlist for my to do app. Their layout is minimalist while also keeping the design features that make it easy to distinguish one task from another. Posted on my OnePlus One

I can't seem to use the dark theme with the free version. Keeps telling me I need to "Go Premium." I'm thinking not. Posted via the Android Central App

Suppose you don't have to go premium for dark theme , if I understand your problem correctly. Posted via the Android Central App

I've been on WunderList for the longest time but it's notifications aren't great (albeit they're good on Wear now) and it's overall passive notifications. I love the notification system (with Moment and Heads Up ) on Any.do and how they push you to act on a task. But it's disappointing that it does not have Wear support.
Android Central Newsletter
Get the best of Android Central in in your inbox, every day!
Thank you for signing up to Android Central. You will receive a verification email shortly.
There was a problem. Please refresh the page and try again.