any.do 2.0: bigger, better, darker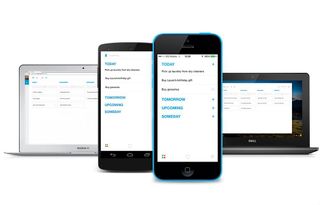 any.do is a task-oriented note-taking and to-do list app with quite the following - over 11 million to date - and today, those users are being treated to the biggest update the service has ever rolled out. This update is not just boosting productivity for you, but for your family and your co-workers, too. Most importantly, the service and its apps have been streamlined in order to help you spend less time making your to-do list and more time checking them off. So, let's make some lists, shall we?
any.do has a fairly simple premise, to set to-dos and task lists and the app will organize and remind you of them so as to help you stay on top of everything in your life. It's been around since 2010, and today, any.do 2.0 is rolling out on Android, iOS, and its web client. This update bringing with it a bevy of new features, improved design (though not quite the Material Design everyone has been cheering on this week), and a new Premium subscription for even more full-bodied features. Among the features users can enjoy are:
Contribute to other people's lists, such as adding items to your husband's grocery list while he's off buying the bacon. Premium members can collaborate with unlimited members on a list, so that the entire team knows what to bring to the lunch meeting.
Improved note-taking, including Dropbox integration. Free users can add up to 5MB files or media uploaded from your phone. Premium members get unlimited file size attachments.
Premium users can get fully customizable reminders and multiple color themes to match your tastes or habits. Black theme remains my favorite, but the blue is also soothing, which is useful when you're running behind on your workload. Not that I would know anything about that.
Cross-platform syncing mean no matter what devices you use, your any.do will sync across them.
Moments ensure that you can sort out exactly when your tasks need to get done, allowing you to quickly reschedule events and reminders for all of your to-dos. Free users get 5 of these Moments a month, with Premium users getting unlimited Moments. You can also receive Kiip rewards for Moments, rewarding you for organizing your to-do list.
After using this new version for a few days, I found that while any.do's features by and large make it much easier to keep on top of anything, the persistent notification is just another in a growing list of persistent notifications in my shade.
Users can get a Premium subscription for $3 per month rather than $5 per month for a limited time, and while having to pay to get the black theme rubs me the wrong way, the usefulness of collaborative lists, especially if any.do is popular around your office, can easily justify the price. And with all you get done using any.do, you can skip a coffee or two to pay for a premium subscription. The update should start rolling out today on Android, and the website should be updated and ready for you to check out right now.
Is any.do useful enough to warrant a subscription for you? Is there anything else that you feel is still missing? Shout out in the comments!
Ara Wagoner was a staff writer at Android Central. She themes phones and pokes YouTube Music with a stick. When she's not writing about cases, Chromebooks, or customization, she's wandering around Walt Disney World. If you see her without headphones, RUN. You can follow her on Twitter at @arawagco.
I use Todoist which I'm fairly happy with, don't see a reason to upgrade to this. Also there are indeed too many persistent notifications nowadays.

I really like the new changes in any.do. The New interface is much nicer. I'm going to have to do some evangelising though before I can use any of the new collaboration features. Posted via the Android Central App

"the persistent notification is just another in a growing list of persistent notifications in my shade." Ara, not sure if this is a new feature in the latest update but you can hide the persistent notification. Go to Settings>Preferences> and change Status Bar to Hide and it removes the persistent notification

Wunderlist rules them all. Posted via Android Central App

Wunderlist rules them all.. Posted via Android Central App

I love any.do and use it everyday. I would pay a one time premium charge just to say thank you, but can't justify paying $36-60/yr as a subscription. Posted via Android Central App

Does any.Do still work with 3rd party widget's? I love the "minimal any.do widget" . I never loved the widgets that came with any.do. Posted via the Android Central App

I do love a lot about their approach, but even at $36 a year it just seems a bit pricey. I know you get what you pay for...
Hopefully the update helps with speed, it's always been pretty, but dog slow to load, etc.

One time fee is fine.. But subscription is not my thing.. Fortunately there are some decent alternatives.. With that said I do like this app though! AC@N5

What alternative do you use? I have used a few but haven't settled on any to do app yet. (put not intended)

Swipes. Works great on IOS. It's in beta on Android. Once it's done, I can't wait to start using it.

I use TickTick. The free version does everything I need. I used to use Any.do, but I rely heavily on reminders, and the reminders in Any.do became unreliable (wouldn't always go off). TickTick works perfectly and has a nice set of features in the free version. Posted via Android Central App

Web version not working for me right now. I have had this issue from time to time. One of the things I don't like about any.do

For certain apps, like those that primarily push content (wreathe, news), I can understand the subscription model. I don't see why an app like this would go that route, and it's certainly way more than I'd ever consider paying.

Best spelling of weather I've seen in a while. And yeah, I can understand the frustration. We've become so used to paying one time for an app that we then expect to be updated and updated for years... for free. Developers gotta eat, too, my friend.

LOL That is one heckuva typo there. As I alluded, it isn't the subscription itself that I have a problem with, nor ponying up for apps I particularly like. I just think it's weird subscribing to this type of app, and it's too pricey regardless.

Then they can build an upgrade worthy of paying for. Subscription services for a to-do list is overkill. I understand developers gotta eat, but why pay someone for something a novice could write himself, at least on a basic level, or create in Tasker?

I can understand that paying a one time fee and expecting lifetime updates for an app isn't right for the developers. But $3 per month is pricey for a "task tracking" app when comparing $5 for Pandora, $9 for Netflix, $10 for Office 365. Etc. I don't mind Whatsapp approach. Paying $1 per year. Or pay per major release. Such as this 2.0 release.

When are the Any.do Mail and Note apps going to see the light of day? Any.do's website has been listing them as 'Coming Soon', but obviously their definition of 'soon' differs from mine. If it hasn't been two years, it's close.

yeah the one time is better in my opinion. I'll pay for specific features one time but not monthly.

I've always wanted to like Any.do, but recurring tasks never worked for me (e.g. every 3 weeks after completion date). After trying Wunderlist and many others, I settled on TickTick. Web syncing, web interface, great controls, and Android Wear control as well (notification, snooze, and mark task as done). But now, I wonder if I can do all of this in Google Inbox...

I have just about the exact same story. Started with Wunderlist 2 then Any.do and back the forth for a while. Found TickTick and loved it. Now Inbox might be a real competitor for me. Those darn Googlers. Always sucking me in with their awesomeness...

+1. Tick Tick also integrates with DashClock Widget.

I desperately wanted to like Any.do because it's such a good idea, and it's so pleasing to the eye. It really is beautifully done. But that can't overcome the poor execution. First off, it isn't very flexible. It won't let me change the "Personal" folder. I usually have lists for This Week, Weekend, Soon, and Someday because most of my tasks don't have a specific due/date time/ When I add a new task it doesn't have an option (that I can find) to add the task to a specific folder, so you have to add it to Personal and then move it! That's silly. I like to enter my tasks based on when I need/want to do it but in Any.do I can't just set a due date--I'm forced to set a time as well. I rarely have a task a specific time. And since they moved to the subscription model you can barely touch anything without a prompt to "Go Premium." I agree with most others, I just don't see "subscribing" to this kind of app, and I certainly wouldn't do it for the price they've set. It's nuts! I would prefer syncing with Google and making a one-time purchase. So I'm still looking for a good task app that let's me work the way I want to work. Right now I'm trying to see if I can do something in Inbox, but I need to give it more time. On the other hand, Cal by the same dev is very nice without all the nonsense ...Joe K..

The 2 main reasons I use Any.DO is Google Tasks integration and the reminder notifications can survive a reboot or crash. Unfortunately the notifications part stopped coming back after a reboot with one of the recent updates, changing the due date on a recurring task doesn't update the Google Tasks item and I have a lot of other bugs in the app. Probably need to look for another to do app. I wish more apps in general had notifications that survived phone reboots!

Just saw that premium is $27/yr if you pay for the whole year, but that's still more than is reasonable. Posted via Android Central App

Google Keep is better... And free. Posted via the Android Central App

I don't know if it's better, but I have been using Keep for months now to manage my tasks , and it works well. Haven't touched the others mentioned thus far in a couple of years. Did ToodleDo for a few years before Keep. Posted via Android Central App
Android Central Newsletter
Get the best of Android Central in in your inbox, every day!
Thank you for signing up to Android Central. You will receive a verification email shortly.
There was a problem. Please refresh the page and try again.